Reflections on power abuse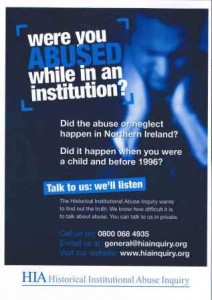 Today marks the beginning of an inquiry in Northern Ireland of abuse against children over a seventy three year period between 1922 – 1995 in public and religious institutions.  The type of abuse being investigated covers not only sexual abuse but also gratuitous physical and mental cruelty.  The BBC news today reported children being scalded in their bath as well as other kinds of physical torments.  Worst of all was the statement that no affection of any kind was ever offered to some of the young children sent to these institutions.
The sexual abuse of children, which has been in the news for a number of years, has no doubt been studied at depth and involves a pathology that experts would understand and be able to some extent to explain.  Gratuitous violence towards children and the withholding of any kind of affection takes us, in some ways, into a still darker place.  The normal healthy instinctive response to a child, whether one's own or that of a stranger, is a desire to protect and cherish as appropriate.  The human race has been hard-wired to see children as the vulnerable part of the species and also the custodians of the future of the race.  If they are not cared for, then the genes, whether our own or those of the group, do not flourish.  Without children doing well in our families and in our society, our own well-being is compromised.  We all know this at a gut level and to act against it in any way is deeply perverse.
The question why nuns or children's homes workers should act cruelly against their charges is a deeply troubling one.  The same question could be asked of those who abuse the elderly or those sent to special hospitals for the mentally and physically handicapped.  The easiest answer to come up with is to point to a desire, even need, on the part of some to exercise total control over other human beings.  Looking at it from another direction, the abusing individual is unable to deal with others as a subject only as an object.  We may speculate that this kind of relating was the only one that the abuser had ever known.  All relationships had been ones where he or she had been used.  Any idea of mutuality in relationships is unknown to them.  Finally the chance is given them to exercise power over others weaker than themselves and treat them as objects for power gratification.  They have no other internal model for relating except as someone abused or as an abuser.
It is hard to imagine the family and church dynamics that caused ordinary Irish women to become nuns and then child abusers.  Clearly there was something profoundly unhealthy at work in both home and church that created individuals who could only treat others as objects for perverse gratification.  Speculations can be made but I would offer only one thought.    A domestic or religious culture where obedience is put very high on the agenda will work against the flourishing of mind and spirit.  Obedience to parents must always be balanced alongside the need of every child to find their own personality and creativity.  Conforming to the will of another at every point does little to allow the flowering of spirit or the nurturing of altruistic love and compassion.
What is the relevance of this discussion of the Northern Ireland Inquiry to our blog?  The relevance is that the Inquiry touches on something deeper than sex or even cruelty towards children, however horrific these may be.  At the heart of the Inquiry is an investigation of an epidemic of abuse of power, manifesting itself a variety of terrible ways.  The manifestation of the abuse of power is particularly horrible when directed against children, but we would claim that abuse of power is rampant in society at large.  To reflect on the Northern Irish situation helps us become a little more sensitised to abuses of power in our own situation.  We will not normally encounter such dramatic examples as child sexual abuse, but if we look carefully at the power abuse around us we will find the same fundamental ingredients at work.  Person A pulls rank over Person B and treats them badly.  The reason that Person A behaves in this way is because he or she has herself been treated badly by person G.  This may be a dramatic over-simplification of the causes of power-abuse in our society but it has enough truth about it to be useful to state.
When we come back to the church we find that it too is invaded by these same power dynamics.  People routinely work out their past humiliations by seeking to dominate others in petty power games.  If their position in a church is one of authority the temptation to abuse their power is greater and potentially more damaging.  The leader may subconsciously have sought this position of power precisely because their past traumas needed to be afforded some sort of palliative relief, that afforded by a gratuitous exercise of power.  I will be speaking further about this pattern of behaviour as it is covered in some reading I have recently done into what is known as 'traumatic narcissism'.    Meanwhile I am asking my readers to reflect on power games, not only insofar as they are the victims of them, but also as they may contribute to them so that other people are affected.  While these are less severe by far than those revealed at work in Northern Ireland, let us at least recognise a functioning of similar human weaknesses and foibles.   All of us fit somewhere into the webs of power dynamics that go on around us.  Sometimes our participation is benign, sometimes less helpful.  Our conscience and capacity for self-reflection should guide us in the way we deal with these.  An imaginative identification with the victims in Northern Ireland may help to understand, albeit in an extreme form, the dynamics of power abuse.   In a lesser way these are manifested in the people and situations around us day by day.   Understanding and identifying them is the key to dealing with them successfully.