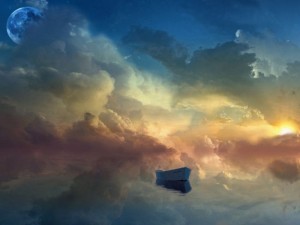 Mystery is one of those words that is incredibly useful when talking about the Christian faith.  Or perhaps I should say that it is particularly useful to Christians who do not want, or expect, their grasp of the faith to be tightly defined by words and concepts.  It is a word that allows flexibility, room for movement and the prospect of change and growth.
As part of my personal background in the church, I can mention here that I spent ten months studying the Orthodox church in Greece in the 1960s.  It was not an easy period to be in Greece as the country was going through some difficult political upheavals.  In charge of the government were a group of army officers, claiming the hand of God for their ultra right-wing political ideals.  This political scenario had the effect of preventing me making contact with some otherwise important individuals for fear, on their part, that association with a foreigner might endanger them in some way.
Nevertheless, the exposure to Orthodoxy was an important part of my Christian formation.  Many of the theological debates of the West, such as the debates between Catholic and Protestant, simply never travelled east.  The theological controversies they live with tended to be much older – the debates of Ecumenical Councils for example.  These Councils belong to the first eight centuries of the Christian era.  None of the English speaking Orthodox theologians that I met were able to make much sense of the things that divide Christians in the West.
The word 'mystery' is of course a Greek word.  Its root is a verb, which means to be silent.  Behind the word is the memory of a very different way of doing religion, the so-called mystery religions.  In these pagan mysteries, the worshipper was initiated by seeing a drama enacted in a context of highly charged emotion.  There is a lot we do not know about these mysteries as they were secret, even then.  But the Orthodox took from these pagan mysteries one central thing.  They understood that worship was about participation in the transcendent through seeing a sacred drama.  The typical Orthodox church is filled, top to bottom, with lights, paintings and icons.  The drama in the Orthodox liturgy is of course the representation of the life, death and resurrection of Christ.  The worshipper is a witness and participant in this drama.  The receiving of the elements enables the worshipper to be every Sunday, in some way, a contemporary of the Gospel events.  Time can be collapsed in this way so that all that is contained in the 'saving' events of the Passion and Resurrection can be made accessible in the here and now.  This is one of the undergirding insights and principles of Orthodox worship.  This idea may sound novel even to those who have studied Orthodoxy but it is my subjective reading and understanding of what I saw in Orthodoxy at its very best.  But as with everything else, the day to day reality of Orthodoxy was often rather grubby, with over-politicised bishops and some poorly educated, even ignorant clergy.
To return to the word with which I started – mystery.  It allows a Christian to admit that there is a lot that they simply do not understand and certainly cannot put into words.  It allows for an approach to faith which honours silence and beauty.  These are things that do not require articulation in logical structure or concepts.  The Western approach to theology, in contrast, likes its theology wrapped up in tightly defined packages.  This would be true in both Catholic and Protestant circles.  Definitions of God are so much easier to police and heretics easier to spot if you have your faith defined in statements that are logically coherent.
Why do I write about mystery in a blog that is dedicated to the subject of Christian abuse?  The answer is that talking the language of mystery allows us to escape the tyranny of words.  Many Christians, in defending their theological positions, batter other Christians with the accusation that they are not using the right words.  We spoke in an earlier blog about the energy with which some Christians defended the doctrine of 'substitutionary atonement'  In the doctrinal definitions that are compulsory for Christian Union leaders to sign there are strict words that define the 'correct' position to hold.  I am not here arguing for words to have no place in Christian doctrine.  I would want, however, to maintain that theological definitions are only useful up to a point.  Beyond that point we all have to live with approximation and even guess-work as to the nature of reality.  When Christians accuse one another of not using the right words, then there is often a failure of love and imagination as well as an inappropriate use of power to enforce the will of one person over another.
'No one has seen God at any time.'  This statement undergirds what we mean by mystery.  Mystery implies a tentative seeking after truth in order to find a reality that goes beyond words, concepts or formulations. In a church that fully understands mystery, there will be fewer witch hunts to enforce orthodoxy and intolerance towards those who think differently.  Let us learn deeper tolerance and better ways of listening to others.  In this way there will be less reason for Christians ever to want to shout others down for holding 'incorrect' beliefs.  Ecumenism, true ecumenism, might be a pilgrimage towards truth, bringing the insights we already have but recognising that we will together discover much that has not yet been revealed.