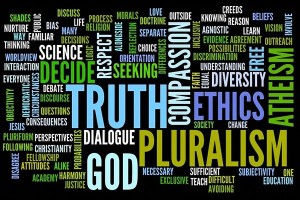 The government of Britain is at present in a bit of a dilemma how to respond to the stories of an Islamic 'takeover' in certain primary and secondary schools in Birmingham.
No doubt the details of what has been going on will eventually emerge, but there is revealed in this story some confusion as to what would constitute an 'unsafe' education. The government obviously want to protect children from coming under the influence of extremist teachers and speakers. I dare say that they would like them to understand that in every discussion there is normally another point of view that needs to be weighed up before the first opinion is accepted. The aim of education is to have an understanding of the way society works, the values of tolerance, empathy and compassion.  There is also the value of respecting the opnion of another person.   The trouble is that there are many  schools, Christian and Muslim which do not subscribe to these values. The so-called 'Christian' school which claims to teach 'Christian' values may also be a hot-bed of misogyny, homophobia and plain scare tactics. A typical Christian-aided primary school (of which there are many thousand in Britain) will normally have a decent head-teacher but they will be under constant pressure to allow in unsuitable speakers to come and rant at the children for assembly. I still remember hearing about a school where the Vicar spoke so strongly about the awfulness of hell, that many of the children were in tears. The problem is that one impressive but nutty speaker can have a powerful effect on a vulnerable child. My brother who is a parent-governor at a school in Canterbury when an outside speaker came to do a powerful fundamentalist presentation to the children, telling them that the ones not in church on Sunday would not go the heaven. This school is not even a church school.
The values of education on which everyone can agree are not easy to define. As regards the religious content, the agnostic opinions of the majority could be seen to interfere with the desire of parents, Muslim and Christian to have a religious education for their children. The Government has to tread extremely carefully. And yet they know that if there are no restrictions put on what is taught in schools we may have a generation of Muslim children who grow up, at best marginalised from the wider society but, at worst, encouraged to become alienated terrorists. Children educated in the extremist end of the Christian faith will not be terrorists since this is not part of the ultra-fundamentalist agenda. But many of them will grow up unhappy, lacking in self-esteem and terribly fearful. Many of them will also have suffered violence at the hands of their parents, because of the apparent injunctions of Proverbs. Others will have imbibed a terrible sense of guilt that hangs over them like a miasma for the whole of their lives. Their suffering will be handed on to their children because this kind of teaching goes down the generations.
Let us watch the newspapers in the next few weeks to see how our politicians cope with this dilemma. The best thing that can happen is there to be a real debate about religious education. All of us want religion to be taught in a way that opens up this whole dimension of life so that something of its wonder and mystery can be glimpsed. The schools can do this as long as the fanatics of whatever religion or faith are firmly kept out of our schools.