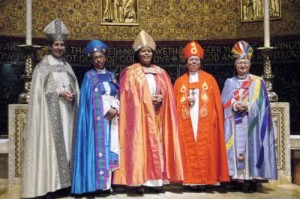 I belong to the generation which once accepted as cast in stone that the clerical profession in the Church of England was male-only territory. My own acquiescence in this situation was reinforced by a knowledge of the way that the Eastern Orthodox (and the Catholic Church) thought on the matter. They were unable to accept change in this area (or in any other!) and I assumed that Anglican church would never decide to abandon its claim to 'catholicism' by considering the claims of women for priesthood, let alone episcopacy.
By the time the Anglican Church in England accepted the right of women to be ordained in 1992, my thinking had shifted considerably. I had begun to understand some of the deeper reasoning that prevented the Orthodox Church from accepting women to occupy a sacred role in the church, and it was not very edifying. According to Scripture (Leviticus) an issue of blood, including menstruation, made the individual unclean. In the Orthodox book of rules, called the Rudder, or Guide, no woman could receive communion or even enter church at the time of her period because of this uncleanness or impurity. Behind this reasoning lies a primitive horror of blood that makes her taboo. Such a reaction to the mystery of menstrual bleeding is of course far older than Christianity or even Judaism, but has been there in primitive thinking from the dawn of time. This kind of reasoning, I felt, was way out of date at the time of Jesus. It could hardly be appealed to in the twentieth century (or the twenty first!). An attempt to argue women out of priesthood was to some degree steeped in this kind of pre-rational sensitivity.
Knowing the history of an idea often helps one to remove its power to impress and convince. Once I had personally encountered some of these unedifying roots of misogynist attitudes in the church, I was not likely to be convinced by all the special pleading of those who argued that Jesus only chose men. No, as far as I was concerned, the prejudice against women being ordained was far more rooted in cultural, pre-rational feelings than any serious theology. How could anyone seriously argue against the equality of the sexes when at least some of the reasons for their inequality had been exposed by this appeal to history and anthropology?
The case for the ordination of women is not just about equality and fairness. My own studies in the nature and dysfunctions of leadership have shown me that in some important respects, women are less likely to abuse their power than men. In particular they are statistically less likely to suffer from the personality disorder known Narcissistic Personality Disorder (NPD). The exact reasons for women being less likely to be drawn into this disorder cannot be discussed here but probably are connected to the fact that women, as a rule, seek a consensual rather than a confrontational solution to problems. I hate generalisations about the sexes as much as anyone else, but it is apparent from common sense observation that there are differences between the sexes and some of them make women better able to perform the functions of priesthood. It would probably also be true to say that each of the sexes brings different strengths and gifts to the tasks of priesthood. I am still pondering from the lecture earlier this week the implications of the theology of God as 'mother' and the idea of mothering as being an apt metaphor for the pastoral care.
Having placed women firmly into the role of priesthood, it is but a small step for them to become bishops. Episcopacy itself in the Anglican Church has become far more challenging today than it was and it is no longer possible for a bishop to get his/her way by simply expressing a point of view. Like with all authority positions, bishops are under challenge as never before. But there is a particular reason for welcoming bishops from the ranks of women priests at this time. This is because it is suggested that the pool of talented men to serve in this function has begun to dry up. Able candidates for the top jobs are in short supply. To have a cohort of able women to draw on for the next generation of episcopal appointments may give the leadership of the Church of England a shot in the arm which it needs. Perhaps the women bishops about to achieve preferment may bring in an entirely new feel to the Church of England. Perhaps they will also bring into the church a sensitivity to the issues of power abuse with which this blog is concerned. Let us hope so.