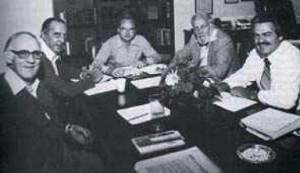 In a comment made to me recently, it was suggested that many of the cultic facets that afflict parts of Christianity in Britain are the result of the Charismatic movement. Whether this general point is or is not true, what is apparent is that many charismatics in Britain took a severely wrong turning when they embraced the shepherding movement in the mid-70s. There was a particular gathering in Britain in 1975 when a large numbers of British charismatics heard an American speaker, Ern Baxter, address them on the topic of discipling. The idea that 'submission' was a necessary part of Christian discipleship was enthusiastically welcomed and it passed into the mainstream of charismatic thinking for a number of years. The Fort Lauderdale four (or five), who were a kind of overseeing group to this movement the USA, in fact soon found that what had been unleashed on both sides of the Atlantic was a kind of monster. To summarise the history of Shepherding, the original four, Derek Prince, Don Basham, Bob Mumford and Charles Simpson, all in different ways repudiated the teaching that they had promulgated in the early 70s. Officially it was dead by 1985. But the genie had been let out the bottle. Too many people had benefitted from the cultic notion that submission of all Christians to a leader was necessary and biblical, for it to die that easily. The Bible had been mined to extract passages to support these ideas and many leaders who had started to run their churches in a cultic, authoritarian and controlling way chose not to tell their people that the ideas had been discredited, both on biblical and psychological grounds.
I may well return to this topic of the history of the discipling/shepherding movement as it is a fascinating one. But in this blog I want to talk about a book that appeared as recently as 2001 trying to revive the appalling ideas of shepherding on biblical grounds. The focus of this post is to demonstrate the principle that individuals who want to prove some theological point from their reading of the bible will use and abuse the words of Scripture when it suits them.
In 2001 Thomas Nelson published the book by John Bevere entitled Under Cover. I understand that it has become a best-seller, being translated into 20 languages. It could be seen to imply a revival of all the ideas and practices that made charismatic Christianity so unhealthy and cultic in the late 70s and early 80s. Perhaps this toxic side of Christian leadership has reasserted itself so that the 'sheep' can once again be brought into submission. I need to do a lot more reading to discover whether the shepherding impulse is equally strong as it was thirty years ago. But we need to look at the Bevere book to see if the biblical material has any credibility.
The title of the book uses a concept that is itself not biblical. The only time the New Testament talks about covering is in connection with women's heads. But the word sounds biblical and can disguise that what is being talked about is in fact old fashioned submission and shepherding straight out of the 70s. The book is, as far I can tell from the summary, an examination of the biblical texts, both well-known and obscure, which appear to support this position. I have not, of course, got the space to examine more than a handful of these texts but I want to give some examples of the abuse and distortion of scripture that Bevere goes in for. This is, in this instance, not a case of conservative interpretations being chosen over more liberal ones but examples of what seems to be wilful manipulation of the Bible text to suit the writer's purposes.
One of the texts examined is the account of the council held in Jerusalem and recounted in Acts 15. In some translations the summing up by James is described as a 'judgement'. From the whole context of the passage it is clear that there has been a debate and discussion and that James was articulating the consensus of the gathering. That the council was a consensus-led affair is also indicated by the fact that immediately after James' words of 'judgement', the 'apostles and elders' decided to choose people to support Paul and Barnabas in Antioch. There is absolutely no way that this passage reads like a hierarchical theocracy which is what Bevere wishes. Such misreading of Scripture, to further a support for submission, is dangerous and sloppy to put it mildly. The use of the word 'judgement' does not mean that everyone was in submission to James as some kind of hierarchical apostle. It is worth noting that Derek Prince, mentioned above, uses this passage to argue for the complete opposite, that 'the final decision…… was a unanimous decision of the whole group'.
Teachers of covering theology find various examples from the Old Testament with which to buttress their arguments. The confrontations between Moses and the Israelite people in Numbers might suggest an excessive use of power to many of us. The shepherding writers quote the fact that the followers of Korah were swallowed up and burnt for opposing Moses in Numbers 16 with approval. Watchman Nee, an early and influential proponent of the submission theology ideas, declares 'God and his delegated authority are inseparable … If they would submit themselves to the authority of Moses and Aaron they would then be in subjection to God.
Many of us would not see Moses, as revealed by the book of Numbers, to be a blameless paragon to be followed by Christian leaders today. Bevere wants to press for the infallibility of Christian leaders and suggest that any rebellion against a Christian leader is not only out of order and can even be seen as a kind of witchcraft. To arrive at this startling conclusion, he takes an idiosyncratic interpretation of I Samuel 15.23. Most translations render the passage as 'rebellion is as the sin of witchcraft.' Samuel wants to get Saul's attention by making such a comparison. The natural meaning of the Hebrew (I am told) is to compare the two things but not actually to equate them as being the same thing. Because the King James version has the 'as' in brackets, Bevere thinks it is optional to the meaning and so he is able to say that disobedience to Christian authority is opening your self up to the demonic realm. That is a very strong claim but Bevere really wants to beat down the idea that the Christian 'sheep' have any right to challenge their leaders. He arrives at this conclusion by his ability to misread and mistranslate the actual words of scripture. (There are other examples in my sources)
I have now crossed my thousand word limit for a blog post, so I cannot go further in examining this highly discreditable and distorted use of the Bible to resurrect a highly dangerous form of cultic theology. Sadly, particularly as my American readers will testify, shepherding theology is alive and well among some Christians who occupy the world of charismatic theology. Thankfully for those who find themselves trapped in this dreadful place of shepherding, there are resources to help the individual read other approaches dealing with the well worn texts, and see that there are other ways to be a Christian.