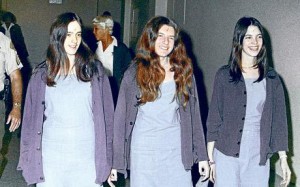 Of all the stories of cultic activity, the one that has seared itself most into people's memories, alongside Waco and Jim Jones, is the saga of the followers of Charles Manson. I do not propose to do more than mention the murders that he and those recruited into his cult committed, as the details are not for now important. I was, however, reminded of this cult which flourished for a short time in the early 1970s, when one of the women who had been convicted with Manson for murder spoke on television about her experiences in prison. After 40 years being locked up, she appeared to be in a reasonably good place. The prison had not brutalised her to all appearances, but it had allowed her to 'grow up' in certain important ways. I am sorry that I have not got the you tube reference as it was a quite moving piece of film.
The woman who had committed murder at the behest of Manson with the other women who were totally under his control, seemed to have a very clear understanding of what had happened to make her do these terrible things. She realised that, at the age of 19, she had allowed herself to become a puppet in the hands of the stronger personality of Manson. The language she used was interesting; she spoke about handing over her identity to Manson. In the years that had followed, even though in the context of imprisonment, she had learnt to reclaim the identity that she had given away so many years before. Her words on the video were ones which celebrated her recovery of what had been lost, even though she had not regained her freedom. One felt that the person who was speaking was not a convicted murderess but a highly articulate insightful woman.
The reason I bring up this interview on the blog is so that I can reflect on this idea of an individual handing over their identity to a stronger personality. I have made attempts to study the psychology of adolescence. It seems that it is a common situation for a young adult to lack the courage to claim the identity of adulthood because it is potentially the cause of much anxiety and pain. How much easier to find someone who you admire and live through them. This is a way of not having to bother with the struggle to be your own person. It is a bit like a caterpillar deciding that the struggle to become a butterfly is just too much and so it chooses remain in the chrysalis for ever. They are, in other words, caught between the dependence of childhood and the beauty of adult identity. One of my strong criticisms of Christian work among young people is that the individuals who are caught up in active churches are sometimes being encouraged to remain at the level and functioning of a chrysalis for long periods of time. Being adult, making decisions and having your own identity is all much too difficult. It is much easier to allow someone else to make those decisions just as your parents did when you were a child and this living the dependent life is a feature of Chritian fellowships as well as actual cults.
The former member of Manson's group spoke of the way that she had handed over the most precious thing she possessed, her identity, to another person for the doubtful privilege of being made to feel that she fully belonged in the murderous dysfunctional group that surrounded Charles Manson. Somehow, over the years, out of the ashes of that terrible choice, a new woman had been born, one who had never been allowed to taste the freedom of a life in society. Her words, nevertheless are a warning to the rest of us, particularly those in churches where the cult of celebrity is practised and taught. Rarely, if ever, do Christian celebrities tell anyone to commit murder, but the same dynamics of surrender are still present in some situations. The admiration that borders on worship of the Christian gurus still stalks the platforms of great gatherings and conferences. It is very much a feature of our contemporary Christian scene. Little good can, it seems, come from this type of admiration and adoration. The more we worship another individual for being what we would like to be, the more our personalities are depleted in the process. A bible quotation comes to mind which I may be misquoting. 'Work out your own salvation with fear and trembling'. It is certainly impossible to work out anything by following, aping and attaching enormous idealisations on to individuals who have been thrown up by the Christian celebrity culture. I have to confess that it is easier to say this from the perspective of being at the retirement end of life than it might have been in my teens and twenties. Nevertheless it is still worth contemplating the terrible wrongs perpetrated on the followers of Charles Manson who committed murders on his instruction. Ultimately, although their crimes were massively horrific, their motivations to be part of something bigger than themselves are recognizable to anyone who lives within the orbit of a celebrity culture, whether Christian or otherwise.
The fact that at least one of Charles Manson's addicted followers has been allowed to 'grow up' in the unlikely setting of an American prison cell gives us grounds for hope. I end with the thought that many who have learnt the practice of idealising one Christian celebrity after another through exposure to large conferences and Christian broadcasting may in fact never achieve a recovery from this insidious and addictive quest. They are doomed always to remain in the shadowlands of looking at a shallow form of 'greatness' from afar and never discovering what they themselves are meant to be and to become. A quotation (not biblical) from a wise person 'Be yourself so that God can be Himself through you'.