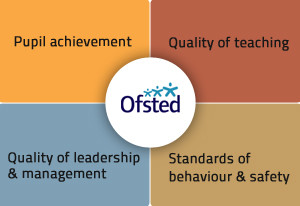 In the last few days a row has blown up over the inspection by OFSTED of two Free Schools. For those not in the UK, it should be explained that a Free School is one set up by teachers and parents independent of the mainstream system but funded by central government. They are, however, subject to inspection by government inspectors, collectively known as OFSTED. The system has proved popular with minority groups, whether religious or ethnic. In the case that is reaching the news at present, two Free schools have received poor results and one of them, at Durham, is expected to close after Easter. The inspectors found failings in every area, teaching, organisation, discipline and bullying. Pupils were found to have homophobic attitudes and showed prejudice towards minority groups. According to television reports, most of the parents are furious about these inspections and they are supporting all attempts to have the inspections overturned.
The interest to our blog about this row is the fact that both of these schools are so-called Christian schools. This is a code for saying that their original inspiration for setting them up is the desire to teach a curriculum that accords with a conservative Christian agenda. This may or may not include such things as the 'Young Earth' theory which involves a denial of Darwin's theories. This area of controversy does not appear to have been an issue in either of the inspections. What did upset the inspectors was the fact that the version of Christianity that the pupils were being taught was closing their attitudes towards modern life and increasing their prejudice towards minorities. In short the culture of the schools resembled a Christian cocoon which was completely cut off from the rest of society.
We have not heard the last of this story as no doubt the appeal processes will rumble on for some weeks to come. But I want to reflect on the general issue of why it will always be difficult for conservative Christians to set up schools which chime in with the consensus of what education is all about. My comments will be general ones rather than anything else to be gleaned from the press reports about these two schools in particular. In my blog piece about ACE schools I wrote over a month ago, I probably made similar comments to the ones I want to make now. The comments I make now will offer some thoughts about the incidence of bigotry and prejudice that was reported in both these Christian schools. That needs to be accounted for in some way, or at least some kind of explanation offered.
At the heart of the conservative Calvinist Christian system is a confidence that the believer has been let into the secret of God's will. Christ has revealed God's truth in his teaching and the words of God recorded in Scripture confirm that teaching. There is no trace of the reticence that is found among less conservative Christians where hesitancy and a certain tentativeness about the nature of ultimate truth is found. The Calvinist tradition only deals in the currency of certainty and finality. Anyone who attends a church where a conservative theology is taught will know the style of confidence that the preacher exudes and which he wishes to pass on to his congregants. In thinking about this confidence about what can be known and the way it is communicated, we can see that it does not fit well into the style of learning that is at the heart of the educational process in the West at least since the 18th century. Here the educational model is based on questions and experiment. In a tradition that goes right back to Plato, knowledge comes to us as we learn to ask the right questions. Scientific experimentation originally involved there being uncertainty about what was true and valid. When the Church tried to impose dogmatic answers on area of knowledge, it generally got things spectacularly wrong. I don't need to rehearse the sad story of Galileo here. To summarise the failure of the Roman Catholic authorities at the time; it was the assumption that all knowledge had been given to them by God so they could pontificate on every conceivable area of learning. That was wrong and it took a largely secular movement of thought, the Enlightenment, to get scientific advances back on track.
The complaint of the OFSTED inspectors about the Christian schools does not appear to have been about the actual curriculum. What is being referred to is apparently the effect of a system of teaching on attitudes to those outside the school who do not adhere to the same narrow ideology which is taught in the schools. In summary the children at these two Christian schools were imbibing assumptions about the world that gave them an unwarranted sense of superiority towards individuals who do not belong to their Christian tribe. The Christianity they learned about was not making them more generous, loving and considerate. Rather it was teaching them a smug satisfaction that their version of truth was complete and final and for this reason they could look down on anyone who did not belong to their system of belief.
In conclusion, educational values of openness to truth, the discovery through experimentation, and learning through dialogue do not sit easily with any dogmatic system, whether Catholic or Calvinist. The OFSTED inspectors appear to have stumbled upon two institutions where such a closed system was in operation. This closed system with its consequent closed prejudiced attitudes, was they believed, creating failing educational institutions. On the basis of what we have seen, this analysis must be applauded and supported.