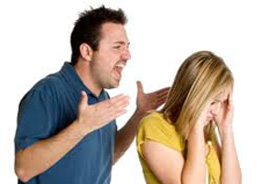 Sally's final encounter with a Christian church takes place takes place some twenty years after the last encounter with a Church leader. She is now 39, the mother of six sons and married to a husband who is successful and well-to-do. A detail which is important for the understanding of this final incident is that Sally comes originally from South America and so is what we would describe as 'Latino' in appearance. The situation that brings her to a church is that her marriage is in trouble, her husband is verbally aggressive and controlling. His aggression sometimes leads to her feeling she has to leave the house for a period. All in all her husband is creating in her a massive sense of powerlessness where she feels completely demoralised.
In her distress she once again seeks the help of the church. Because the episode that Sally is recounting is to do with marriage and family matters, the male pastor feels unable to cope and so Sally is passed on to his wife. The wife listens to the account of aggression and manipulation and her first response to the tale is to suggest to Sally that there is 'definitely a demonic presence at work here.' This pastor's wife goes on: 'You're so controlling in your thoughts and that needs serious delivering'. There is no suggestion that the husband contributes to the problem, that he rather than Sally needs to be brought to account. She then makes an indirect allusion to Sally's Latino racial background. She goes on: 'I know a husband -wife team from South Africa who specialise in dealing with strong demonic activity like the black people type.' Presumably with these words she was implying that Sally, being a Latino, was especially subject to demonic attack. The actual practical advice that was handed out is equally unhelpful. 'You cannot expect any particular behaviour from your husband. When you expect things, you are making conditions on him. When you stop expecting anything at all, then your husband will see that you are not controlling him and his behaviour will align to you. It is your demon that is making you controlling and manipulative. I want you and your husband to be happy but you definitively need to see the couple from South Africa so that your demon can be dealt with.'
Fortunately Sally did not return for more of this inept pastoral advice. She found herself utterly demoralised and devalued by this bruising encounter which had the effect of compounding the issues that were undermining her marriage. As with the stories in my study of abusive Christianity, I am left with fragmentary words remembered from a conversation. Such words were obviously said but there is a need to give these words an interpretation and a context to make them comprehensible
The first thing that comes over is that the Pastor's wife had bought into the 'biblical' idea that the wife's role was to be obedient in all things to her man. Her needs are always to be subordinate to his. Her only true glory is to reflect his glory. Such paternalistic patriarchy is a wide-spread phenomenon in conservative religions across the world, especially Islam. Conveniently for those who think in this way there are passages in scripture which appear to allow the male sex to believe that his control in the family and church cannot and should not be challenged by anyone. The current debate about gay marriage is, I believe, fuelled by an abhorrence on the part of conservatives to see disturbed the traditional patriarchal pattern of family. Sally clearly will never receive a proper hearing in a church which has bought into this kind of understanding of the role of the female sex both in the family and the church. Thinking psychologically for a moment, the fact that the pastor's wife had been forced into this kind of world-view, would mean in all probability that she herself would also be deeply frustrated by her own powerlessness beyond her family. 'Pastoral care' of women in the congregation would be the one outlet allowed her. The reported conversation shows impotence combined with vindictiveness in her inability to challenge male power and cruelty.
I have already strongly criticised in the first part of Sally's story the immediate recourse to 'demons' as a way of explaining an individual's pain and misfortune. Here it gains an added twist by the racial dimension to which I have already referred. Sally's Latino heritage was to be an additional reason for the instantly discerned demons that were believed to have taken up residence inside her. Words fail me in trying to express my contempt for the ineptitude and utterly damaging expression of pastoral care that is recorded to have taken place.
It is perhaps easy for us in Britain to sit and think that we would never allow ourselves to become victims of this kind of abusive pastoral practice. But Sally's experience is taking place every day in churches all over the world. Demonic explanations for tragic events coupled with appalling theological ideas dubiously grounded in scripture are being peddled by ill-trained Christian leaders every day. Sally's three episodes of being the victim of abusive care were not perpetrated against a strong independent minded person who could then push them aside as 'clap-trap'. No, these events occurred in the context of Sally's vulnerability. While part of her was able to resist and question what was being said or done to her, another part of her was deeply and damagingly undermined by these events. I have recorded them to help us, the readers of this blog, to understand what happens on occasion in churches. But I have also recorded them to help Sally herself see and understand what has happened through the eyes of others. We trust that she will gain strength from these insights and will be able to put the abuse behind her. Understanding better is one part of the path to healing. That perhaps is part of the whole point of this blog.