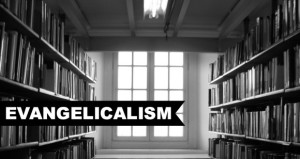 A recent discussion on the last post suggests that I need to correct the impression that I am against all evangelicals. This blog has absolutely nothing against evangelicals as a tribe but I have been around long enough in the church to know that, when things go wrong in churches with this description, they can go very wrong indeed. Of course the same could be applied to any church congregation but my claim is that there are certain inbuilt institutional factors in many conservative evangelical set-ups that put them in special dangers of becoming an unsafe place for their members. The two most obvious institutional dangers are found, as I mentioned in a recent blog post, are an inerrant bible closely followed by a leadership which on occasion behaves in an unaccountable way.
Before I develop these points any further I want to express my appreciation for certain aspects of evangelical life and worship which make their churches, for many, exciting places to visit. The reader will note that all of these factors arise, not from their written theology, but from the culture and ethos that has evolved out of that theology.
1. The expectation of religious experience. In contrast to many churches in the 'middle of the road', evangelical churches in many places encourage their people to feel God within. There is time and opportunity to rise above the rational controlling mind to explore the non-rational aspects of God, including his love and his close presence. I personally do not resonate to much of the modern charismatic music and its lyrics, but the fact that individuals are encouraged to give time to the contemplation of the mystery of God can only be applauded. I am influenced in this comment by a book I am reading entitled 'When God talks back'. It is an intriguing exploration of religious experience among American evangelicals by an anthropologist.
2. The expectation of inner change. Christians who go to some churches actually look for and expect that their lives will change after the experience of conversion. Whether they do in fact change is not for me to judge, but this expectation makes a change from Christianity being understood by many as a convenient mark of respectability to be added to a bourgeois life-style.
3. Along with the expectation of change is an openness to spiritual healing. Evangelicals pray more, it seems, for the sick both in intercession and in the presence of the afflicted. The possibility of miracles is talked about quite a bit. Whether miracles in fact happen or not, there is an air of expectation around in their observance of Christianity which puts other more rational Christians to shame. Personally I would always want to be among people who were hopeful and open to change than with those who prefer to keep the lid firmly on emotion and openness to new experience.
4. Adventurousness in community experience. Evangelicals seem better at the 'fellowship' thing. In other words they mix with a degree of confidence with other people, even though they combine their closeness to fellow believers with a measure of indifference or even hostility towards who fall outside the boundaries of their fellowship. Community is for them extremely important and the congregation may be their chief experience of family, sometimes more important than their own relatives.
5. A further point is that evangelicals are prepared to speak about their faith. While I may not agree with all that they actually say, I have to express a measure of admiration of their articulation of what they think. Outside evangelical circles, Christians are notoriously tongue-tied when it comes to talking about what they believe and why they believe it.
6. Finally I should mention the level of learning among many evangelicals. Alongside their readiness to speak about their faith there is a determination both to study and learn and remember information about the Scriptures and other theological material. Once again the content of this learning has, from my perspective, sometimes pushed them in a strange direction and away from a coherent grasp of what the Bible is really saying. But a distorted idea and understanding of scripture is perhaps better than no understanding at all. That seems to be the default position of many other Christians who, after hearing literally thousands of sermons, seem to have retained very little in terms of knowing the content of Christian doctrine.
So from my perspective there are a number of positive aspects of evangelical belief and practice. The problems that arise, and which this blog is concerned with, come from two sources. The first comes from unsupervised independent churches which do not look to any authority beyond themselves. My psychological studies suggest that if anyone is left to lead a group for a lengthy period without such supervision, that leadership is very likely to become corrupted and tainted. My blog readers who have an interest in Trinity, Brentwood know exactly what I am talking about. Such leaders will claim eloquently that they are under the authority of the Bible. It is the way the Bible is actually being read that gives me cause for concern. In practice leaders are good at reading the Bible in a particular way that reinforces their authority and thus protects them from scrutiny when things go wrong. One issue that evangelical churches never come clean about is the fact that in a country like the States, there are some twenty thousand separate Protestant churches all claiming to preach and teach from the same Bible. These churches claim to have the same basis of faith but they disagree over many issues. They are divided, for example, as to whether women can preach in church. Both supporters and opponents of women's ministry will claim their position is rooted in scripture. The Anglican church is perhaps more honest than some by admitting that it does have divergent beliefs within its communion but continues to try and live and worship together in spite of those differences. As far as evangelical churches are concerned, there is one issue that unites almost all of them and that is the gay marriage issue. They are gloriously, some would say obsessively, joined together in telling the world that this is evil and that all 'real' Christians agree on this matter. Thankfully there are other evangelical groups such as 'Accepting Evangelicals' who have broken rank over this and who challenge the apparent unanimity and settled opinion of their tribe.
In conclusion this blog is not unappreciative of some aspects of the evangelical world for the reasons I have outlined above. At the same time I am reserving the right to criticise that monolith on theological and practical grounds, particularly where these same factors cause harm and abuse to individuals. Because I don't think in binary ways, it is not a question of the evangelical world being all-good or all-bad; it is rather a case that, like the curate's egg, it is good in parts. I genuinely appreciate the parts that are good but will continue to show where it is bad or harmful.