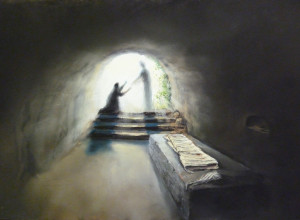 In a blog that looks to understand the nature and extent of abuse among Christians, it is not always easy to find happy endings. Many of the stories that I have encountered do not have such endings. People remain in the middle of their pain, without obvious solutions or justice. One would love to be able to say that every account had a long-lasting solution. When Jesus said 'you now have sorrow…. I will come to you and your sorrow will be turned to joy', we want that to be true for every suffering person. But so often that does not seem to be the reality.
It is sometimes said of Christians that they are 'Easter people'. I am sure that there are many ways of understanding what this might mean, but I want to suggest a way that we can be Easter people in the context of the concerns of this blog. One of the things that we learn, as we go through the sombre events of Holy Week and contemplate the awful suffering that Jesus endured, is to see all this suffering in the context of the coming events of Easter. In other words, our imaginative immersion in Jesus' suffering is made possible because of what we know is to come afterwards in the narrative. Without Easter, Jesus' suffering and death would have no point or purpose and it would be utterly demoralising even for us to read about it. We would have to conclude that power always wins over goodness, strength defeats weakness – the bullies always triumph. But, as we all know, the story does not end on Good Friday. The gospel accounts tells us that the story has an unexpected twist. Christ rises from the dead and somehow the terrible suffering is able to be seen as a victory. The power exercised over Jesus during his Passion is seen to have no lasting hold. Death itself can be said to be defeated in some way by an act of God.
The central theme or message of Easter seems to have these two facets. The first is that Christ is the victim but at the same time we find him to be the one who, in and through his faith in God, is also victorious. He endures more in the way of abuse and torture that we can ever imagine. But he enters the place of abuse and torture willingly, confident that God was with him and would accomplish his purposes through him. We could go on to suggest various Old Testament passages that encouraged him in this hope in God, even though his humanity recoiled at the prospect of death. The final words on the Cross – 'Into thy hands I commend my spirit' are a summing up not just of this life-long sense of trust in God, but also of his confidence that God would receive him at the moment of death.
The event we call the Resurrection is not easy to understand in all its aspects. Many Christians stumble over the details as to whether or not Jesus returned with the same physical body. Some Easter accounts in the gospels suggest this is what was believed while other passages can be read as suggesting something quite different. The important thing in all the accounts is that Jesus was in some essential way alive. He had passed through to a dimension that is beyond the grave but in a new way he was and is alive and among us. His death and resurrection is also in some way a prelude to our own death and life within eternity. 'I go before you to prepare a place for you so that where I am, you may be also.'
The first message of Easter is then, in summary, that Jesus is the victorious victim. The second message, of particular relevance to victims and all who suffer in the world, is that we can come very close to him as our risen Lord even now. In his earthly life, it is testified that Jesus sought the company of the poor, the sick and the outcasts. Today we would add the victimised, those who receive humiliation, violence as well as the victims of prejudice. It is not so strange that we should look for the same reality to be at work in his risen life. There is an old tradition of Christian prayer popularised by St Ignatius of Loyola in the 16th century which put a great emphasis on our imaginative participation in Gospel events. The individual follower of this tradition would use the mind and imagination to reconstruct the events recorded in the Gospels. In short we are enabled to meet the risen Jesus by being imaginary participants in particular episodes within his earthly life. Ignatian prayer encourages the practitioner to see the sounds, smells and textures of the Gospel event as a prelude to a personal encounter with Jesus. The point at which such an inward meeting ceases to be product of our imagination and becomes a real encounter with Jesus is not for me to define. It should be noted however that the Ignatian tradition has been followed for hundreds of years and has been a source of blessing and comfort for many. Whether we seek to meet Jesus through this actual method or through another way, the Christian tradition of prayer has always invited the faithful follower to meet the risen Jesus. The record of his earthly life shows him as the particular friend, comforter and encourager of all who have passed through pain or abuse. Of course everyone is invited to be in this place, whether or not victims, but the Gospel testimony suggests that the risen Christ has a particular longing to place his hands on those in pain and who are the victims of bullying and abuse of any kind.
Easter, the story of victimhood followed by ultimate victory, is one that should especially resonate with the abused everywhere. The Christian tradition has always allowed us to know within our hearts, not only something of the transcendent God but also the human face of God in Jesus. As I write these words, I am reminded of the prayer of Richard of Chichester which speaks of Jesus as Redeemer and Friend and Brother. May the risen Jesus be such a redeemer, friend and brother to all, but especially those who need comfort and healing in the darkness of their abuse.