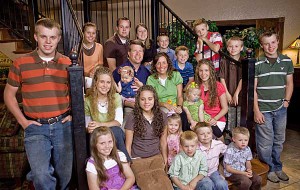 As readers will know I am often exploring the Internet to discover new aspects of Christian behaviour which may become abusive to those who come under their influence. The Quiverful Movement is such a movement while, on the face of it, it teaches something apparently wholesome. It commends to families a practice of family life which welcomes the 'blessing' of numerous children in accordance with Psalm 127. This psalm states that a man is happy when he has a quiver full of children. It goes on to say 'such men shall not be put to shame'. The movement, which takes its name from this verse, believes that a Christian family, by welcoming the 'blessing' of as many children as the Lord provides, can trust in him to meet their material needs. I am grateful for the information put out by Vyckie Garrison on her web-site and her blog about this distinct movement within conservative Christian circles in the States.
While I would not want to suggest that large families are necessarily a burden to those who have them, a setting which puts pressure on a woman to go through child-birth year after year, for theological reasons, is likely to be an abusive one. Living in a family with eight, twelve or more children will bring the mother of the family to a place of exhaustion. In the conservative evangelical setting of the Quiverful movement, the father of the family is likely to leave most of the work to the mother while adopting a controlling, even abusive, patriarchal role within the family structure. This unequal division of labour is, as we have seen, in accordance with 'Biblical principles'. The exhausting round of cooking, feeding and caring will leave the mother with effectively no time to have any social life or interests beyond the family. Vyckie Garrison suggests that the women who submit to what is effectively an abusive style of life, are often those who have known only chaotic patterns of living in their birth families. By entering into a 'quiverful' marriage, they may well believe they are entering an environment of encompassing love that they lacked for themselves as children. What is not clear to them, in their state of vulnerability, is that they are also being sucked into an abusive controlling environment which will suck them dry. The demands of a controlling husband and the needs of numerous offspring threaten to overwhelm such a mother. It is a kind of martyrdom, a self-sacrifice to an ideology that insists that it is indeed Christian to have total disregard for one's own interests and comfort.
The reader might wonder as to who benefits from these large families. Even though the father, in his divinely ordered patriarchal role of authority, does probably far less than might be expected in normal families to care for his large brood, the struggle to provide financially will probably hang heavy on him. However much the church, to which the family belongs, proclaims that father and mother are fulfilling God's word in Scripture, the costs, financial and emotional, are heavy, particularly when there is not sufficient money. But one group does benefit. This is the industry that sells the products promoting the idea of 'Biblical Family Values.'
Vyckie's article, on which this post is based, spells out the extent of this industry. Publishers are pouring out books on the importance of bringing children up in a Christian fashion against the background of a world that many believe has reached the 'end-times'. This also creates a huge market for home-schooling materials. Typically children of 'quiverful' families will be taught at home by the mother, using the material from Christian publishers. The home-schooling material consists, as we have seen, of workbooks which present the world in a very binary fashion. History and politics are presented with strongly right-wing views while science is also contaminated by creationist and anti-evolutionary ideas. The children of these families will grow up socially and ideologically isolated. It is hard to see how they can ever adjust to a society where opinions and attitudes are varied. Can they ever get used to the idea that it is possible to get on with another person who does not share their biblically-formed version of truth?
Vyckie writes as a survivor of this particular strand of fundamentalist culture. Having been burdened in three ways, – by a fundamentalist patriarchal culture which sees the mother as the main nurturer of the children, an abusive husband and the practical demands of a large household, it was hard to escape. Somehow Vyckie did escape and was able to write a book about the experience and maintain a blog on this issue. While applauding her liberation, we can see that the vast majority of 'quivering' women will never escape. Vyckie makes the point that the women who do not escape, but continue until death within this patriarchal biblical straightjacket, are nevertheless examples of enormous strength and single-mindedness. They have nevertheless had to expend all this strength just to be able to physically survive and enable their children to grow up. They have been pushed beyond all reasonable limits – in short they have been abused by a system thought up by men. To quote Vickie's article, 'women are knocking themselves down trying to maintain a lifestyle which was manufactured by greedy, controlling men who don't actually care about the well-being their wives and children at all'. In a later sentence which is worded yet more colourfully she says, 'The rigidity and restrictiveness in maintaining strict gender role-based relationship will result in narcissistic assholes for husbands and manipulative martyrs for wives'.
The victims of this particular abusive culture are once again individuals who have learnt to think that God wants them to be devoid of self-esteem, pride in themselves and a sense of their unique value. Fortunately this particular abusive system of thought does not appear to have reached the shores of the UK. But, as we have seen, misogyny within UK conservative Christianity is alive and well. We must all remain vigilant that these particular mysogynistic ideas do not take root in this country to add to the sum total of pain and suffering endured by women whose only wish is to serve God. Tragically they are made to pay a high price for that loyalty and devotion.