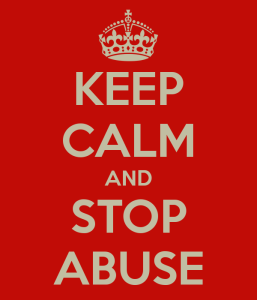 On the blog connected with historic abuses at Trinity Church, Brentwood, a discussion has arisen about the role of the Evangelical Alliance in the UK. This body has a membership structure and is open to any group or church who can sign up to a simple evangelical statement of belief. Beyond signing this statement, nothing further is required of those who would wish to be members. There is no signing up to a code of conduct, allowing visits from the outside, or agreeing to any kind of supervision. It is a bit like a dodgy trade organisation which sounds great on paper but makes no attempt to regulate or discipline its members even when they stray badly. The only exception is made for a church group that enters the perdition of announcing support for gay relationships!
The Anglican Church which is my particular branch of the church, cannot always be proud of its record of ensuring the safety of people in its congregations. Officially it practises oversight and supervision but in normal situations this can mean very little if the Vicar keeps the powers that be at arm's length. This is partly because of a system known as 'freehold' which makes a Vicar very hard to discipline or remove. This has now been replaced by a system called Common Tenure. In theory this allows for more flexibility, including the possibility of moving a Vicar on. Employment law in the UK means that a clergyman still holds a great deal of power in standing up to those set over him. Nevertheless diocese and bishops do exercise their power in indirect ways. A recent good example of this is in the fact that child protection measures have to be in place in every parish and it is compulsory for every officer, including us retired clergy, to attend a child protection event. We are also facing the same procedures over the care of 'vulnerable adults'. While I disagree as to who are the vulnerable adults, the efforts are important and worthwhile in the fight against these particular areas of potential abuse in the churches.
The churches that submit to this degree of supervision, do have the result of providing a measure of protection for some of their members. It is in looking at the independent churches that real problems can be seen. Both in the States and in Britain the pursuit of religion and the conduct of worship is normally assumed to contribute to the public good and they thus receive tax exemptions which are worth a great deal of money to the organisations concerned. Independence from one point of view implies freedom while from another angle it can suggest a total lack of accountability. Because I write looking at these churches from the outside, I see the lack of responsible supervision or oversight that can be the bane of these communities. A leader, bolstered up with a number of Biblical texts, that imply that he is the 'Lord's Anointed', will often resist any attempt by Trustees to hold him to account for misdeeds, whether financial, sexual or to do with bullying. Having, over a period of years, appointed Trustees that are compliant to his wishes, the Pastor will have no problem in controlling the whole church, its finances and life, without any dissenting voices. In the case of Trinity Brentwood, the situation is that the Trustees are mostly related to the Pastor by marriage or blood, and it is improbable that any would wish to challenge their own relative. One suspects that there are other favours given and received but that has to remain speculation.
When a church abuses its members, as Trinity is alleged to have done over many decades, then it ought to be possible for an outside body to offer to inspect it and write a report for the scrutiny of the public. Although churches do not take public money, their situation of tax exemption should make it possible for them to accept a degree of public scrutiny on the part of wider society. This task at present could be done by the Charity Commission but they seemed powerless in a recent case with a Brethren group after a heavy campaign of letter writing to MPs. Numerous letters have been written to the CC over Trinity Brentwood but once again these letters have apparently fallen on deaf ears. The Evangelical Alliance has also received a torrent of letters but, as we said at the beginning, the organisation seems only interested in the fact that a group affirms a statement of approved belief. Nothing else, whether misbehaviour or scandal, seems to impress them.
What is the solution? The solution might that any church who wished to have an independent constitution would opt into a Christian organisation which had the right to inspect these churches at any time. It would be a kind of Church Quality Care Commission. Its concern would be far more to look at the practical aspects of church life rather than the theological. It would not be willing to lay down the law as to the quality of sermons and teaching, but it would be concerned, for example, to see that the staff working there had proper terms of employment. It would employ people who were sensitive to the dynamics of organisational life, so that it was alert to the possibility of bullying within the structures. Every time an inspection was made, there would be an opportunity for individuals within the church to approach the inspectors with their observations about the dynamics and life of the church. Over a period, this Church Quality Care Commission would develop the expertise to set out a code of conduct that all independent churches would be invited to sign. In effect such a church would be opting in to accord the highest standards of care and respect for its congregation. Such churches would be given a Church Safety Award. In short such churches, while still independent, would be given the CQCC gold star. Without this award, or with the award of 'could do better', the other churches so designated would be affected by the public gradually shifting their allegiance to places that had a proven safety record.
At the moment, notions of a Church Quality Care Commission are a long way off. But sometimes ideas have to thought before they can become a reality. Almost all the problems, which this blog is concerned about, would vanish overnight if such a body were to exist. Its authority would only ever be a moral authority. Legal sanctions are unlikely ever to work. But it is just possible to imagine that many churches which at present have no external supervisory structure might submit themselves to an independent body of this kind. As long as such a body did not interfere with the theological insights that were claimed as precious to the group, it might be able to claim some moral authority over the other areas of life, the dynamics of the relationships where abuse is able to happen. Let us hope that such an idea may one day take root. At least a start has been made by thinking this thought, the first stage on its way to becoming a reality.