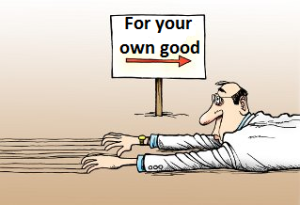 In a recent blog post, I looked at the issue of women who find themselves part of families where the dominant Christian teaching around them requires that they, in faith, bear large numbers of children. Some of these women might claim that they are willing participants in this extraordinary experience of family. Others might claim that they had no choice in the matter but that it was forced on them by husbands and church. Clearly there has to be a point along a continuum where free choice gives way to a submission to external pressure. Where exactly that point is will probably be unknown even to the woman concerned. But it is important that the question is asked. It is right also at least to acknowledge that pressure from others could well be a factor for decisions that we make about our actions as well as our beliefs. It would be worrying if the truth were always so 'clear' that at no point had doubts or queries been raised in us along the way. Decisions that are made without the experience of looking at all sides of the question would seem to be decisions that are shallow and probably reflect what is known legally as 'undue influence' by others.
One of the models I find helpful for my understanding of extreme conservative (toxic) Christianity, is to suggest that it is a perpetuation of the experience of the child who looks up to a parent to discover what are the answers to life's issues. This may sound like a provocative statement but I cannot find any other way of accounting for the extraordinary way that some people believe that a problem can only be solved by consulting a text or an authoritative person The belief is that this text or other authority can be appealed to without any discussion, argument or appeal. To take the opposite point of view, I would claim that debate, discussion and the development of opinions about the world's issues are all part of the world of true adult functioning. This is why we have disagreements in society and politics. The world would be infinitely poorer if everyone agreed with everyone else. Sometimes political systems have arisen, as in Nazi Germany and North Korea, where political and social uniformity is compulsory. Everyone is effectively ordered to think in a particular approved way and the penalties of failing to conform are severe. To judge by the readiness of the vast bulk of citizens in totalitarian regimes to think and act in a 'correct' way, it is obvious that fascism or dictatorship is able to tap into a universal psychological trait common to us all. My simple explanation is that the dictator or leader presents himself (normally a him) as a benevolent father who knows what is best for his children. Because a take-over by the extreme regime is normally preceded by a time of chaos and confusion, which has caused widespread fear and anxiety, the population are grateful for a 'daddy' appearing to sort everything out. I can remember, while growing up, the longing for a parent to come home and put something right in a way that only a grown-up person can do. Dictators are good at reactivating in people these kinds of longings.
The main feature of being an adult is the readiness and ability to make choices and decisions for oneself. We cannot and should not depend on another person to do this for us. The ability to make these choices involves our being ready to live with the consequences of such choices, sometimes for a long time. If we are to make such choices, then it is necessarily to look carefully both sides of the decision, looked at the pros and cons. The important decisions of life, like where we live, our choice of partner, are extremely critical for our happiness and well-being. We are not normally prepared to hand these over to another person or group, nor should we. The only time of life when it is appropriate to hand over decision making to another is when we are children. Hopefully all good parents allow their children to make increasingly complex choices as they get older as this is a rehearsal for the serious business of being grown up.
One question that has to be raised about our individual church experience is whether its culture allows the members to function as adults or children. Obviously there is going to be a continuum. At one end there will be a clustering of churches where the practice of infantilising all the members is the norm. In these churches the message of what to think, how to behave and what books to read will be stated authoritatively. Other churches will oscillate between treating their members as adults some of the time, while making them obey the instructions of the leaders in a parent-child model at other times. Yet other churches may succeed in treating their members as adults all of the time. These churches will probably not be the most popular, or even successful The task of making adult decisions all the time will deliver, not clarity and certainty, which people often crave, but ambiguity and lack of precision. Clearly being adult requires a tolerance for untidiness and uncertainty. Few of us who think for ourselves in religious matters have a tidy belief system.
To summarise this post it has to be said that being adult involves genuine choices. The task of making genuine decisions is hard, uncertain and possibly we can be simply wrong in these decisions. But even the possibility of being wrong or mistaken should not put us off the struggle to make such choices. The alternative, to have someone else making them for us, is dire. And yet this common pattern, whereby church members are allowed to opt out of decision making in important areas of life, seems to be a relatively common pattern across the world. The title of this post 'choice or coercion' sets out what seems to be happening in the places where people fear to take grown-up decisions. They often lapse into the kind of group or infantile thinking that is a feature of totalitarian regimes of both past and present. To have something think and decide for you is a form of coercion, even if it may be experienced as benevolent care. A father helping a child make decisions for life is one thing, but for a fully adult person to be told exactly what to believe and what the Bible says, is another. In too many churches we find an endemic coercion caused by leaders telling people what to think and believe. They are locked into immaturity and dependence. Such immaturity is hardly a feature of the kind of life that Jesus wanted us to have, life in all its abundance.