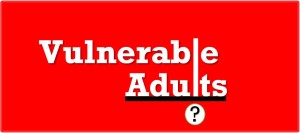 In a recent discussion on this blog I threw out the comment that I did not agree with the definition accepted by the church as to who is a 'vulnerable adult'. I have now checked the various web-sites that deal with this question, and I have discovered that the Church of England and the Methodist Church have worked together on a definition which fits into a use employed by society at large. A 'vulnerable adult' is defined as any adult who is receipt of statutory care of some description. This might mean a resident in a hospital, a care home or receiving some other form of care, whether residential or not. Excluded from this definition are groups of people who have a particular health issue, mental or physical which do not require any sort of institutional care. This is to avoid the idea of stigma, that an individual can be labelled for life as vulnerable when they succeed in living quite independently and capably.
Before I express my reservations on the question of the high-jacking of the word 'vulnerable' to fit a particular definition, I want to talk about the word itself. It comes from a Latin word which means to wound, so that the English derivation has the meaning of one who is in danger of being wounded, emotionally or physically. It carries with it the notion of being defenceless or incapable of sticking up for oneself against a strong opponent or attacker. Clearly it is a useful word to describe anyone who is a victim of the aggression or power games of another. A person is vulnerable when there is some kind of threat of an attack to their wellbeing. He or she also remains vulnerable after the attack, of whatever kind, has taken place.
It is clear that from my mention above of the formal definition of 'vulnerable adult' that we have an example of a situation where a word used in a particular way has taken to itself a defined meaning which is far narrower than the word on its own would suggest. My understanding of the adjective 'vulnerable' wants it to have a larger meaning than that its defined use and it is this wider meaning that this blog post sets out to reclaim. In this post, I want to suggest that we need to find some way to articulate the truth that most human beings at some stages in their lives are vulnerable.
Before writing this post, I had a conversation with Chris on the phone, and he agreed with me that his story would suggest that he himself fitted into the category of someone who could be rightly described as vulnerable. To think about the adjective as it applies to his particular story, the word describes the way he was initially encouraged to see God as the answer to a number of personal and emotional issues, including his failures at school and lack of qualifications when young. His experience of illiteracy made him an extremely suggestible personality and thus he was attracted to the religious rhetoric he heard as well as to the confident personalities of Christian preachers. The word I have here used to replace 'vulnerable' is suggestible. It does not quite capture the same meaning, as vulnerable picks up better the emotional aspect of the tendency in an individual to follow a powerful piece of persuasion, whether religious or political. For Chris and others like him, this attachment resulted in a rollacoaster of feelings from elation followed by a sense overwhelming self-abasement and self-loathing. The Christianity that he heard was a Calvinist amalgam of threat and promise. It used his vulnerability to create hope but this quickly was followed feelings of fear and self-hatred. Chris was hooked by the promises of this faith but was then left traumatised by his internalisation of a harsh punishing God. No doubt we will be returning to this theme of the damage caused by 'terror preaching'. Only a few of us have never heard it expounded, but Chris to some extent remains one of its victims.
The word 'vulnerable' is a word that needs to be reclaimed by those of us who are interested in the way that religion is sometimes taught and presented abusively. It is an adjective that describes, less the individual personality, but more the particular setting that he or she finds themselves in. I want to list now just three of the particular settings within people's lives that render them vulnerable to an abusive version of Christianity. I will not describe them as vulnerable adults but as adults who pass through a period or state of vulnerability. One of these arguably happens to everyone, the other two are the result of economic and social events.
The first vulnerability that some experience is that of poverty. Although I was brought up in a home that, by modern standards, was lacking in many respects, we were never poor in terms of going short of food and clothing. The fact that I never had new clothes, but survived on hand-me-downs, was more a general feature of the 50s than any particular poverty within our family. I cannot claim to have known the sort of poverty that even today destroys hope and causes depression and despair. I can imagine that this kind of poverty would make me very vulnerable to promises to sort out the problems of despair.
The second vulnerability, the particular one that Chris faced, is the total powerlessness of leaving school without a proper grasp of literacy. In Chris' case this problem has in fact been overcome, but for many it remains a lifelong blight. With such a handicap how do you discover whether a preacher is genuinely telling what the Bible has to say or whether he is reading extracts with the aim of manipulating you into attending his church? That powerlessness is also a path to inappropriate dependency to people who are more capable than you.
The third area of vulnerability, and this is probably one that few escape, is the period of transition from childhood into adulthood. There is a great deal to be said about the negotiation of a new independent identity following the years of dependence on others. Religious groups are good at exploiting this period of vulnerability for their own purposes, whether malignly or for the good of the young person. A faith, whether a cultic variety or more mainstream, provides support in this time of, often, chronic uncertainty. Space prevents me from saying any more on this point but the reader can no doubt reflect on the particular difficulties that he or she faced as they passed through this particular ravine of human experience.
I could easily add to my list of three 'vulnerabilities' that impact on the way that a individual is rendered more susceptible to the blandishments of religious teachers. Some of these may of course have deeply caring motives, but others, as this blog never tires of saying, have exploitation of the vulnerable high on their agenda. Let us always learn to be aware that human vulnerability is a fact of life, and that it is always immoral to take advantage in any way of another person who is in this state for whatever reason.