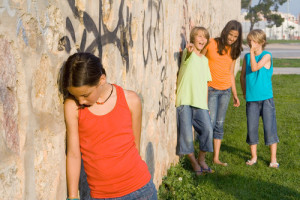 The paper on ostracism I am proposing to give in a couple of weeks time is more or less completed. I thought my readers would not mind, at the risk of repetition, if I share some more of the insights I have gleaned from my reading. In my linking of ostracism, as newly defined by the social psychologists, to the cults and churches, I appear to treading a fairly new path. We have of course long known that the silent treatment has been freely dispensed by some churches to their ex-members. All kinds of passages from the New Testament have been milked to 'prove' that Christians in good standing in a congregation should not associate with former or non-members in any way. I am not going to examine these except to note that an obsession with purity and separateness does not seem to justify in any way the attempt to treat former members with what can be, in effect, pathological cruelty.
Social psychology has examined the concept of ostracism in great depth in the past 20 years and has attempted to show how another person confronting silence or studied ignoring is affected. The writer of a key book on the topic, Kipling Williams, set up various experiments to test his theories as to what happens to people when they are deliberately ignored. These simulated stagings of ostracism were of a relatively trivial nature. They involved, for example, getting people to play a game, passing a ball to one another, and then deliberately leaving someone out. Another experiment involved the use of the internet where a conversation within an online community consistently ignored a contribution coming from a particular individual. More serious examples of ostracism are reported, such as a cadet in a military academy being given the silent treatment over a number of years or marriages where one party refuses to speak to the other. It is out of these scenarios, experimental and anecdotal, that Williams creates his model for ostracism. It is this model that is at the heart of my paper. It is also one that fits poignantly with the experience of those who have been expelled from their Christian or cultic group.
Ostracism, according to Williams' model, has as its intention the undermining of four fundamental human needs. Each of these needs contributes significantly to human flourishing. Because they are actually things everyone requires to function successfully as human beings, the attempt to destroy them can create massive unhappiness. This unhappiness can be so great that a person under this kind of attack might be tempted to surrender to despair or even suicide.
Williams' four needs that are attacked by ostracism are a) belonging b) self esteem c) control and d) meaningful existence. In regard to the first, which is perhaps the most important, the ostracised person will feel rootless and ignored if all his/her belonging is taken away. Of course, we might think, such a person will immediately attempt to establish contact with other groups and find new ways of belonging. But the irony of this is that the group doing the ostracising had typically taught the individual that he/she was to cut off all contact with family and friends who do not belong to the group. Having made the individual totally dependent on the cultic group for their belonging needs, the same person is then ruthlessly cast away.
Self-esteem is the next need to be under attack. The silent treatment will have the effect of undermining an individual's confidence and encourage him/her to think of themselves as being permanently in the wrong. Over a period the inner sense of self-value will plummet and the individual will lose all his/her confidence and morale.
The loss of control will happen, once again, because a silence, which is never-ending, will leave one with a sense that the barriers that exist with the ostracising group cannot be negotiated with or overcome. The individual will be left in deep sense of uncertainty, living in a kind of profound enveloping mist.
Finally the deliberate isolating of the former member by the group will be effectively a kind of social death. According to another sub- branch of social psychology, known as terror management theory, people need each other to fend off their fears of death. Without good human contact which gives a sense of meaning and a way of warding off primeval fear, people can easily sink into an abyss of heightened despair because they are being faced with their extinction.
In this abbreviation of a lot of material, it can be seen that ostracism, in whatever setting it is practised, can be a terrible weapon of coercion and terror. Without a word being spoken or rather because no word is spoken, terrible injury can be caused to people. As I stated in a previous blog post, the weapon is also terrifying as a threat. The person contemplating the possibility of being shunned or ostracised will live with this fear all the time. It is no hard thing to be controlled with this kind of threat hanging over you. In churches and cults that use this weapon, when in fact or as a threat, there will often a pathetic gratitude to the leader that they are still in 'good standing'. The conditioning process works so well that the individual does not usually realise that they are living in a state of permanent fear. They have managed successfully to suppress the terror of possibly losing friends, family and everything that the cultic community offers to them. They have also managed to be unaware that they are being day by day controlled by an individual, who is their guru or leader. The fear of entering the hell of ostracism has effectively stopped them from a full awareness this control. It has also prevented them from growing up and maturing as either a human being or as a Christian.
I think I have said enough to communicate my profound horror at the existence of the weapon of ostracism being used or threatened within religious communities, especially Christian ones. What we are left with is the right of people to disagree with one another. We must celebrate, not conformity and mass opinions, but difference and disagreement. People must be allowed to argue and have different opinions without being made to feel any threat coming from those who think differently. Within my own Anglican church, the rhetoric has been sometimes upped to the point that those who do not agree with conservative 'orthodox' opinion feel that they may one day be expelled. The GAFCON/Reform group claims to speak for the mainstream Anglican position just as ISIS claims to be the proper voice of Islam. Neither claim is of course valid. Debate, discussion and disagreement must be allowed to flourish and this blog will always support this privilege to hold different versions of truth within one church communion. Dignity in Difference is the title of a book that appeared five years ago. That is what I seek and will fight for. Anything else would be a surrender to the tyranny of an abusive monochrome form of power which has no place in a Christian church.