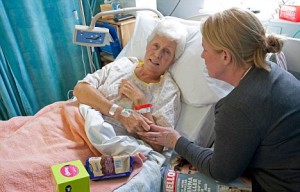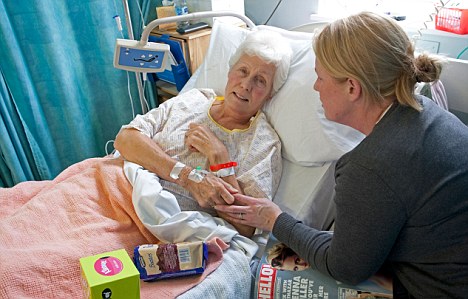 My blog posts have hinted at the fact that I am not, at the moment, as geared into the issues around Christian abuse as normal. This is because each day I am spending two or three hours at the local hospital doing what is described as 'continuity care' for the full-time chaplain during her holiday absence. Most of the patients I see are successfully responding to treatment while others are facing the end of their lives. It is this minority that demand patience and time. Some of these patients are unable to talk about the probable outcome of their illness while others are remarkably articulate on the subject of death. It is not easy talking to someone about their death as it would be all too easy to say something that causes distress. You are speaking to a person who is, until that moment, for you a total stranger. You are not only talking to them but you are trying to raise an area of conversation that is more personal and sensitive than anything else one can imagine.
This topic of what I, as a Christian minister, have to say to the dying does in fact touch on our overall theme. This is because I am trying to minister, not just to the practising Christians among the patients, but also to people who have no outward Christian faith. It is this latter group who present the greater challenge. The temptation for some Christians is tell the patient the 'Gospel' and then encourage them to accept Jesus into their heart and say the 'sinner's prayer'. The opposite temptation is simply to avoid saying anything of significance at all because all that they believe is wrapped up in words that they, the patients, would not understand. That does seem to be true of much Christian discourse. Words like salvation and gospel pour out of the mouth of the minister, even in the informal setting of a hospital bedside, and they probably confuse as well as alienate the listener. To leave a very sick patient with the idea, that because they are not individuals of faith, they are going to a place of eternal torment would be something highly harmful and distressing. Thankfully none of the accredited chaplaincy volunteers in our hospital would be allowed to speak in this way. But there are many Christians in Britain and elsewhere who belong to the 'turn or burn' group. Even if a Christian of this ilk did manage to curb his/her tongue over describing the fate of the unconverted, it is hard to see that they would have much of use to say. Because they would be, for reasons of tact and propriety, restrained in what they wanted to say, they would probably end up saying very little.
The challenge, and it is not an easy one, is to say something of value to a patient who may be close to death which uses no special language or any Christian jargon. It is this task which I have been thinking about and trying to put into practice over the months that I have been helping in the hospital. The first barrier that has to be crossed is to be allowed by the patient to talk about death in the first place. That requires a great deal of sensitivity and care. But once you have been allowed to enter into this space you have to declare what you believe is at the end of life. When I begin to speak on this topic, I might first of all mention, when it seems appropriate, the Near Death Experience (NDE) literature and ask if they have heard of it. I make the point that those who have been through such an experience seem nearly always to return with a heightened sense of wonder at what they have learnt. The experience has enthralled and overwhelmed them in its brightness and glory. There is a sense of having attended the ultimate homecoming, the greatest welcome that they could imagine. I then focus on one component of that experience, the encounter with beauty. The word beauty has many manifestations, whether through a transforming relationship, a memorable aesthetic experience or being raptured by nature's wonders. Most people have something in their lives that they can identify with beauty and I encourage them to recall it in their imaginations. I then typically will point out that we encounter beauty by an opening up of ourselves. There is an act of longing and a reaching out involved to whatever we identify as beautiful. Beauty is always outside us. I suggest that the place that NDEs point to and the church's tradition of heaven are roughly the same thing. Heaven, whatever else it is, is a place that totally absorbs our minds, our imaginations and our spirits. If we have ever been enthralled in an act of absorbing something beautiful, we should imagine that heaven is like that, only a million times more powerful. In that situation, time would cease to matter because the object of all our longing and our joy would be ours in a single eternal moment.
No doubt to the disapproval of many conventional Christians, I sum up the Christian faith as being the reaching out by us in faith, expectation and love to a God who also reaches out towards us. That is how I understand the words of Jesus in Mark chapter 1 when he declares that the 'Kingdom of God is near'. 'Turn around and receive the Good News'. In my conversations with people at the end of their lives I suggest that God is very close and we have to reach out to receive what he wants to give us, something that is hard to put into words. If appropriate I read part of Psalm 139 which declares that there is nowhere outside God's presence.
These notes on making the Christian good news relevant to people in extremis who have no background in the Christian faith is sharing very personal material but it is relevant to the theme of our blog. This is because it is far from the Christianity that is coercive and controlling that we have had frequent cause to complain about. If such a message, summarised as 'turn or burn' is cruel and insensitive to ordinary people who struggle with normal life issues, it is a horrendous message to even hint at for the end of earthly existence. As a 'liberal' I believe that the Christian faith has good news contained within even for people who never come to church, never pray the 'sinner's prayer' and never make any public declaration of faith. The more time I spend with the dying, the more I find that I want to proclaim the truth of John 14 that in my Father's house are 'many rooms'. Many rooms implies all kinds of conditions of people are catered by the divine economy and who are we to question how this works in practice? Perhaps I am technically a universalist, but that seems closer to the words and spirit of Jesus than anything I read in some types of Christian literature which is all about threat and control. The Jesus I follow is one that says to me, and especially to those close to death, the words 'Come unto me all that are burdened and I will give you rest.'