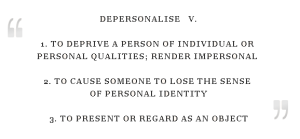 A week or two ago I wrote about a link between certain forms of marriage and cultic experience. I have since thought further about dysfunctional relationships. I noted the existence of narcissism in the situation of a dominating husband with a subservient wife and to see this allows us to have insight into the way that dominating control in many other relationships works. Over the period that I have been writing about abuse issues and the church, it has become increasingly clear to me that a desire to control is sadly far too common in almost any type of human relationship. To summarise what I have to say here, the use of control or abusive dominance in a human relationship involves treating a person as a thing or an object rather than as a fellow human being.
Over the past week, I have pulled down from my bookshelves a book which I have owned for two years but not yet read. It has the off-putting title Traumatic Narcissism by Daniel Shaw. This is not a title which will cause it to fly off the shelves, but the book was recommended to me at the Cultic Studies conference two years ago. I want to share with my readers a few of the helpful insights which this book contains, in spite of the author's using, what is sometimes, rather technical language.
I have in the past used the word 'narcissistic' to describe the particular way of relating that a cult or dominant leader uses to exploit and abuse his followers. Such behaviour, involving abusive power and control is part and parcel of the larger-than-life grandiose style that we meet in many religious or cultic leaders. Narcissism involves both dominance over others alongside a sometimes almost pathetic need to receive the attention and approval of the followers. These followers will have their own distinctive set of needs and it is these needs that have brought them into a subservient relationship with the cult leader. The book I referred to above by Daniel Shaw helps by describing this exploitative relationship very clearly. I want to go on, cutting through the psychoanalytical jargon, to indicate how he understands the way a narcissistic individual, including a cultic leader, uses his power to harm those who have the misfortune to come into his sphere of influence.
A book which influenced me a long time ago was one by Martin Buber with an intriguing title, I and Thou. This book explained how there are two ways of relating to another person. One is to treat them as an object (I-it), the other as a person (I-thou). In our relationship with God, we are to see him always as a person, never as a thing. The same thing goes for our relationships with other people. There is always a need for us to respect their personhood, their subjectivity. Daniel Shaw is also talking about this same process when he uses the word intersubjectivity. This word simply refers to the importance in all relationships to respect another person's experience and their right to have feelings and opinions of their own. The 'traumatizing narcissist', on the other hand, is an individual who will not or cannot respect the inner subjective life of the other person. All he or she is interested in is the way that the other person can fulfil the needs of the narcissist, such as found in the typical cult leader. It is also clear to see how sexual violence and power exploitation of any kind will be the outworking of the narcissistic behaviour of an individual who is concerned solely for his or her needs. This narcissist will, in psychoanalytical thought, normally be regarded as a victim, of parental neglect. He or she will have suffered from a failure by carers to respect their growing identity and personality.
A few years ago these ideas were novel, even revolutionary to my thinking. It never occurred to me that one could describe and account for power abuse using such models provided by psychoanalytical research. The insight that people who abuse their power are also people who have profound needs inflicted on them by inadequate or needy parents, is profoundly helpful. Out of this reading I have been provided with a possible interpretation of many abusive scenarios, whether in a church-based context down to a dysfunctional relationship between two people.
The ability to understand and interpret what may be going on in a situation of abuse does not in itself solve any problems. The power hungry narcissist will still exploit his victims, whether they be congregants, pupils in a school or members of the family. But there is the hope that every time the insights, such as those provided by Daniel Shaw, are shared, an environment of understanding is created where fewer people are able to get away with this kind of dehumanising and exploitative behaviour. In summary the problem I have been describing is that of treating people as objects. Everyone knows that, when this happens, and it can happen in many, many situations, there is likely to be the potential for profound trauma. The concern of this blog is to highlight the needs of those who suffer as the result of abuse carried on in the context of Christian belief and practice. When a psychoanalyst like Daniel Shaw writes so cogently on the topic of cultic exploitation, I feel that I need to study his writings and bring some of the conclusions to the attention of my readers. I may well have cause to return to this remarkable book as I have only begun to share the numerous insights of his study. It is a book that has already taken its place among classics of 'cult studies'. Sadly too few people in the UK read this literature, and it may be a decade before Shaw's ideas penetrate the thinking of professional therapists, few of whom seem to understand the 'cult' dynamic that exists in a whole variety of settings. I shall continue to read and to share with my followers what wisdom I can extract from literature that comes my way. Meanwhile I want to finish with a thought. How wonderful it would be if we could be protected from the depredations of narcissists because people had learnt to spot them long before they had the opportunity to create havoc and harm around them. As a society and members of religious communities, we need to be far more vigilant and alert than we are.