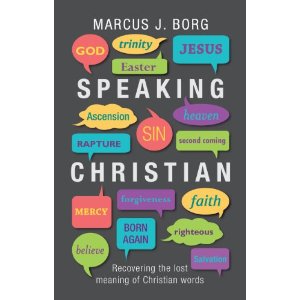 Marcus Borg, a well-respected Christian writer from the States who recently died, has stated that there is a deep problem with Christian language. In the first place Christians use words and concepts which have very little meaning for those who are not part of their community. There is a further problem that Christians themselves are using words in quite different ways from their meaning over past centuries. The people who first coined Christian language would simply not understand the way the same words are sometimes being understood today. Christian language, in spite of the problems surrounding its use and meaning, is of course grounded in Scripture. It also uses words that are familiar through the texts used in worship, hymns and familiar songs. In many ways our experience of God is shaped by the words that we use to talk about him, the language that we have been handed down from the past and which enables us to share and communicate with other Christians.
The first problem that Marcus Borg has identified is that the overall culture no longer understands the Christian and biblical language that is used inside our churches. We can no longer assume, as we once did, that children have a familiarity with the stories in the Bible. There is enormous scope for a distorted understanding of what Christianity is about from the outside. One student that Borg questioned made the following statement: 'I don't know much about the Bible, but I think there's a story in it about a guy in a fish.' With such ignorance about Scripture widely prevalent both here and across the Western world, exposure to Christian language is likely to produce massive misunderstandings in those who have never hitherto met it. The problem of ignorance is not confined to children in school. Even among those who attend church, surveys have shown that many struggle to name the four Gospels. In my blog I have often complained about the encouragement of passivity in conservative congregations. People listen but often without any curiosity which would challenge or question what they are being told. This is of course not just true in conservative congregations. Passive listening leading to distortions of understanding is commonplace among Christians of every tradition. There is, of course, something very unhealthy in a teaching method which allows one person to stand up in front addressing a group who neither wishes to question nor is encouraged ever to do so.
Borg goes further and spells out reasons for the distortions in the way that the Christian language is understood both within and beyond the community. The first reason for Christian language to be so difficult to share, is that most Christians have a very restricted idea of the overall framework of the faith. He claims that if most Christians were asked to characterise the faith in one sentence, it would be done in what he calls the heaven-and-hell framework. In other words Christianity is thought to be primarily about making it possible for people to have their sins forgiven and giving them access to heaven. There are four central elements to this belief system. The first is the existence of the afterlife. The second is the major part in Christian doctrine played by the ideas of sin and forgiveness. The third is a statement about Jesus's death being to forgive our sins. Finally Christianity is about believing all this to make a place in heaven a reality. Borg makes the comment that the heaven-hell Christianity is one deeply rooted in a concern about personal sin.
All the big words in Christianity relate, according to Borg, to this heaven-hell framework. Salvation, mercy, repentance, righteousness and Redeemer all belong to this understanding of Christianity. He recognises that for many people such a framework works, in the sense that good lives are lived and the fruit of gentleness, decency and compassion can be observed. But the framework is for Borg and many others a stumbling block and an obstacle to taking Christianity seriously in our time. He claims that it is hard for outsiders to be attracted to the language of Christianity when it is presented in this way, let alone to internalise its meaning and concepts.
The second issue which impoverishes Christian language for Borg is that of literalism. I do not propose to say much about this as my readers will know from previous blogs the tendency for many Christians to believe that words in Scripture must be taken in a literal way. This, as we never tire of saying, strips all poetic, metaphorical and suggestive meaning from the words we use in the context of Scripture. The book which Borg has written is called Speaking Christian. It is his attempt to recover the rich, dense language of Scripture and allow it to speak for itself without the straitjacket of a modern conservative interpretation. Without literalism, without the heaven hell framework, Scripture takes on a totally new life.
Borg sets himself an ambitious project which is to redeem Christian language from its heaven-hell framework and its obsession that literal truth is the only truth. He maintains that Christian language is far richer and broader than is commonly supposed. Historically many Christian people from the past did not work within these particular frameworks and he mentions Francis of Assisi, Julian of Norwich, Teresa of Avila and even Martin Luther. In short Christian language needs to be rediscovered and reinterpreted afresh.
Borg in his final chapter illustrates well how different Christianity looks when it is liberated from the old straitjackets. He writes about the Lord's Prayer and shows that there is nothing in it to do with whether or not we go to heaven. There is nothing about material success or possessions. There is nothing about belief in or an understanding of Jesus as the Son of God. What the Lord's Prayer does contain is an understanding of the way the world could be transformed under the rule of God. It shows how Jesus had a passion for a transformed world where the needs of poor, the abused and the disenfranchised would take priority. It is not unreasonable to suggest that God is passionate about the same things as Jesus. In summary God wants a world of justice, peace and reconciliation, a world where people work together to overcome barriers of race, class and nationality. In summary Borg defines Christianity as 'loving God and loving what God loves'. That sort of Christianity is indeed a challenging one but it would seem to be far more in tune with Scripture than many of the messages we hear from Christian teachers today.