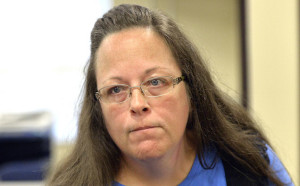 Many of us have been following the sad story of Kim Davis, the registrar in Kentucky who has refused to issue marriage licenses for gay couples on the grounds that this would upset her Christian convictions against same-sex marriage. At the time of writing she is still in prison for contempt of court. The court had ordered her to allow her deputies to distribute is licenses on her behalf but she refused. The case once again raises the issue of what is the Christian position on same-sex marriage. It is clear that a large swathe of Christian opinion has decided that this issue is a make or break one. And yet as we all know from reading the story that Kim herself is not particularly well integrated into other Christian values. She has been divorced three times and this action would appear, from even a cursory reading of the Gospels to be far more obviously against the moral teaching of Jesus. We have to repeat the fact that Jesus seems to have had nothing to say on the gay issue.
The episode in Kentucky would be not worthy of comment on this blog but for the fact that it illustrates once again the apparent obsession of many Christians in relation to this issue of same sex marriage. Once again all Christians are perceived to belong to a homophobic tribe when non-Christians read these kinds of story. Readers of this blog will realise that this is a falsehood as there are many opinions on this issue among Christians. But every time any Christians make a stand and declare that a movement towards the gay community is a betrayal of deeply held convictions, the case for linking Christianity and institutional homophobia becomes more a reality. It is a bit like water dripping on a rock so that the rock is gradually worn down and changes shape. After a further 20 years one is afraid that any Christians who are friendly to the cause of the gay marriage will be driven out as heretics by their own community. It is of particularly concern that a chasm is appearing between young people in society who are almost universally tolerant on this issue and an institution, the Church, which in parts seems incapable of movement in this matter.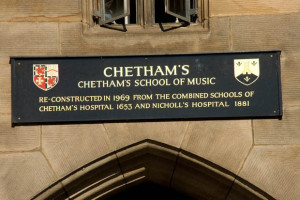 The other story that caught my eye this week was the sad case of sexual abuse at Chethams School in Manchester. Over the weekend I have been at a conference in Lincoln and I was discussing with a professional musician this latest story of abuse. She knew some of the networks of young musicians who had been affected by these events. She also mentioned that there is much more in the way of abuse stories from the music world which will come out in the future. It was while talking to her that I began to see cultic aspects in the story. One of the newspaper accounts referred to the convicted abusive teacher as being like a Svengali – figure. This fictional reference suggests the use of hypnosis as the prelude to an abusive relationship. As far as I am concerned I see clearer links with the seduction techniques of a cult guru. My preferred language is that of the narcissistically-inclined power abuser, the one who draws into their net a vulnerable and impressionable student. The music world, as we all know, thrives on a culture of large egos and dramatic personalities. There is nothing wrong with such behaviour in itself but large egos can so easily degenerate into a narcissistic behaviour which is often exploitative and abusive.
The point of my commentary on this sad story is that the narcissistic/cult pattern occurs not just in cults themselves, but is found across many institutions, including the church and the world of celebrity and music. For someone to become a celebrity in some sphere, is to introduce them to the temptation of taking on narcissistic behaviour. As my readers will know, this will involve self-inflation, grandiose ideas about themselves and a propensity to humiliate, abuse and belittle those who look up to them. In short, a celebrity culture of whatever kind is a dangerous place to be caught up in. Any institution like a church, a firm or a school for gifted children will often attract narcissistic individuals. All these places should be on the lookout to make sure that such people do not embed themselves in positions of power which can be used abusively against those who look up to them. In the case of Chethams School it is easy to see how some teachers placed themselves in a position which was guru like. Where this happened the pupils were in a place of extreme danger. It may even be that the young charges of these teachers accepted abuse as something normal in the process of learning a musical instrument to a very high level. If this surmise is correct, then there needs to be some root and branch reformation of such institutions with a demand that the culture should be changed radically that it does not ever accept the culture responsible for this kind of behaviour. This blog has been calling for a long time for a change in attitude that makes it impossible for religious institutions to tolerate this kind of attitude among its leaders.
The two stories from the news I have commented on today are very different. In one I have drawn attention to the way that Christianity is becoming increasingly defined as having a negative attitude to gays, effectively making the church a homophobic institution. Such a definition is having the effect of undermining its reputation and status in society so that people will increasingly turn away from it. The second story has drawn attention to a form of behaviour which has had incredibly destructive consequences in the music world and in particular has caused massive damage to the reputation of Chethams School. This culture out of which this criminal behaviour emerges is one sadly that I have identified as being far too common in church circles. Although this blog post may seem to be focussing on a negative side of Church life, I would claim that an awareness of what is going on and the ability to interpret it accurately, is a help in anticipating and neutralising to some extent the damage to an institution. Understanding at depth what is going on may help in a small way to stop similar things happening in the future, whether in a specialist music college or in the church. Many of us still respect and love the church in spite of its failures and frequent blindness.