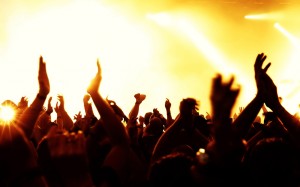 In a recent conversation with Chris, we were discussing the effect of Christian music on the would-be worshipper. I use the words 'would be' as a way of expressing my doubt as to whether some worship in church is indeed elevating the worshipper and giving glory to God. I have said in previous blog posts that much of passes for worship is pure entertainment and I am not sure whether we can even use the word spiritual to describe the activity of some of what goes on in a church service.
I make these somewhat harsh comments as I've come to see that a lot of people are not clear as to whether they are simply indulging themselves in worship or whether they are indeed getting in some way close to God. Before I present the arguments for suggesting that much that passes for worship in church is superficial , maybe even a travesty of something that would give honour to God, I want to begin with a reflection on the nature of addiction. I have thought about addiction in all its many manifestations, and it is clear that there are many ways to stimulate the human brain to have pleasurable feelings. The individual can obtain pleasurable feelings of a dopamine rush in the brain in many different ways. We have the addictions of tobacco, food, alcohol and sex as well as a wide range of pharmaceutical mixtures which are taken to give the individual a 'high'. Why do people take the substances? The stimulation of the pleasure centres of the brain is something which overrides the experience of the present moment. The present moment might contain something extremely unpleasant like deprivation, stress or a sense of meaninglessness. The drug or stimulating substance will hide all this unpleasantness for a few minutes or hours so that the individual does not have to face any experience of pain.
We all know that taking any sort of stimulant or drug has eventually a severe let-down. The first hazard is that eventually every drug ceases to be as effective as it had been at the beginning. The pleasure centres do not respond in the same way to the ingesting of the drug. So the addict, as he or she has now become, has to take more and more to achieve the same effect. But there are additional complications. The addict cannot risk stopping because there is the problem of severe withdrawal symptoms. The whole body craves for the stimulant and the addict can think of nothing else but where and when to get his next fix. Needless to say the addict is someone who becomes totally obsessed with his need to satisfy the cravings of his body as well as his brain.
What has all this to do with Christian worship? In the first place I would suggest that much popular Christian music has an addictive quality. Obviously it does not work in the same way as tobacco, alcohol or drugs and is fairly low down on any list of dangerous category substances. Nevertheless an individual can develop some kind of dependency on the stimulus of a musical beat or style which makes him feel good inside. While music has a part to play in the conduct of worship, I wonder whether it does always enhance this activity. It may arouse emotions and some of these are fairly primal. One has to ask whether merely to feel is necessarily bringing the individual close to the divine.
Another effect of music is that it helps to mould people in a feeling and feeling of profound unity with other worshippers. Unity might appear to be a good thing for a Christian in church, but this is a sense of unity which is arguably not necessarily the real thing. What is felt is more like being part of a herd. In a herd, individuality is completely swallowed up; nothing remains of the individual consciousness. It has all been swallowed up into a great sea of noise.
The moment that an individual allows him or herself to enter into this place of absorption in noise and beat, there is a sensation which is remarkably similar to that of drug induced pleasure. If I can suggest that any addiction is allowing an individual to escape from normal consciousness, then it would appear that some forms of immersion into worship songs come very close to this kind of experience. Can we actually be addicted to the music that accompanies certain styles of worship? I would deem this a real possibility. It would seem that it is always important to look carefully at what is going on in a church where this style of worship and music is the only one on offer.
In my conversation with Chris, he reminded me of the fate of many unhappy people who find their way into a church building for an experience of so-called worship. They bring with them their isolation, their stress and their sense of dislocation in the world but they hope to find some new point of reality. In theological terms they wish to find God as their rock, a point from which to orientate themselves in their otherwise chaotic world. The dominating feature of the worship encounter is loud and strident music, mixed in with some sentimental tunes. The emotional impact of the music is to give them a sense of melting into and maybe merging with the other people present. The music, in other words, makes them feel that they belong. But the problem is that such a feeling is just that, a feeling. Even if other people smile at them, even embrace them during the time of worship, they all too commonly find that everyone there has come, not to build up their spiritual character, but simply to have a good time. The longed for promised belonging and inner transformation simply does not happen. The music has aroused high emotions but little more.
I wish that I could be convinced that Christian music of the popular kind which arouses feeling of unity and love actually achieves the end which it seems to promise. Although I stand to be contradicted, I think I agree with Chris that Christian popular music is a kind of sweet sticky substance which tastes nice but leaves the one who eats it with an incredible hunger and sense of dissatisfaction. The task of building Christian fellowship and belonging is far more difficult than simply having warm fuzzy feelings in the setting of a loud beat or sentimental music ballads in church. People will return again and again for these feelings of emotional warmth for the simple reason that they are enjoyable but they are also, arguably, an addictive experience. They return for this fix which like with all addictive substances becomes less and less powerful over the course of time.
This is a hard hitting blog post and I would love to meet someone who has genuinely been helped by what I consider to be the candy floss of Christian popular music which is churned out week by week in so many of our churches. People come to these services, somebody would protest and that must mean something. I would maintain that they come because they may have been hooked into its addictive quality. To end on more positive note, I would want to plead for the teaching of silence which is a fundamental ingredient of prayer and waiting on God. Of course there will eventually be music of many styles in church; of course there will be words but somehow until we have learnt first of all to deal with silence, we cannot easily learn about the deeper aspects of prayer and worship. Stillness and silence will always form the bedrock of Christian spirituality. They surely come first and are prior to the enjoyment and proper use of music and words in worship. Be still and know that I am God.