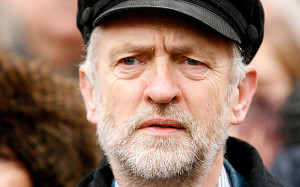 Today (Sunday) the papers are full of speculation about the future of Jeremy Corbyn and the Labour Party. But there was one sentence that has caught my eye amid all the other reporting. The particular reporter was exploring the implications of the fact that Jeremy Corbyn has had no experience in government. Thus he has not had to face up to the fact that the responsibilities of actual power involve compromise and adjustment to the opinions of other people. In talking about this the reporter said quite simply that Corbyn was more used to addressing compliant adoring crowds of people who greeted him with superstar status. No one in those audiences would be there unless they agreed with his particular strand of socialist rhetoric.
Perhaps my reader has already picked up the connection between this piece of reporting and our theme which explores the area of Christian evangelism and the way that it sometimes becomes involved in abuse. The picture of Corbyn speaking to an uncritical yet adoring audience is of course similar to a description of many evangelistic events up and down the country. The people in these events know the evangelical or charismatic jargon: they respond to all the trigger points in the sermon. It is a sermon which uses an in-house language in the same way as many politicians. In the case of the church you have had to be member for a long time to pick up on all the particular references and language allusions. The success of this language in rousing a self-selected crowd means that for many evangelical preachers, the expressions are never changed, let alone critiqued. In short the language works. Perhaps this is why many of us on the outside find this kind of preaching oppressive and frankly dull. It simply does not use words in a normal way. Religious jargon and political jargon share this in common. Both use language in a way that suits the needs of the group while firmly shutting out the outsider who has not been initiated.
The enthusiasm with which Jeremy Corbyn's election was announced last week, resembled the excitement of a religious crusade. We can imagine that the people who took part in the various gatherings to celebrate the election were fired by a similar zeal as people in a religious rally. They would have been under the illusion that the few hundred people that were with them celebrating represented the entire nation. Of course it is possible to be convinced that you are on the cusp of a revolution when you bring together the enthusiasm of hard-core believers. It does not look like this on the outside. It looks merely like a huddling together of people who desperately want to believe that they alone have the truth.
The failure of Jeremy Corbyn to speak a language which people beyond hard-line socialists thinking can understand, will mean that his time as head of the Labour Party will probably not be very long. This is not a statement of any personal political persuasion, simply a reflection of the need for any political leader to articulate the beliefs of the people who vote for him. If there is any mismatch between what the leader is saying and the followers are feeling, then these followers will simply look elsewhere. As things stand at present, there is no way that the voting public will find their deepest convictions articulated through hard-core socialist ideas.
What does this say to us about Christian evangelism? I believe that the failure, not only of Christian evangelists, but also of the church generally to get over their message, has something to do with the same mismatch of language and ideas that now exists acutely in the political world around Jeremy Corbyn. I want to state my belief that repeating hard-core slogans, whether in a political or religious context, is never going to be attractive to the bulk of the population. Whatever the enthusiasm of a particular crowd, there is always a massive task to communicate this passion for religious or political truth to a wider population. In responding to this constant challenge, I can here suggest a few ideas that come out of my own experience of preaching and teaching the Christian faith. I personally prefer the milieu, not of the passionate rally, but of a calm meeting of minds through reasoned discussion and listening. For the rest of this post, I want to suggest is that there are arenas of discussion which touch on the lives of everybody, Christians and non-Christians alike. These common areas make communication possible. If a discussion and sharing of ideas can take place, then there is a good chance that some distinctive Christian teaching can be shared and in some case it may convince. In these areas of common human experience, the Christian faith can be seen to touch the needs of everyone, whoever they are.
The first idea that I believe can be discussed by everyone, with or without faith, is that of the future. Everyone thinks about the future, their personal journey or the situation facing the world itself. Any discussion about what is going to happen will draw on a profound reflection of values, inner convictions and priorities, not forgetting our mortality. This can lead to a deep reflection on what life is for and the importance of living a good life. The Christian will bring to the discussion insights about sin, forgiveness and failure, but, as long as the discussion is about the future, the emphasis will be on newness and possibilities for the individual rather than a traditional wallowing in failure. I personally believe that we have a much healthier conversation between Christians and non-Christians when we speak about what God will do for the world and the individual rather than trotting out a series of dogmatic claims about what he has done in the past. Grappling with and understanding doctrines of the atonement are going to be some way down the list of essential 'truths'. They are needed but not at the beginning of a process.
The second area which is ripe for exploration is to discover what another person thinks is meant by prayer. I am convinced that everybody will pray in some way in certain circumstances, even if much of this prayer is less than adequate from a Christian perspective. Whenever a person prays, in whatever way, they are opening themselves up to something beyond, even if only in a desperate cry for help. It is helpful for everyone to reflect on what this activity might mean in their lives. If it means anything at all, and I believe it does, then there is a process of reflection to be had in examining more carefully what they are doing and what it might be pointing to in terms of unexamined attitudes to a spiritual dimension.
The third area which is common to every human being is the meaning and experience of love. Any act of reflection about love will show that it goes far beyond human reproduction and sentimental attraction. It should not be difficult to help an individual to see that love is perhaps the key, not only to behaviour, but also to the purpose of life itself. For reasons of space I have to leave a lot of the in between stages of this exploration for the reader to fill in themselves.
If Christians are going to communicate to the wider world, they need to recognise the lesson that Jeremy Corbyn is facing at present, namely that they need to speak a language which people understand. The traditional language of evangelism like left-wing politics is cliquey, inbred and unable to reach the vast majority of people. We need to be far more ready to develop means of communication which touch people where they are. Greater minds than mine are working on this all the time, and so the ideas of this blog are only a very small attempt at a contribution. Meanwhile there seem to be far too many Christians around, like ultra-left politicians, who refuse to admit that there are any problems of helping people to understand the deeper meaning and reality of their convictions, in our case the Christian faith. I will say here as I have said before that simply repeating the old, old story is not often going to communicate the Christian message to people today. We need to engage them where they are.