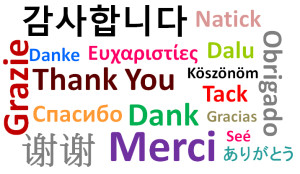 Many years ago in London there seemed to be large numbers of immigrants of European extraction who had found their way to our capital because of wars and revolutions. It was said of such people that they were the proud speakers of many languages but in some cases they could not speak any of them well. You can imagine a child learning one language at his mother's knee and then moving to a new country where it was necessary to learn yet another language to complete an already damaged education. Then there might be further disruption, more languages before finally arriving in Britain. We might envy a knowledge of several languages but on reflection we can see that there are considerable advantages in knowing just one language but knowing it well.
I begin this post with this reflection as I was talking to someone yesterday about the problems of communication on the topic of healing. Many people have picked up some exotic ways of talking about the process of healing. They have an Internet knowledge of medical science alongside other ideas which we might describe as alternative or New Age. They may also have some understanding of Christian ideas, including the importance of prayer and the issue of dealing with guilt. Talking to such people one may find that they easily switch in and out of this variety of cultures with the result that communication becomes quite difficult. You could say that they are trying to speak several languages at once. The person I was speaking to agreed with me when I said that it was very important to use one single language when discussing something with another person. It may be possible to introduce ideas from other cultures but not before there has been established an implicit agreement as to which is the main language in play. It is not unreasonable for a Christian minister to insist that he or she will want to use Christian language as the dominant means of communication.
Over the decades I myself have read many books which introduced me to alternative ways of understanding health issues. Some of these books have deepened my understanding and cultural insight into many aspects of human illness and disease. When faced with the distress in another person, I sometimes will run through in my mind the different models of understanding what I am looking at. But whatever I think about a person and what may be the cause of their problem, I will try to find one model in which to communicate with them. If a word or an idea is introduced from another cultural context, I will attempt to translate it into the language or dominant cultural setting in which I am trying to work. This attempt to control the discourse is not some power game that I am playing with another. It is merely a recognition that in our post-modern age, many people are trying to master an understanding of something while at the same time they are juggling with a wide variety of concepts from different sources. They end up with no clarity: they are like people who speak five languages but all of them badly.
In the previous blog post I was challenged for appearing to criticise the ideas of Jeremy Corbyn. In my response, I hope I made it clear that I was criticising, not his actual ideas, but the language in which these ideas were expressed. When any ideas are developed within a particular and, arguably, a narrow framework of culture, they will end up being articulated using a closed system of discourse. Families likewise often evolve their own words and expressions to denote everyday things. This is a private language and has to be interpreted when other people beyond the family hear it. Every profession develops their system of pet acronyms which are incomprehensible to people outside that charmed world. Sometimes language is used deliberately to create an in group which effectively keeps out outsiders. Whenever language is used to create barriers, we can say that it is not being used in a healthy way.
In speaking to another person, it is not only helpful but also good manners to ensure that we are using language in a way that they can understand. It is also not unreasonable for us to establish at the start that they should try, as far as possible, not to keep switching into other cultural frameworks, unless it is really necessary. As an example, one might be talking to someone about mental distress. If they were suddenly to introduce the idea of kundalini, then the conversation might well stall at that point. Even if I thought I knew what the word meant, I would have to establish that the other person had the same understanding. I would need to know where and how they have picked up this particular Hindu/New Age concept. That would take time to establish.
I seem to have used up a lot of space in explaining how important I feel it is to use words and language in the same way as another person for understanding to take place. Most of the time when Christians speak, they can assume some common knowledge of Scripture on the part of their fellow Christians. But even here there is still tremendous scope for misunderstandings as the ways we have been taught to use the Bible can vary enormously. Quite often in comments posted on this blog, I realise that an individual is saying something important. The problem for me may be that the way the idea is expressed means that I do not have a quick answer. I simply cannot see a way to respond to the issue raised without using lots of words and explanations of what I mean. In short, two Christians are speaking quite different languages. Communication is made very hard in this situation. My previous blog post was an appeal for us to consider how the truth and the reality of the Christian gospel be translated into a form of language which is in everyday currency among the people of our nation and culture. That is a massive task but it is one that is worth struggling and fighting for. One thing that will not help the cause of Christianity is simply to go on repeating words that some earnest Christians believe are essential to the Christian gospel but which, in fact, are obscure and almost meaningless outside the charmed circle of a particular 'tribe' of Christian believers.
Forcing people to use jargon expressions which they do not really understand is never going to help the cause of the Christian gospel. What this blog would plead for is not some instant solution to the problem but recognising the importance for all Christians to develop a greater sensitivity to this issue of language and the meaning of words. We need to understand that words are used not only in accordance to the dictionary definitions but as a way of expressing emotional states and cultural attitudes which go beyond mere words. That subtlety of understanding will always be important. It will always be important for us to express our ideas and convictions but also to hear what others are really saying.