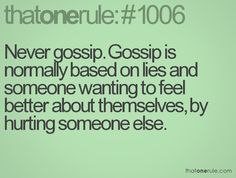 Many people think that gossip, particularly when carried out in the context of the church, is a harmless exercise. But when we think about what is really going on, it is not difficult to see that all too often we are witnessing an act of violence against an individual. For gossip to take place there needs to be three people at the very least. There is the person who is passing on the gossip, the person who receives it and the individual who is the topic of the 'information' being passed on. There are several reasons why gossip is potentially a great evil. In the first place there are no checks and balances to discover whether the information passed over is in fact true. The target of the gossip is absent and so cannot challenge the version of events that is being told. Because rumour and innuendo are not able to be countered, they soon pass into being thought to be fact and accurate information. Passage of time makes it more and more difficult for the gossip to be challenged. Particularly after much repetition people have come to accept it and individual reputations are in some cases destroyed by it.
Anyone who reads through the many pages of the Langlois report, will see how effectively gossip was used as a way of controlling and doing violence to former members of Peniel church. When an individual left the church or was pushed out, it seems they became fair game for gossip and slander. It seemed to be a deliberate policy on the part of the leadership to discredit and shame their critics and former members. I do not feel that the expression 'violent abuse' is an inappropriate one as a way of describing the deliberate use of false testimony against an individual person who cannot defend himself and put forward another perspective on stories being told.
Why do I make an issue about gossip, something that most of the see as being harmless? The reason is that when we begin to examine what is going on, we can realise that the sharing of gossip is one of many power games that are played by human beings against others. Sharing gossip can be a kind of ganging up against an individual, and the sharing the information about that person can, and frequently does, change the way we treat them. Knowing or thinking we know a piece of secret information about another person, which may be shameful or embarrassing, is hard to ignore the next time we meet them. When gossip is shared about us, we may be fortunate enough to find out from a friend the things that are being said about us. This may help us to get to the bottom of where the information came from, and maybe correct it with a true version. If we are unfortunate we will never know that such things are being said about us, and the only thing we will notice is that people are looking at us slightly oddly. Gossip can be a poisonous thing in a community.
There is an interesting passage in John's Gospel (chap 6.41-43) where Jesus discovers that the Jews are gossiping about him. Because the gossipers knew his parents, this meant that they could treat him with contempt and disregard the things he was saying about his ministry. Their gossip was no doubt based on resentment towards a local boy who was making something of himself in the world beyond his home town. Being condescending towards Jesus is typical behaviour of people who feel jealous of the achievements of another. Gossip and slander were their tools their tools for trying to put Jesus in his place.
All of us have been the victims of gossip as well as the perpetrators of it. We need to ask the question when information about another person is shared with someone else, as to whether a complicated power game is being played. We do of course sometimes have to discuss the problems that arise from the behaviour of another individual, but we must always be careful that this is an act of love and concern. It can so easily degenerate into an attempt to boost our sense of importance by making someone else look small and shamed. We must always be on guard against allowing a speculation about another person becoming, in the process of telling and retelling, a hard fact. It is of course not just in in churches that harmful gossip takes place, but also in families and in any institution which draws people together.
My title for this blog was gossip and violence. I should explain that not only is there violence in treating another person with contempt by spreading lies and gossip about them, but there is violence sometimes in the way that an individual chooses to react to the sense of shame that has been placed on him or her. This idea of shame is not something that can be defined in a few words. But when a person has been gossiped about and that gossip has become a major part of their reputation within a community, they will normally experience a strong sense of shame and be unable to hold their heads high. Sometimes that shame is partly earned, but on other occasions the shame has been attached to them through the unwarranted use of gossip and slander. When any person senses that other people are treating him or her with contempt based on lies and innuendo, that person, as well as feeling shame, may also feel a great desire to react in a way that can involve violence. The destruction of a reputation in a community is no small matter and the shamed person may use almost anything to relieve that feeling of shame. This is a big subject which I cannot tackle further in this post. But I leave this post with the thought that some of the violence that we see in the world around us is attributable to a sense of shame, a feeling of being deeply misunderstood and having things said about one which are perceived to be totally untrue. In this situation despair and anger is sometimes turned into a bloody and violent rage.