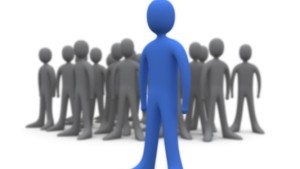 Today I am looking at an area of abuse which many Christians have so internalized that they no longer see it as a problem. This particular abuse is found in the capacity of some Christians to be supremely confident in what they believe and in what they interpret as being God's will. From this position they are ready and able to denigrate and attack other Christians who do not agree with them. The logic runs along these lines. My interpretation of Scripture and what I believe is the only correct and valid way of being a true Christian. Therefore if you do not agree with me, you must be resisted and opposed on every occasion. Your beliefs are dangerous since they pose a threat to vulnerable people who might be led astray by what you are saying. Taken to its extreme, exclusivity in belief gives some Christian the right to threaten and even destroy others because they, the opposition, believe and teach things that have the potential to send people to hell.
In our Western societies, exclusive beliefs do not, happily, result in Christians killing each other. Civil society, the laws and the courts insist that no belief system is permitted to allow religious people to fight or kill each other because of their claim alone to have the ultimate truth. But we do see this kind of behaviour in other parts of the world which operate with other religious systems. Sunni and Shias battle it out, with each claiming with great fervency that they possess the correct interpretation of their Prophet's teaching. Holding the truth of their faith is for many indeed a matter of life and death. Having 'the' truth while excluding those of other persuasions will from time to time justify the killing of others who are not in their 'tribe'.
In the next few days Anglican leaders are gathering to discuss the question of truth and unity in the Communion. In that debate we will no doubt hear more of the hard edged arguments from the conservative faction based mainly in Africa, South America and parts of Australia. The conservative Archbishops claim that they know and uphold the will of God in the issue over whether gays can marry. Because they are certain that, according to God's revealed will, this is impossible, they feel they have to uphold this teaching because it affects the fate of millions of souls after death. It is for them a heaven/hell issue. If it were not, then perhaps they could seek a formula to enable them to live together with those who think differently. But the nature of their understanding of Scripture means that compromise is not permitted. The hard edge of excluding those who do not agree with them is for them the proper orthodox face of Christianity.
The liberal thinkers among us, who long for some kind of theological compromise to be possible in the Anglican Communion, are aware of many historical factors that have created this impasse. This is not the time however to rehearse how we have arrived at this place where an irresistible force is confronting an immovable object. What we can do in this post is to reflect how Jesus dealt with divisions and disputes that were going on around him. In his day there were many debates about how much of the observance of the law was mandatory to be a Jew in good standing. Jesus himself was criticised for allowing his disciples to break the strict interpretation of the Sabbath regulations in extracting grains from the ripening wheat as they crossed a field. There were well over 600 commands extracted from the Jewish Law Books and these were believed to be compulsory for a law-abiding Jew. As we know, it was only possible for wealthy unemployed Pharisees to even attempt this daunting task of obeying every law. Jesus in his discussions with the Scribes and Pharisees seems to have taken a fairly relaxed attitude over the matter of keeping the Law in every detail. We have no reason to doubt the tradition that has Jesus quoting the Deuteronomy summary that the Law is summed up in two commands, the love of God and of neighbour. It also makes historical sense of the events leading up to the crucifixion to suggest that it was important for the Jewish establishment to crush a teacher who tolerated a radical reinterpretation of the Law. This interpretation had resulted in Jesus feeling able to eat and drink with those the Law excluded, the tax gatherers and sinners.
One interpretation of the crucifixion is to say that Jesus is the friend of those who defy the human tendency to exclude and create divisions in the name of 'truth'. Jesus was killed because he sought peace (shalom), forgiveness and reconciliation between humankind and God and the breaking down of every kind of human barrier. Reconciliation and peace are lived experiences and they do not readily translate well into words. This repeats a theme that I often spell out in these posts, that the search for truth goes far beyond correct words and formulae. God is never to be reduced to a series of propositions or statements.
What do we ask of those Christians who exclude and even hate others for not agreeing with their hard and exclusive understandings of Scripture? What we ask of them is not to change their minds, but simply to allow those who disagree with them the right and the space to exist. We ask from them the capacity to imagine that God is not confined to a single version of truth but allows people in different times and places to encounter him in a variety of ways. Thanks to the (liberal) laws of the West, Christians are allowed to live in peace with other Christians. The unacceptable face of hate and exclusion nevertheless still lurks just below the surface. The logic of John Calvin, whose theocracy in Geneva allowed Michael Servetus to be burnt at the stake so as to preserve Christian truth, is still to be found in some of our churches today. People are no longer killed, but some of the venom that used to inspire such killing is still to be found, regrettably, in the tone of the discussions like those among the Anglican bishops gathering in Britain this month. What divides us is the readiness of some Christians always to exclude those who do not agree with their version of truth and understanding of faith. Excluding others has become a mark of their version of orthodoxy. That surely is not the way of Jesus.