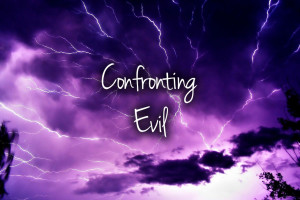 'Why are people so critical of other people when things go wrong?' This was the first sentence in a recent blog contribution. I thought about my response before deciding to make a blog post out of my reflections on what is my answer to this question. The simple answer is that sometimes when things 'go wrong', a large number of people may be affected by what has been done. The 'wrong' action has perhaps become an instrument of abusive suffering for maybe many people. It is important that the perpetrator of the action becomes aware of this fact. There is a particular issue when a person of power or influence misuses their power as all the people under their influence may well be affected. A different way of judging what is going on comes into play in such a situation.
Thinking about this further I have come to see that we need to think about wrong actions as existing on a continuum. The degree of seriousness which we ascribe to them will depend on the extent to which they have affected other people. A supremely wicked act might be one which initiates tens of thousands of people being slaughtered because of their colour or race. Being critical of another people's wrong actions is obviously an extremely important task. That is why we have laws to express society's disapproval towards evil actions that harm others. At the other end of the continuum of wrong actions we have an immoral act which only affects and harms the person doing it. The watching of pornography or the taking of drugs will no doubt be seriously harming the individuals involved and their relationships. Such things are no doubt wrong, but some of the time they are not illegal or deemed to be matters of public interest. It is probably not helpful that other people outside the situation (the press?) take the high moral ground by publicising these misdeeds and naming them.
In the case of the leaders of God TV, the mentioning of the issue of Rory Alec's adultery is not in fact the same as taking a moral stand on the rights and wrongs of committing adultery. We may of course have strong feelings in the matter but in most cases we have to accept that this transgression is a private matter and not for us to probe into. We may of course privately speculate on the way that any act of sexual betrayal will normally be cataclysmic for the people close to the situation. But adultery or any non-criminal sexual affair takes on a different dimension when it is perpetrated by people in positions of trust. The situation is of course compounded when the activity is criminal in addition to being immoral. The Bishop Peter affair was far more serious than just a misdemeanour against young men. These young men were the immediate victims but many more people felt betrayed and the trust in the integrity of the church as a whole was undermined by the Bishop's activities. In the case of Rory Alec and God TV, tens of thousands of listeners had believed that they were listening to the authentic word of God through the presenters, Wendy and Rory. For one of them to betray high moral standards would be potentially deeply disturbing to the listeners. However we understand the relationship between broadcasters and their audience in this situation, something important was going on in this relationship which gave meaning to the lives of those who follow God TV. Many had given considerable sums of money; they had followed these Christian leaders with enthusiasm and now they were being let down. Of course the adultery itself is important but here it only becomes of greater concern because massive issues of trust and betrayal were also involved.
It is interesting that there is much current discussion in the churches about what I would call private morality. The Anglican bishops for example are giving the impression that the most important moral issue today is that of homosexuality and the possibility of 'gay marriage'. Whatever one's moral stance towards this particular issue, it could be claimed that it is a clear example of a private moral matter which affects very few people beyond the relationship. It would be hard to claim that there is any abuse going on affecting those outside the relationship. In contrast, the historic betrayal and failure to protect children in many religious institutions and the imposing of religiously inspired ideologies harmful to women damages millions. This blog and its editor is concerned with these evils that are tragically endemic in many church institutions. These have the effect of damaging enormous numbers of people in the context of God and the Christian faith. Of course it is and always will be important to name and be critical of such behaviour. Here in this blog we explore the psychologically deviant among Christian leaders, corrupt and self-serving interpretations of the Bible along with bullying and other examples of abuse of power in the church. All these things have and continue to do enormous damage to the integrity of the church and that is why they must be explored. The naming of evil actions towards the vulnerable is the first stage towards preventing them happening in the future. Rory Alec's failure was, to repeat, not simply or even mainly about sex. It was the fact that his action had the effect of betraying large numbers of people who looked up to him. It was in short a massive case of hypocrisy. That is serious, far more serious than simply going off with another woman while already married.
In writing this blog I have had to look at my own behaviour and identify the times when my actions have affected not just myself but other people, sometimes more than one. To betray or harm other people through selfish acts is far more serious on a moral scale than doing something that is stupid and foolish but only harmful to oneself. Many immoral acts against oneself involve some form of self-harm but these quite often can be corrected when the consequences, great or small, become apparent to us. A typical example would be the reforming drinker or viewer of pornography. When harm is done to others through our actions, the consequences do not always appear quite so readily. It may be that some people are around who still carry the burden of something abusive we said or did years later. It will be impossible in this lifetime to undo the damage of all our selfish actions towards other people, but at least we should be aware that such damage exists and, if it is possible, we have to do what we can to put these situations right. Identifying the difference between the harm we do to other people and the harm we do to ourselves may help to make us more careful in the future. In identifying the actions done by us which create the most harm to others, we can be morally more sensitive and less judgmental towards others, particularly in cases where the harm done affects nobody beyond the perpetrator.