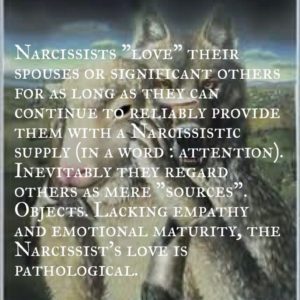 In a recent blog post I spoke about narcissism and power abuse and I made a passing remark that this was sometimes caused by the person guilty of bullying having had themselves the experience of being bullied in the past. I was exploring the way that a metaphor of hunger seemed to fit these cases. It seemed apparent, as I was writing, that a hungry person, in the sense of suffering from emotional deprivation because of bullying from others, may well choose to misuse power as a way of compensating for this deprivation. Someone pointed out that the simple equation that a narcissist is a bully who has themselves been bullied is probably not accurate. Going back over the literature on the subject, which I examined at some depth ten years or so ago, I find that the origins of Narcissistic Personality Disorder (NPD) are indeed far more complicated. One thing that is true is that the narcissist is a person who at a deep level is searching for self-esteem. The longing or search is linked to having been failed at a very early stage in his life. The classic teaching on the causes of narcissism suggest that the small child who later is diagnosed as an adult suffering from NPD has been deprived by his (it is normally a he) mother. The mother had failed to give her child sufficient or appropriate experience of self-esteem. In rearing small children there is a delicate balance to be observed between not supressing the natural grandiosity of the infant and at the same time not allowing it to become over-inflated. Heinz Kohut, the Austrian American psychoanalyst who pioneered a lot of the research into narcissistic behaviour, in particular noted how a mother was in danger of allowing a child to feel that they are at the centre of the universe. When this 'baby worship' comes to an end, as it is bound to, there is a danger of the child not being able to handle his sudden traumatic change of status. The child or young person who has been too long the apple of his mother's eye now has developed an insatiable appetite always to be a centre of attention. Kohut speaks of the almost psychic sensitivity of the young person as he scans the world around him to find new ways to regain the adulation that he used to get from his over attentive mother. The child then becomes the adult who knows exactly how to manipulate others so that they give him the 'worship' that he used to receive from his mother. In Kohut's writing there is also an explanation of how a mother can get things right. She has to allow the infant to balance his powerful self-affirmation with the needs of other people around him. This is done in a process called 'optimal frustration'. In short from an early age the wants and needs of the child have to be curtailed so he can live in some sort of harmony with the rest of society, while retaining appropriate self-esteem.
Many people live with an insatiable hunger for the acceptance that they did not receive as tiny children. Alternatively, they may be conscious of having received a great deal of affirmation from their mothers which accustomed them to being right at the centre of the universe. Either way such people are candidates for NPD and this disorder is something we see at work in many walks of life. Unlike other personality disorders, NPD does not necessarily result in the individual being regarded as in need of treatment. Many 'sufferers' perform and function successfully in many careers or roles. A narcissist may do extremely well running a business, as long as his subordinates adjust themselves to his style of management. Within that kind of company there will be glamour and even success but at the same time there will probably be enormous amounts of stress and unhappiness. Such individuals are even described a charismatic as they often have clear vision of what needs to be done. A company may apparently thrive under a high functioning narcissist but his ruthlessness and failure of sensitivity towards those who have to work under him will normally cause unhappiness all around. The pursuit of his emotional needs will be at the top of the narcissist's agenda, even though this is not spelt out.
Not all narcissists are high achievers. Many of them in fact are prone to depressive illness as the opportunity for feeding their self-esteem deficit is not available. It is probably only the minority who can manipulate their lives and the people around them so that they can relieve their deep symptoms of need for self-esteem. The problem for the depressive narcissists is that they too have an insatiable appetite for their frustrated self-esteem needs to be met but it exhausts and grinds down those who try to help them. The hunger that they have is deeply ingrained, but no amount of support ever seems to be enough. Married partners and friends are in the end often completely defeated by this neediness.
In this blog we have a particular concern for the damage that people with NPD can do in the church. I have already suggested that many narcissists in positions of responsibility may start their ministries with only a mild form of the disorder. It is the role as a Christian leader that sometimes magnifies something that is a mild tendency or potential into the full-blown personality disorder. I would suggest that many of the individuals guilty of bullying and misusing their power in a church may be what is known technically as 'situational narcissists'. This is another of saying that the role has drawn out of them something which might never have been apparent but for the particular setting of Christian ministry. The opportunity to throw their weight around appeals to something deep inside them and awakens a hunger for power which might not have manifested itself in another walk of life. We could also describe such people as opportunist narcissists. This last expression is my own invention as there is nothing on this topic in the text-books. Opportunist narcissists may indeed be the most common expression of the personality disorder.
Some of the sufferers of NPD including those who are 'situational' or 'opportunist' can be seen among the highly flamboyant leaders of successful charismatic ministries. Here, as I have pointed out before, the interaction between preacher and audience is highly addictive for both sides. I think I have explored this dynamic sufficient times in previous posts. What I have not mentioned before are the sufferers from the more depressive kind of narcissism. No one to my knowledge has done any research on the incidence of this depressive kind of narcissism among clergy and religious leaders. There are no rewards for the victims of this form of NPD. I believe that among the clergy there are many whose morale has been severely depleted over the years by the demands of the job. They are aware of a deep hunger inside them which they may have believed would somehow be met by offering themselves for full-time ministry. When they were in fact unable to feed their inner hunger through becoming involved in the problems and issues of other needy people, their ministry began to descend into a spiral of depression and despair. To suggest in this way that a failing ministry can be accounted for with an explanation of narcissism, is of course controversial. But failure of morale in many places within the church is an issue and should be taken far more seriously. To summarise the church has to find ways of responding to NPD which comes at it from two directions – from the high octane, high energy style of the exploitative charismatic leader alongside the depressed and the demoralised among the clergy who also hunger for the self-esteem that was denied them in early life.