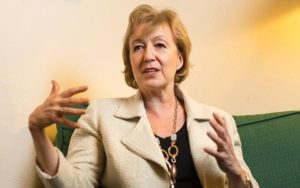 But nevertheless my own view is that marriage in the biblical sense is very clear from the many, many Christians who wrote to me on this subject, in their opinion, can only be between a man and a woman.
These are some careful words uttered by a contender to be the UK Prime Minister, Andrea Leadsom. As a self-identified Christian in the House of Commons, she evidently has received a full post bag of opinions on the subject of gay marriage. If we look carefully at her words, we see that she is able to offer a partial identification with the opinions of the religiously conservative people who have written to her, while being able to avoid going all the way in making this her own opinion. In short she agrees with them up to a point but allows herself the freedom to take a different opinion when it might be politically expedient to do so. One way in which Andrea Leadsom does put herself firmly into the conservative Christian camp and their use of the Bible is through the implied assumption that choosing particular scriptural texts allows one to discover decisive moral teaching, binding on Christians and society in general. The Bible-believing letter writers evidently believe that Scripture is totally unambiguous as to what it says about marriage. It is believed to promote heterosexual marriage to the exclusion of any other pattern of sexual behaviour.
Provoked by this idea that the Bible is very clear in what it says about marriage, I went to my Bible and opened up at Deuteronomy. My Jerusalem Bible conveniently entitles one section of this book: 'On Marriage'. Here we have a number of laws set out about marriage and how it was to be conducted in ancient Israelite society. From a modern perspective this section, chapters 21 to 22, is a thoroughly misogynist text. Not only does it allow men to marry more than one woman, it also allows a husband to stone a young wife to death if she fails to substantiate her claim to be a virgin. The horror of this act is enhanced by the fact that it is to be accomplished at the door of her father's house. There is also no suggestion in this section of Deuteronomy that a woman ever has any real choice in the matter of finding a husband. Two scenarios for a man finding a wife are given. Neither speak of love or free choice. The first is a marriage after a woman is taken captive in war and the second is a relationship when a woman is a victim of rape. She is then expected to marry her violator. No doubt marriages were entered into without this background of violence, but the author of Deuteronomy here seems to have no interest in the idea that marriage could be a relationship between equals.
Before we try to bury these texts of Deuteronomy concerning marriage as being of no relevance to today, we should recall that key texts against homosexuality are cited from another law book in the Hebrew Bible, the book of Leviticus. It would seem wrong to claim authority for Leviticus on what it says about same sex relationships and then reject offensive passages in other parts of the Old Testament concerning the conduct of family life. How many conservative Christians would suggest that the solution to dealing with a 'rebellious son' is to take him to the gate of the city and have the inhabitants stone him to death? Clearly there are no Christians who would now want to follow such instructions over the way they manage their marriages and families.
When we read about King Solomon in 1 Kings 11.3 we discover that he had 300 concubines. It is easy to gloss over the impact of the institution of concubine, but we should realise that a concubine is simply another word for sex slave. The horror of slavery is found throughout the Bible, and Paul no doubt was aware of the implication of telling female slaves to 'submit' to their masters. The constant abuse by male masters of their female slaves makes a secure settled and committed gay relationship seem thoroughly innocent by comparison. The treatment of Hagar, Sarah's slave, after she became pregnant by Abraham was cruel and unjustifiable. The Bible text records Hagar leaving the dysfunctional household on two occasions. The first time was when she ran away of her own accord after being treated badly by Sarah. The second occasion was when she was deliberately expelled from the family unit by Abraham at the request of his wife. To send Hagar and Ishmael off into the desert with some bread and a skin of water was tantamount to wanting her dead. The fact of her survival does not let Sarah off her vindictive and jealous behaviour. Such family dynamics were clearly extremely unhealthy and hardly offer us a biblical model for family life today.
It is obvious that I am bringing out from the text passages which show that family life and marriage in biblical times was quite often far from ideal. Choosing these particular sections to make my point is however no less legitimate than the extraction of passages which support the conservative view that there is within Scripture an ideal structure of marriage between one man and one woman. Once again I want to repudiate the idea that we can gain definitive wisdom about the will of God by choosing any single passage from Scripture to make a point of moral teaching. If we are to use the Bible to find some model or pattern for morality today, we need to have the honesty to say that there is there a variety of practices and understandings of relationships. The Bible does not have a simple formula. From my own perspective the dysfunctions revealed in Deuteronomy and in the book of Genesis, particularly in what they reveal about the mistreatment of women, are all about the abuse of male power. We can go further than that and say that the Bible contains plentiful evidence that men in past generations used their physical and social power to dominate and in many cases abuse women and children. Even if we claim that Jesus saw through this male dominance and reasserted the rights of women and children, we can only do this after acknowledging the horror of much of what went on before.
The trite claims of politicians as well as church leaders who tell us that the Bible teaches this or that must be constantly challenged. I somehow doubt that most of them have ever actually grappled with the text. What is true is that if we treat the Bible as a mine for pre-selected texts, then certain emphases and teachings for moral ideas can be found. A thorough study of Scripture will however reveal both light and darkness, particularly in the part which is known to us as the Old Testament. It is crucial that we read this part of the Bible with a sense of history together with a sensitivity for the social conditions of the period. Even when we read the New Testament we need to be aware of how Paul was himself a product of his age. A study of Scripture, a critical study of Scripture, can reveal to us what we believe to be spiritual insight. This insight has the power to transform the one who reads it. We must, nevertheless, always approach the text with a discerning and critiquing of what we find there. We must constantly be on our guard against becoming victims of a legalistic and fundamentalist mind-set in our approach to these texts. If God is truly to be encountered in the words of Scripture, he will be found in and through this kind of sensitive, discriminating and imaginative engagement with the text of the book we call the Bible.