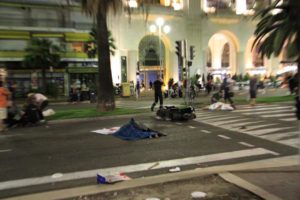 Like all my readers, I was horrified at the news coming out of France last Thursday. Coincidentally I had been recently reading a book about the effect of terrible disasters, like the one in Nice, on the bystanders as well as those who are the actual victims of an atrocity. We do not give a great deal of attention to the ambulance-men, the police and all who support them in a situation of some desperate mind-numbing tragedy. A human being when faced with something on the scale of the events which took place in Nice is pushed to the very limits of what he or she can cope with psychologically. All too often a consequence is breakdown or post-traumatic stress disorder. These bystander victims, the professional helpers together with the actual victims and their families, all of whom have to deal with terrible stress, must number several thousand individuals.
One thing we do know is that it was a single individual who perpetrated this monstrous act of driving a lorry into crowds of people with the intention of killing and maiming as many as possible. It is difficult to find an adjective to describe the depth of depravity that was involved in such an act. I do not propose here trying to enter into the mind of someone capable of such behaviour, but I am aware of one enormous problem that arises for Christian theology. The question is: is it ever possible to forgive an act as horrific as this one? The question is made so much more complicated by asking the further question. Who in this situation anyway has the right to forgive such a perpetrator who has damaged and destroyed the lives of so many? Even if one person could forgive this action, would they have any right to speak on behalf of the other thousands affected by this terrible deed?
The Nice incident helps us once again to recognise the fact that forgiveness is never going to be a straightforward matter. The simplistic rule that says that we must always forgive can be seen not to resolve the complexity and evil of this situation. One person choosing to forgive anyway does not do very much to bring any kind of closure for the majority. Thousands of other people are still left struggling with their terrible memories and their grief and this, at the very least, will continue to have a lasting effect on their lives. If all evil could be restricted to something that concerned a single perpetrator and a single victim, then it might be possible to put into practice the simple gospel challenge, forgive as you are forgiven. Most evil acts against others, in fact, involve far more people than in a one-to-one encounter. Also, organisations, as we have seen recently, are capable of committing evil acts against individuals and groups. In their turn individuals can commit evil against others and this may affect large numbers of people. Whenever even a single person is damaged as a result of another person's malevolent action, then all the people close to the victim may, to some extent, share in the pain and the damage which is done to that individual. For forgiveness to be fully effective, all victims need their pain recognised and individually dealt with.
Two things follow from this reflection. The first is a warning to each of us when we are tempted to do something harmful to another person. The damage that we do, or try to do, will be potentially be like a wave which moves beyond the single event to affect many others. There may be echoes of the original act of malevolence which are felt years or decades later. It is like throwing a pebble into water; the ripples spread out in every direction and we have no control as to what they affect. The story of Trinity Brentwood, to which I have given a lot of space to on this blog, is also an account of evil rippling outwards from past actions to affect negatively countless individuals. One man, Michael Reid, persuaded a group to give him absolute power in his church in the 1980s. As a consequence of that power exercised in a selfish, self-seeking way, hundreds of people were damaged and their lives radically changed. That damage has affected not only them but also their families, both the immediate family and its extended members. This damage continues right up to the present. Things said and done 20 or 30 years ago are still affecting the present. People still suffer; people still experience their lives as being damaged and incomplete.
One of the most obscene statements to come out of Peniel/Trinity is that the victims should forget what has happened and move on. It is an indication that the remaining members of the church still hold to a cheap forgiveness doctrine, 'forgive and forget'. It is cheap as well as insulting. It simply does not engage with the full horror of what many people went through under the leadership of abusive leaders. Damage is easy to perpetrate but very hard to put right.
One of the things that I picked up from a network of churches in America, is the idea of 'safe haven churches'. I am still trying to absorb all the material from that lecture and I shall be sharing further insights that I learnt in future posts. The speaker did emphasise one point about these churches, and this is my second point, that it is vitally important to be able to forgive. Obviously the individuals who had escaped abusive churches might have specific things to forgive but it was also emphasised that forgiveness is a fundamental attitude for a Christian that needs to be constantly flowing even when there is nothing obvious to forgive. In saying this the speaker was in no way underestimating the cost of forgiveness but it still remains as fundamental to Christian faith as love. I shall be speaking further about the path to and cost of forgiveness in a future post when I explain further what is taught by the 'safe haven churches'. Here I can mention two points, first, the importance of acknowledging and dealing with the experience of anger and rage that exist within abused individuals. The second point is coming, albeit slowly, to an imaginative understanding of the inner experience of the perpetrator. It is at this point that one may find the grace to let go of the wrong and the pain and leave them with God.
Nothing I have said really helps me to come to terms with the monstrous horrors perpetrated in Nice. All kinds of emotions are aroused and all the words that can be used seem hollow against the enormity of what happened to so many. Perhaps all we can do is to keep silent in the face of all the pain. Among our prayers must surely be one that asks God not to allow the events of last Thursday to erupt into a search for vengeance and the projection of evil on to whole groups and members of other nationalities and faiths. That would be catastrophic and lead to an entrenched state of inter-communal hostility that could last for decades.