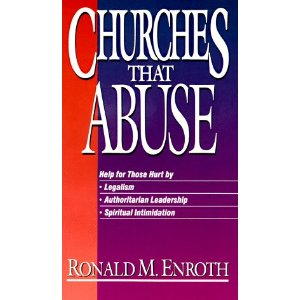 In my last blog post I referred to the division that exists between so-called critical 'cult watchers' and people in academia who want to describe controversial religious groups with the neutral title of 'New Religious Movements'. I have been reading further on this subject to discover how it happens that intelligent people who investigate a group or church can come to such different conclusions as to what they find. I suggested in my previous post that it was as the result of the nature of the particular academic discipline in which the researcher has been trained. Sociologists and social psychologists will see quite different things from psychotherapists and psychologists. That observation, I believe, remains true. But there are further reasons for differences among researchers and students of religious groups when they investigate an abusive organisation.
I want us to imagine the task of researching the true nature of a large organisation, whether a church or a firm. How do you find out what is really going on in such an institution? Do you go to the very top and question the managing director or the minister in charge and ask them to tell you the true story of the dynamics of that institution? Most people can see that the only thing that you would learn from this approach would be the perspective of the person in charge. This may or may not be an accurate one. The same thing would happen if you meet up with the officers or members of a governing board. Whoever you spoke to in that group, at whatever level, would be anxious to put on a good defence of the institution. It is likely that whatever was told to you as an outsider would, up to a point, be biased and not totally reliable information. Anyone who belongs to a church or another organisation will normally be defensive in their support of the image and reputation of the group. If they are being paid by the group, then their very livelihood depends on the need for people on the outside not uncovering any skeletons. If their membership is voluntary, they still have an emotional reason for belonging to the group. This has created a loyalty, a loyalty not necessarily compatible with totally objective and clear-sighted truth.
From what I have said, it will always be difficult and often impossible to find out the inner dynamics of an organisation by just speaking with its members and its leaders. Whatever discontent an individual may feel, he or she, while they are still part of the organisation, is never likely to open up to a stranger. The same thing applies in a family situation. As long as the family is physically together in the same place, it is difficult to see how any member will find it easy to express unhappiness even in a situation of violence and emotional abuse. It is only when a child or mother escapes out of the situation that the catalogue of horrors can normally begin to be uncovered. The task of extracting the truth from an abused mother or child still within a family setting is one of great complexity and requires considerable skill. Somehow the barriers created by loyalty and tribal identity have to be penetrated and overcome so that truth can be told.
The great debate among cult apologists and cult watchers, as we shall call them, is over the question as to whether the testimony of leavers can ever be trusted. I have already suggested that cult apologists are an unreliable group of witnesses to tell the truth about a high-demand group. There are many well-attested allegations that in some cases such scholars have taken money from the very people they study. But a further cause for concern is that one of the main contentions of 'cult-apologists' is that testimony from ex-members must be disregarded and ignored. It fails the test of academic objectivity. Common sense, on the other hand, suggests that the evidence of a mother who has fled to a refuge should always be taken into account when deciding on the guilt of a violent husband. The same principle would seem to apply when trying to evaluate a particular group or abusive church. Speaking merely to existing members would be unlikely to penetrate any possible collusion on the part of those who are still in the group. Of course there are many groups that operate without any guilty secrets or abuses of power in their current practice or history. But when there are serious complaints by former members it should be possible to evaluate these and to see whether there is a case to answer. At present we are in the middle of various investigations connected with the sexual abuse of children in churches, homes and other institutions. Some of these claims have been shown to be false. But even when one false claim is found this should not stop investigators believing that it is normally possible to evaluate witness statements and get to the truth. It takes the application of common sense together with a skill, not compromised by credulity on one hand, or weighed down by cynicism on the other. It must be possible to find individuals who have these skills. Not everyone can be said to have a vested interest in either finding abuse everywhere or always denying that it exists.
The refusal of the cult apologists to engage with ex-members, because their perspective will be biased, seems to fly in the face of common sense. Are we to refuse to speak to victims of sex abuse in case their evidence may be confused and muddled? It is a position which to me completely lacks integrity. This observation has made me far less likely to read those authors who approach the whole subject of cults and extreme religious groups in a way that wants to deny the reality of pain, emotional devastation and long-term post-traumatic stress. They do not speak to the victims so they do not acknowledge what they suffer. The Langlois report in this respect possesses enormous value because of the way that it presents clearly the evidence of ex-members. Church officials at Trinity Brentwood were given every opportunity to respond to all these allegations but they never availed themselves of that opportunity. If the present generation of cult apologists had been given the same opportunity to study Peniel/Trinity Church, we would probably have a laundered anodyne account of all the wonderful things that the church had done – i.e. an account of the way that the church and its leaders understand themselves. What we in fact have from John Langlois is a presentation of many normally excluded testimonies but which have all passed through a strict forensic process. As a lawyer John was able to see that the testimonies of those who had left were coherent, consistent and highly credible. His report, in other words, gives the lie to the position that it is not possible to listen to the evidence of survivors and ex-members of an abusive group or cult. It is, to repeat, impossible to see how any organisation can be studied only by listening to the official line of leaders and members. They obviously will always have a vested interest in presenting the best possible perspective on their particular group.
The Child Abuse Enquiry in the UK thankfully has not been given to academic sociologists and social psychologists trained in the academic cult apologist style. It has been given to lawyers and judges who will listen to anyone and everyone who has something to say. Then they will assess the truth on the balance of probability and it is the skill that lawyers have for ferreting out the truth. Although mistakes have been made, I for one will always have a degree of confidence in the legal processes to find truth. I certainly prefer their methods to the methods of academics who refuse, on spurious grounds of objectivity, to listen to every source of information from wherever it comes.