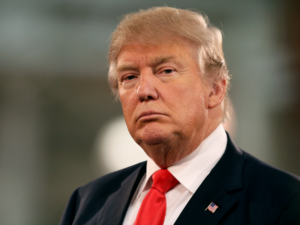 At a time when we in Britain are trying to get used to the extraordinary political goings-on in the States, I have been reminded that for some Christians the concept of democracy is unbiblical. In other words, the authoritarian right-wing solutions to the political life of America are held to be the correct ones. Good Christian people, those properly grounded in the Bible, will always vote for people who take the most authoritarian approach to government. Guided by God they will make all the important decisions on behalf of the country without any need to consult anyone else. We have already encountered this concept of theocracy, the rule of God, in American society in an earlier blog. It seems that many people actually believe it be a realistic goal. Good Christian men will arise who will know in every possible way how to put God's will into action for the whole of society.
I have, in a previous post, spoken about the ideas of Dominionism and the way that a character called Rushdoony presented his ideas on Biblical-based principles of government some 40 or 50 years ago. I do not propose to go over this material again but rather to introduce something, to my mind, even more extraordinary, a legal kit drawn up for church leaders. The model constitution on offer will ensure that any democratic processes within the congregation are completely suppressed. My reader is invited to type the words 'Apostolic Bylaws' into Google to be able to follow this theme in greater detail. The minister is invited to send a substantial sum of money to this organisation for a legal pack. He will then receive a sample constitution for a church designed to give him complete control over his congregation and in particular, its finances. In justifying the need for this extraordinary constitution, it is pointed out in all seriousness that the words 'Board of Trustees', 'vote' or 'majority' never appear in the text of Scripture. In other words, voting and the processes of democracy have absolutely no place in church life. Two biblical texts are given, Acts 15.19 and Acts 16.4, to show how James made the final decision in a church dispute. In this way, Protestant pastors everywhere, those who presumably do not have inconvenient denominational structures to worry about, are invited to take full control over their congregations.
The existence of this organisation and the readiness by some to spend church money on placing a minister in a position where he cannot ever be legally challenged for his decisions, is something that takes one's breath away. This is not just recipe for potential tyrannical abusive behaviour but it also reveals a startling cultural mindset among some Christians in America and no doubt elsewhere. Anyone who has run a congregation will know that committees are difficult to negotiate at times. But a minister or Christian leader knows perfectly well that leadership is only effective when decisions are made which have the goodwill of the majority. If this is not to be a priority in church administration, then one can imagine that there will be a great deal of unhappiness, not to mention grumbling. Suppression of such grumbling will be through the autocratic use of fear tactics, public humiliation from the pulpit, control through gossip and other methods to keep people in line. That, at any rate, was how the notorious Michael Reid at Peniel Brentwood kept his people under his control.
Part of the 'success' of Donald Trump in the current American presidential election is the fact that many people are highly tolerant to undemocratic processes in society and public life. Thousands of powerless people in the States recognise in Trump a man who will attack the sources of their perceived oppression, the rich, the powerful and the intellectual elite within the Establishment. How much easier it is to let someone who articulates their anger make decisions and exercise power on their behalf? In short many people are prepared to abandon a belief in democracy in favour of a fascist-like ruler who will do popular things and boost their morale. The fascism of Nazi Germany drew much of its strength identifying the Jews as an enemy. The current fascism, if we may call it that, in America draws its strength from demonising Arabs, Mexicans and now it seems the female sex. What we have identified today in this post, is the insight that a destruction of democratic principles in America is supported, not only by some of the disenfranchised and frustrated citizens in that society, but also by many Christians. I find it extraordinary as well as alarming to see the Bible quoted as a way of undermining what most of us recognise as the best possible system of government that the world has ever devised. Democracy is of course not perfect and most of us recognise the limitations of the system. The alternative, autocratic fascism, is far, far worse. When it arrives in a Christian garb, there is something fairly sickening and repulsive about it.
The was a poignant moment in the ITV series, Victoria, last night when the young Queen spoke to her uncle, the King of Hanover. The Queen had been the target of an apparent assassination attempt by a deranged young man. The discussion with her uncle centered on what should be the fate of the would-be assassin. A jury had found that his balance of mind was disturbed and thus he was consigned to Bedlam, an institution for the insane. The King expressed his view that in his kingdom the man would have been slaughtered within days. There would have been no legal process necessary for this action. The young Queen responded that in her country there was the rule of law and that she was bound as Queen to respect the decision of an English jury. Her parting shot to her uncle was the words: 'my kingdom will always be a far better place than yours'.
What is being expressed by this extraordinary organisation in America is a mindset that concludes that a Christian, faithful to his Bible, should be ready to challenge and even destroy democratic institutions. These, whether in Church or State, have come down to us in a process of political evolution which has been going on in the West over many centuries. Within my Anglican Church there are similar forces at work. These conclude that there is only one truth and that all other claims for truth can be ignored. In contrast, the democratic liberal approach, which this blog constantly endorses, will always stand up for a divergence of views, all of which must be taken into account. Democracy demands that we learn, not only to have convictions, but also to live with other people who think differently to ourselves. Sentiments such as those being articulated by the organisation Apostolic Bylaws must be firmly resisted. Christianity can never be identified with the sentiments of the so-called Religious Right. We might describe it with another expression, Christian fascism.