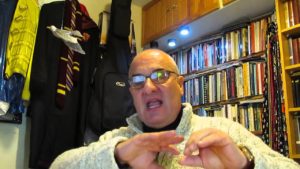 Robert Skynner is an individual that I do not know personally. However I have been viewing his series of videos on Youtube about church abuse for some time. He lives in the south west of England and has been posting videos on this and other topics. The ones that are of interest to our blog are particularly those connected with his involvement with some of the independent Pentecostal churches in his home area. His perspective is sharpened by the fact that he has a degree in theology from a Scottish university and this enables him to comment from a position of theological insight. His purpose in producing these videos is to show up the hypocrisy and some extraordinary theological teachings in this cluster of churches. The hypocrisy that he identifies is in the fact that certain church leaders admit to sexual misbehaviour of various kinds including addiction to pornography, adultery and the protection of a convicted paedophile. While he has not been sued for slander, because the facts of the claims are not contested, this attempt to publicise these facts has got him into trouble with the police. He is due to appear in court on November 18 charged with harassment without violence.
I shall not of course give any more detail about the individuals whom Robert is accused of harassing. Nevertheless, his involvement with and insight into these churches is extremely interesting from the point of view of this blog. The critiques that he makes of these congregations and their leaders come under two headings. In the first place he is extremely critical of some of the theology taught by the leaders. In addition he has a great deal of inside information about the sexual shenanigans which seem to be out of control among some of the leadership in these churches. Because of their heresy and immorality, these churches are, he believes, fatally undermined in their witness to Christian values.
It would of course be wrong of me to suggest that the situation that Robert has identified in these particular congregations is in any way general across the country. One has, however, to ask how often does someone with Robert's insights actually get involved in such independent unsupervised congregations? To put the question another way, how many congregations with crassly narcissistic leaders who specialise in accumulating money as well as seducing female members of the congregation are called to account? These are not the sort of places where people with education, let alone degrees in theology attend. We may imagine that there are areas in Britain other than the one in the South West, where scenarios, such as those Robert describes, take place. These do not normally reach the public domain because the people who continue to attend either do not have the stamina or the education to stand up to such tyrannical and hypocritical behaviour. The individuals who might have stood up to such abuse have long since walked away. But, by doing so, they have left the evils of abuse to ferment and grow.
Robert's dedication to exposing the inner corruption of one particular group of churches would probably need to be described as obsessive. But, in using this word, I am not meaning in any way to be critical of him. Struggling against any kind of tyranny is hard and normally unrewarding. You will be vilified, attacked and shunned in ways that you never thought possible at the hands of so called Christians. Just as John Langlois' report about Peniel opened the lid on decades of cruel and tyrannical behaviour on the part of Michael Reid so Robert Skynner has also opened up something which might so easily have remained buried for ever. We need to applaud him for the obsessiveness with which he has undertaken this important work. Another individual, whose name I will not give, suffered a nervous breakdown in her attempts to support Robert in this work.
His degree in theology from a Scottish university has meant that Robert is far more sensitised to aberrations within Pentecostal teaching than I am. He is also aware of a variety of maverick understandings of the doctrine of the Trinity and he himself was a member of a movement called Oneness Pentecostalism for a short time. His YouTube videos spend quite a lot of time critiquing various heretical ideas which he has identified in this group of churches. It is not for me here to go into this aspect in any detail. I mention it to make the point that members of any church which is independent will have to tolerate whatever comes from the pulpit. No one will normally have the background knowledge or courage to challenge anything that is said. I did however notice one item in a doctrinal statement from one of the churches. This spoke of an understanding of the Trinity as being in accordance with Holy Scripture. My own theological understanding immediately wanted to protest that there is in fact no clear doctrine of the Trinity in Holy Scripture. It is a teaching which was gradually worked out over a period of several hundred years in the Early Church. The idea that a fully formed Trinitarian doctrine is found in Scripture is based on a very weak grasp of the Christian tradition.
How did Robert get involved in this network of churches? He tells his story in brief. He had a conversion experience and joined a group of Christians doing street evangelism in city streets some eight years ago. He stayed with them only a matter of months before he found himself completely out of sympathy, both for their strange methods of doing theology and also for the rampant immorality that he found in the group. A particular complaint he has for one of the congregations was the way that a convicted paedophile was allowed to have access to children. The leaders accepted the testimony of the paedophile that he had been converted and was no longer a risk to children. Such naïveté is dangerous and possibly criminal. The individual concerned has now been sentenced to a second period in prison for a repeat offence.
Why do I give Robert Skynner a blog post all on his own? It is because, in spite of his possibly unwise and obsessive behaviour, we have a light shone by into one dark place within the church. The stand that he has taken has demanded levels of courage and perseverance. The price that he is now paying for standing up against hypocrisy and, as he sees it, heresy is a high one. The charge against him, harassment without violence, will probably not lead to a jail sentence but it is still hard to see how he can come out of this situation without suffering a good deal. So far in my writing on abusive church practice, I have not had to engage with any active opposition. Even the writing of my book, Ungodly Fear, did not produce the levels of opposition that I expected. Examples of Christian abuse that I encountered were geographically a long way away from where I lived. I encountered the pain of other people but did not have to experience it at first hand. Robert Skynner has entered the lions' den of local Christian abuse and hypocrisy. For that he is paying a heavy price.