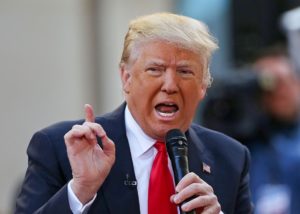 This time a week ago I was writing about the alliance between prominent evangelical leaders in America and Donald Trump. I was still hoping, together with most of my readers I suspect, that the Trump victory would not take place and that, even if it did, the evangelical vote would be split. It now appears that 81% of white evangelicals voted for Trump. It seems that I was wrong in supposing that many of them would not want to identify with Trump's cavalier attitude to morality and especially in his behaviour towards women. Somehow Trump's overall appeal was greater than any disgust felt by the voters towards his behaviour, his racism and demeaning attitudes against minorities.
What was the secret of Trump's appeal to this large group of God-fearing citizens in America? In my reading over the past few days I believe that I have found the main trigger which provided much of his support among evangelical as well as among Catholic voters. The key point is to be found his robust comments on the topic of abortion. In what was probably a deliberate exaggeration, he promised to lock up women who had illegal abortions. Even if this promise proves to be an example of Trump rhetoric, like so many of his other comments, it seems to have hit a chord among his supporters. The topic of abortion and gay marriage will always arouse deep passions among those who can be numbered among conservative Christian believers, both Catholic and Protestant.
Why is abortion such a defining issue among so many conservative Christians around the world, but particularly in America? To answer this, we need to go back to a fundamental human reality, the differences and indeed rivalries between men and women. I realise that I am walking in a vulnerable area of discourse where it is dangerous to make sweeping statements or generalisations. I hope that I am not wrong to observe that many men are threatened by the feminine and feminism. Women operate in a different way to men and men find this unsettling. Throughout history and across cultures men have wanted to control women to lessen this sense of not being in charge and in control of what they identify as a threatening other. In one book I read some time ago there was a further idea suggested to account for this inter-sex rivalry. Every man alive has some memory of being under the control of a woman – his mother. This memory of utter powerlessness and vulnerability is an unsettling one but it may offer some explanation of why many men across cultures feel a need to engage in a range of controlling activities over women. Somewhere in the mix is also the way that men want to control female sexuality. One of the most extreme acts of control against a woman, female genital mutilation, seems to be a sign of how men are terrified of something they cannot either understand or share. The fact that women are entrusted with the actual task of mutilating young girls does not remove it from being a patriarchal act, sanctioned by generations of misogynistic attitudes.
In the States the attempt to deny women abortions under any circumstances seems to have little to do with an abhorrence of child murder. To deny abortion seems to have far more to do with controlling women and denying them choices. This political mindset that attacks abortion seems content to condone the state execution of criminals and the waging of war. If we accept that the anti-abortion position is less a moral position than one among a whole cluster of attitudes designed to put women in a subordinate place, the power of the moral argument changes quite radically. One does not have to be a supporter of abortion to find some of the underlying objections from 'Christian' sources to be rooted in some obnoxious and foul smelling prejudice.
The rhetoric against abortion and indeed gay marriage is right at the heart of a right wing Trumpian appeal to men, particularly the economically disadvantaged. More generally there is a call for a return to and a nostalgia for the 1950s. At that time men alone provided for their families leaving their women and children at home. Being the breadwinners the men accepted complete financial responsibility and at the same time control of their families. The man's status as head of the family was assured and his self-esteem was secure. Since the 1950s there have been profound social revolutions. Employment has become far less secure; women have been going out to work for decades, in some cases earning more than the men. This loss of status for many working class white men has been a profound trauma and anybody or anything that can restore this lost status will be welcomed by this large group among the American population.
Many evangelical churches also offer to their supporters the possibility of living in a world which promises certainties and access to self-esteem. The certainties on offer may not be economic in nature but they are alluring nonetheless. The male married man is encouraged to think of himself as the divinely anointed head of the family and this authority is backed up by frequent sermons on how important it is for the wife and children to be his subordinates. It is indeed a sin for anyone or anything to act against this divinely appointed system. A belief in this divinely ordained structure for human families is at the heart of why most conservative Christians oppose both abortion and gay marriage with such energy. Both these practices undermine the solid rock of biblical-ordained patriarchal marriage. This has and always will be a key aspect of the teaching of most conservative churches. Without it the interconnection between bible truths and practical Christian living is challenged. The ability of churches to operate as havens of reassurance and safety amid rapid social change, particularly for men, is undermined. For some reason that is not clear to me, it is not only men that find this traditional teaching attractive but also quite a few women. Not being a woman I do not understand why all women are not at least in part feminists. Clearly many are not and somehow some find comfort and affirmation in being subordinate and obedient to male husbands and male pastors.
Donald Trump in 2016 appealed to a large swathe of the American population to vote for him and this included the vast majority of white evangelical Christians. He was offering them what I believe was a fantasy – namely that with him they could return to a safer more secure world. This fantasy world of certainties is similar to the one that is successfully promised in many churches. The message is: 'come here and you will be able to find the answers to all life's stresses and problems; decisions about life and its meaning will be made on your behalf by others wiser than yourself. Trust the Bible to have all the answers. You will be guided by experts and interpreters of the same Bible who will be your teachers and mentors. With them you will be able successfully to negotiate life without the stress of not knowing the answers.' Sadly, as this blog is often reminding its readers, this promise is illusory. What is in fact happens to the followers in such churches is a massive extinction of human freedom. In the place of true human flourishing is found a mindless obedience and conformity to systems of power and repression. It remains to be seen whether the millions of people who have surrendered to these kinds of blandishments, as promised by countless churches and by Donald Trump, will eventually wake up. When they wake up they may see what has been done to them through the skilful use of lies, propaganda and rhetoric. Let us hope so.