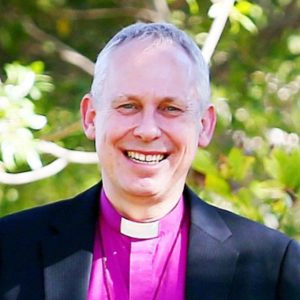 Over the past couple of years, I have been following on and off the proceedings of the Royal Commission in Australia which is seeking to uncover the truth about child abuse. Recently the commission has been listening to evidence about the Anglican Diocese of Newcastle in New South Wales. It is, like the stories of other churches, a story of cover-ups, abuse and long-term denial. Over the last 24 hours, however, this story has taken a particularly dramatic turn. The Anglican Bishop of Newcastle, Greg Thompson, has spoken to the commission about his personal experience of being an abuse victim at the hands of senior clergy in the Newcastle diocese. As a young man seeking ordination he revealed that he was sexually abused by the then Bishop, Ian Shevill. This abuse took place while watching a film with another priest named as Eric Barker. He also took part in the assault.
The Bishop had originally revealed some of this information in a radio interview in 2015. His giving evidence to the commission cost him a great deal and he broke down in tears while giving his evidence. Because of these experiences, he had arrived in the diocese in 2014 determined to continue the work of his predecessor and uncover the networks of paedophilia in the diocese and in the cathedral. A former Dean of the cathedral, Graeme Lawrence and two other priests had been removed from office in 2012. The task of working to 'clean up' the scandal-ridden diocese was impeded by the efforts of powerful laypeople in the diocese who were apparently determined to suppress any attempts to uncover the full truth. The situation at present is that the Bishop feels unwelcome in his own Cathedral because of this level of opposition. It is of course an appalling situation for him to face.
This is a shorter blog than usual as I want to leave my readers with the moral conundrum of what should ideally happen in this situation. Should the Bishop continue to face up to his opponents and push on to provide truth and light in the place of supressed evil? Standing up to bullies is a costly matter and it may be that the Bishop's struggle will be at the expense of his mental health and well-being. The Royal Commission will be making its observations in due course and we hope that Bishop Thompson will be vindicated in his struggle to bring this tragic tale of cover-up and abuse to some kind of conclusion. Meanwhile we are left to wonder about the psychology of a group of powerful individuals who feel the need to blame victims of sexual abuse in their attempt to protect their influence and power.
Yesterday I was speaking to someone about this blog and they made the straightforward observation that religion and sex often seem to go together. I responded by pointing out that both were ultimately about power. The situation in Australia that is now being uncovered is not just about the evil gratification of some senior churchmen who commit appalling sexual crimes. It is also about institutions which are so enamoured of their power and influence that these can never be challenged. The institution and the positions of those with it must be preserved at all costs even when there are people are being sexually abused and humiliated within that same institution. It is hard to see how the Anglican diocese of Newcastle will easily recover its integrity and good name. The general public will be, no doubt, deeply suspicious of all church people in that area. The Roman Catholic Church in Ireland has suffered a similar massive blow to its reputation which will take decades to recover from. In the Australian situation we are not just talking about the sexual abuse of children by churchmen. We are facing the unbelievably ugly face of an institution that even now cannot own up to the sheer hypocrisy of trying to supress and bury truth. Institutional abusive practice on this scale is like a form of cancer which eats right into the very sinews of the church. Can the church in this part of Australia recover from this double evil? It remains to be seen.