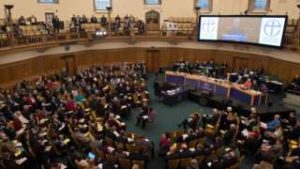 It has been very hard, if not impossible, to avoid being absorbed with the current news coming out of America. Of special interest for this blog is the way that American society is in danger of being undermined by an ultra-right wing Christian agenda. We have seen a great deal of irrationality and often a complete disregard for truth in the statements of both politicians and their representatives. The way that the thinking and rationality of ordinary people is being sapped and undermined by widespread disregard for truth will have consequences for many years to come. No doubt when things in the States have become a little more settled, I will have more to say on one or other of the many issues that have been raised over the past weeks. But today I want to turn away from the nightmare that is America 2017 to our own country and the recent vote by General Synod on the same sex marriage issue. A vote on the issue took place on Wednesday last. The vote not to receive the document was a rebuke to a carefully worded but anodyne statement by the Bishops of the Church of England on the topic. There has been widespread commentary on this document which was produced after a three-year consultation. It contains the Bishops' attempt to summarise and extract a positive message from so-called Shared Conversations. The main criticism of the document seems to centre round the fact that it satisfies no one. The LGBT community feel that their situation is not fully understood or heard. Opponents of same sex marriage do feel that the Bishops have given too much away. The latter group have repeated their oft heard complaint that they do not hear 'biblical teaching' strongly reaffirmed.
I have pointed out in previous blog posts the way in which the issue of gay marriage has come to be a defining one for many conservative Christians. The strong affirmation of conservative opposition to any kind of gay sex will be based on a claim that it transgresses the 'plain' words of Scripture. This claim is by no means self-evident but there is no opportunity to look at the arguments here. Of more interest is to point out the fact that this issue has only recently come into prominence. 50 years ago, the topic was barely discussed. It is however important to record that the Church, especially in the person of Archbishop Michael Ramsey, was ahead of the rest of society in advocating tolerance. The 1967 legislation which decriminalised homosexuality was supported by Christians who believed that it was wrong for the law to persecute homosexuals. Now the situation is in reverse. Same-sex marriage has been legally permissible for the past two to three years but still a strong minority of Christians want to pretend that this societal change is intolerable and offensive to their beliefs. A similar situation exists in the States. Homosexual couples are permitted to marry but large numbers of conservative Christians passionately resent this change.
The position I take in this blog is to recognise that there are strong opinions on this issue. But I also make a plea that both sides of the divide need to be heard. The fact that I do not take the conservative position but argue (like the bishops) for a balanced view does not make me welcome in the conservative camp. On this, as on many other opinions, the one who is not 100% on the conservative side is deemed to be part of the opposition. To be fair to the bishops, they had hoped that the sponsoring of Shared Conversations might create a climate where some kind of mutual acceptance might flourish. This was never going to be as conservative opinion has shown absolutely no inclination to move on this issue. Meanwhile the valid insights and experience of lesbian, gay and transsexual people was being shut out of any true dialogue by this conservative intransigence. Flexibility and compromise on the gay question is just not going to happen among the conservatives. If anything, the firming up of conservative opinion against 'liberal' causes has become stronger. The recent election in the States will have emboldened many right-leaning Christians that they are dominant in the cultural wars. President Trump's Mexican wall may be a kind of dreadful metaphor for the way that division, intolerance and intransigence may be the order of the day in both politics and religion for years to come.
The fixed position that conservative biblical Christians appear to be taking in this discussion comes out of a need to establish a firm identity, to know who they are. Identity, sense of self and belonging are all given to the one who believes what many others believe. Conservative Christians in their membership of a huge protestant network across the world have a strong sense of who they are. This takes them a long way from considering any kind of individual journey which might involve them questioning or thinking through a position on their own. We come back to the image that I tried to explore a few blog posts ago. Some Christians only feel secure when they live in an environment which is strongly defined and firmly defended. If the corporate identity in any way comes under attack, they will resist determinedly. They are grateful for the walls behind which they hide. But these have been built by others; their own personal contribution to the building work is zero. For them Christianity is not about a personal journey or individual creativity; it is about being welcomed behind strong defensive walls which give them the illusion of being safe both in this life and in the one to come.
In any normal gathering of individuals it should be possible to tolerate differing perspectives and understandings. The Church has a problem because it does not seem able to work like this. The conservative wing has, apparently, no readiness to accept anything beyond their beliefs; simultaneously they also challenge the right of others to be different from them. They see truth in militant terms. Their truth has to fight and conquer all other versions. This is the alarming version of truth that we see in contemporary America at present. There we see a political vision which is unable to enter into any dialogue or be challenged by other points of view. This ability to discuss and debate in a constructive way is something that is tremendously precious in a democratic society. We do not want either in politics or in church life to be moving to a system where there is only one version of truth which has been defined by the party in power. Political dominance that refuses dialogue leads to coercion, bullying and the eventual destruction of civility and democracy.
It will be interesting to see where the Anglican church will head after this vote. Although I have much sympathy with the efforts of the bishops, I rejoice that the 'taking note' has been defeated. Politically the church has to stand up to those who will not allow the mutual flourishing of different perspectives to co-exist. I would like to think that there is a majority on both sides of the debate who are prepared to stand up to all bullies and those who stand for hectoring intolerance. American political life is going through a similar crisis at present. The Anglican church, the church of moderation and tolerance, needs to resist all attempts to destroy free debate and openness to the insights and ideas of others. There is a lot at stake in the next two or three years.