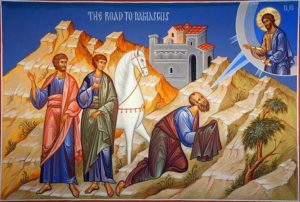 Every clergyman or minister will know the problem of dealing with an individual in the congregation who, for whatever reason, does not fit in. The church is meant to be a place that gives a welcome to all. But when an awkward or difficult person presents him/herself in one of the pews, a conscious effort has to be made to assimilate that individual into the order of things. There are any number of reasons for a failure to fit in easily. It may be a matter of personal hygiene or social background that creates a problem; it may be for reasons of theology that they are somehow out of place. If the effort at integration fails and the person leaves, everyone may be secretly relieved that the problem has resolved itself. The fact that the departure is a defeat for the church's stated desire to welcome and love, is quietly overlooked.
Beyond the problem of absorbing the difficult outsider, there is another problem that churches may have encountered which is equally problematic. This is the problem of a well-connected member of the congregation who turns out to have a dark secret. The individual concerned may be a wife-beater or long term scam artist. Because the congregation has treated this individual as one of its own, no one wants to believe bad things about him. The situation is worse when the malefactor is the minister or clergyman themselves. Everyone has projected onto him a standard of goodness which has helped each member feel good about themselves. The revelation of evil deeds has the effect of dragging everyone down. The former idealisation of their leader has, after his fall, left them all feeling involved and thus contaminated by his actions.
In both these situations we have potentially unhealthy responses in the way the church may behave. In the first there is an attempt to avoid handling the unconventional or awkward personality. In the second case, there is a strong reluctance to face up to the fact that church people are as capable of dishonest, evil or perverse behaviour as anyone else. What might be going on in the theology of both these situations? In the first situation, we can say that there is a failure of love. The unconventional behaviour and opinions of the misfit are too challenging to cope with. In a variety of ways which may not always be conscious, church members are maybe failing in the duties and obligations of love and welcome.
The second scenario is a still more challenging one. Most people have as a given that that anyone who gives their life to God and goes through some conversion experience is incapable of real wrongdoing. When this turns out not to be true, it creates considerable dissonance in the minds of church members. The instinct is first to attempt to excuse the behaviour or pretend it has not happened. This attempt at denial may be as much about protecting the reputation of the congregation as it is about an inappropriate gesture of support for the erring individual. Everyone feels something of the shame of the action. The cover-ups that may be attempted are efforts to push away that shared sense of guilt. When this assumed link between church attendance and goodness is broken, everyone feels less secure in their sense of righteousness. The problem of a failing minister is even more acute. As I mentioned above, the individual members of the congregation may have engaged in a process of idealisation. The goodness of the minister has percolated down to give status to everyone who attends. This has been compromised.
At the heart of the problem of a church finding it difficult to deal with the blatant sinfulness of one of its members, is the theology of conversion. What actually happens when someone gives the loyalty to Christ? Is the work of the Holy Spirit involved? When an individual falls from grace after that experience, what does that say about the Holy Spirit himself? Was the person deceiving everyone in the claim to conversion or should we say that the Holy Spirit does not necessarily override human frailty and weakness?
I am unable to give concrete answers to these questions. I would just comment that when people cling to some doctrine of automatic goodness following Christian conversion, they become blind to the possible failings of human nature. A tendency for a congregation to closes rank against victims of abuse to support a perpetrator is not neutral behaviour. When there is overwhelming evidence against an individual who has violated trust in some way, supporting that person will enhance the victim's suffering. People seem very good at finding a theology that seems to support the interests of their own immediate group. Blindness and deafness often seem to follow when unpalatable facts are presented to people. The supporters of President Trump seem to be unaware of the fact that his proposed taxes will cause suffering and even death for many poor people in his country.
Any doctrine that seems to suggest that a converted Christian cannot sin is potentially an extremely dangerous one. It has the effect that people put their guard down when mixing in Christian circles. Thus, they do not see what may be going on around them. The capacity of human beings to fail does not cease when they become Christians. We still need alertness and even a little cynicism when faced with the phenomenon of human nature. Naïveté is all too common among Christians. There is something particularly ugly about the sight of Christians protecting their own when they know full well that an individual or group of individuals have harmed others. Nigel Davies, the protester outside Trinity Church Brentwood, has experienced the full anger of those who simply do not want to face up to the evils of the past in that church. As we have seen over the months, there is, apart from anger, a great deal of hatred and denial. Such sentiments do little to promote health either for the individuals expressing it or for the wider church. Someone needs to point out to those who berate Nigel that however many miracles were supposed to happen at Peniel/Trinity Church in the past, we still need accountability for terrible human failures. These, as we would claim in this blog, typically centre around the abuse and misuse of power. If my blog has done nothing else I hope it has sensitised my readers to the way that this failing is very common around every walk of life. A proper awareness of this failing as it touches our churches, is the first stage of being able to stop it. As Adrian Plass said in one of his books, we need to be able to 'spot it and stop it'.