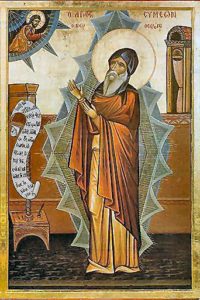 Around 40 years ago I was having a conversation with one of the then leaders of the charismatic movement, John Richards. We were discussing the place of feelings and emotion in church and in particular the feelings experienced during worship. Somehow the conversation got on to the subject of tears and the way that worship sometimes evokes tears. I mentioned to him that there was a famous article (for me at any rate!) on the subject of tears in the early Greek Fathers. I sent him a reference to this article about tears and spirituality. For my effort, I found that our conversation was mentioned in a footnote for an article that was written by John shortly afterwards.
I mention this conversation because one of the positive features of the charismatic spirituality for me is that there is a place for expressing feelings. So often Christianity is seemingly presented as being about a dry adherence to a number of statements about God and what he has done. A mention of tears within Christian experience is able to take us well away from matters of intellect into the realm of feelings and the heart. The popularity of endless repetition of choruses (something we criticise in this blog), can be seen to perform the function of stirring feelings. But clearly the evocation of feeling and tears within an ancient spiritual tradition will undoubtedly be something deeper than this. All of us share having our human feelings aroused through participation in music or drama. This is a daily part of the way that life is enriched for most of us. How often these feelings rise above what we would call superficial sentiment is another question. In practice, we are all aware of the difference between a merely pleasant sensation and a profoundly moving experience which may change us at a deep level. In addressing the role played by tears for these early Christian writers, we are clearly moving to a place much more significant than anything we normally experience.
The tradition of a spirituality beginning with an experience of tears goes back to the early centuries of Greek spiritual writings. An author known as Isaac the Syrian, writing in the sixth century, believed that tears were the sign of a spiritual breakthrough. He said of the mystic way that when 'grace begins to open your eyes so that they see things in their essence, it is then that your eyes begin to fill with tears'. St Simeon the New Theologian, an 11th century writer based in Constantinople, speaks of a vision that he had. Writing of himself in the third person Simeon says that when he came to following a vision, 'he was prey to joy and amazement …he wept from the bottom of his heart and his tears were accompanied by sweetness.'
When these early Fathers speak of tears, they are not talking about sobbing or any contraction of the muscles. They are referring to an outpouring of deep feeling which they perceived as spiritual in nature. Most of us will have had experiences, perhaps spiritual in nature, which has brought us to the point of tears. Sometimes something takes place which is of great beauty, such as a moment of reconciliation between two people. Perhaps it is the climax or moment of triumph for someone after months or years of effort. It was hard not to feel a lump as we watched the athlete helping another runner over the finishing line at the London Marathon at the week-end. Such tears represent are being moved something profoundly beautiful. In the same way, the monastic tradition in the East recognised that tears might be experienced by a Christian as they come forward to receive the sacrament. Indeed, Simeon suggested that 'no one should communicate without tears'.
Tears in the face of beauty or wonder are also to be placed alongside another cause for weeping as understood by the Fathers. These are tears of compunction. This last word is not a commonly used one in English. It refers to the way that we recognise how sin and evil doing have polluted our human identity. Compunction is the sorrow we feel as part of this sense of repentance. In a powerful metaphor, Simeon describes how the tears of repentance help to water the dry earth in which we try to grow our virtues. Such a moral reformation is accompanied by a successful warding off of demonic attack as well as developing the humility to live a good life. To quote from Simeon's writing, 'it is an inexpressible marvel that he whose eyes shed sensible tears washes his soul spiritually from the mud of faults; that that which falls to the ground burns and crushes the demons, and renders the soul free from the invisible bonds of sin.'
I realise in revisiting this long-forgotten tradition within Christian spirituality that it provides a strong antidote to a temptation to exercise manipulative power. Even if a tradition of tears as part of Christian spirituality seems strange to us, at least we can begin to see within it an utter humility and refusal to control. The one who weeps before God at the beauty of his presence or the one who feels deep sorrow for their sins is never the one who longs for power. In this rapid description of the way of tears. I would like to suggest that there is one further area for recognising the possibility of spiritual tears which Simeon does not speak about. In a world which is full of suffering, homelessness, slavery and sudden death, to name a few, it is hard not to be touched emotionally by the sheer volume of the world's pain. I wonder if our intercessions might not, at least on some occasions, allow to feel deeply in our acts of identification with our objects of concern. In summary, is not truly felt intercession an occasion for tears, at least sometimes? Should not our caring for the world be an invitation to weep for that world? Because we know so much more about what is going on in the world our compassion should in theory be so much greater. Tears may have no value in themselves, but they do have the effect of opening up the heart to greater awareness and sensitivity as to what is going on in ourselves, other people and the wider world. This heightened sensitivity is surely needed in a world that shuts itself off from pain, fear and reality itself. The way of tears, as taught by the early Fathers, may be a path that Christians can learn to follow. This in turn may help to melt the hatreds, the power games and the exploitation that infect our churches and wider society. Compassion, the ability to suffer with others, both near and far, is something that Christians need to experience and then teach to all. Tears of compassion along with tears that lead to humility are important gifts to be offered to our world where such things are not apparent or easily understood.