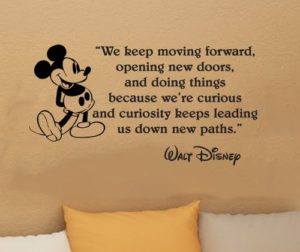 Many years ago, I was Vicar of a group of small villages in Herefordshire. Next door to our Vicarage were two small cottages belonging to a nearby farm. In one of them there was a young couple who were local to the area. The young mother in the family had been brought up in another village nearby and her parents were still living in one of the local authority homes in that community. This next-door cottage where the couple lived was in a state of disrepair and the young mother would often complain about it. Her solution to the problem was to be allocated one of the houses in the road where she had been brought up and where her parents lived. This ambition to move three miles, back to the place where she was born, seemed to us a very restricted kind of ambition. The possibility of an alternative future to this hope was simply outside the boundaries of her imagination. This limited sense of what was possible was also characterised by her inability to be curious about her general surroundings. Both our Vicarage and her cottage had a glorious view of the Black Mountains on the edge of Wales. In a conversation with my wife, this young mother revealed that she had barely noticed that these mountains were there. Still less was she interested to know what they were called. It was sad that this young woman was completely lacking in curiosity and imagination about the world beyond her front door. She did not seem to want to find anything new. Rather she was content to remain in the familiar and known.
Many people live within constricted boundaries, whether geographical or psychological. They may never have moved far from familiar surroundings whether home or family. As a result, their imaginations may not have been stirred to seek or discover what is new or unfamiliar. Clearly, a limited education may contribute to a narrowness of worldview. Equally there may be some psychological factors which may inhibit a person moving out of the familiar to face the new and unknown. It is hard to imagine our former neighbour ever providing a challenging environment for her children to grow up in. It is also hard to see how this restricting cycle of narrowed expectation might be broken so that a new generation would learn the things that are possible when imagination and curiosity are given full rein.
I mention our former Herefordshire neighbour as a way of introducing the thought that many Christians are kept trapped within extremely narrow boundaries on understanding and belief. Their membership of the church has done absolutely nothing to inspire learning or curiosity. They have been encouraged to believe that the important thing is to seek safety in this world and in the next. This will involve not questioning anything they are taught and certainly not straying into areas of discussion where they might be challenged to think for themselves. When I speak about fundamentalist attitudes among Christians, I detect a kind of fearful conservativism and obedience to a trusted authority. Christians are encouraged to feel fearful of a world that might involve imagination and the discovery of what is new. The result is that curiosity is completely suppressed. Without this curiosity and a longing for newness, there will only be, to my mind, something stale, repetitive and ultimately boring. In the last blog post I spoke about churches which entertain by the singing of familiar choruses and songs. The predictability of this kind of worship is reassuring but in another way, it may be responsible for mental stagnation. For me the thought of Christian experience consisting of a formulaic repetition of a particular style of music feels me with dread. I am reminded of the sight of wild animals in a zoo, pacing endlessly around the confines of their cage. Most people recognise that while these animals are safe and fed, they are completely unable to fulfil anything of their potential to be free and fulfilled. I repeat, my objection to much conservative religion is in this fact that it so often fails to encourage any sense of exploration and discovery.
In this blog post I leave my readers with this question. Is it right to destroy a sense of curiosity in a Christian in favour of giving them something safe, predictable and 'sound'? Should we not rather encourage him/her to see the Christian journey as something exciting, unpredictable or even dangerous? By limiting the spiritual horizons of a new Christian for the sake of safety there seems to be an act of betrayal being perpetrated. So often safe conventional teaching seems to lead to a place which the faith is made something banal and even boring. Can we really expect a Christian to remain engaged with this faith, when all he/she is being offered is an endless round of bland choruses and banal cliché-ridden preaching? The choice that a Christian is being given is perhaps between a path of challenge and a path of safety. Those who only follow the path of safety in the Christian life, by never deviating from a strict adherence to authority and doctrinal orthodoxy, do not seem to find 'life in all its fullness'. Those who follow the path of challenge do discover something far more adventurous and risky. They have the adventure of moving out of the well-trodden paths of safety and conservative thinking. In making this contrast I am reminded of what Jesus said about losing life in order to find it. Perhaps losing life at one level is to a readiness to risk all in allowing the Christian faith to challenge each of us to follow the path where curiosity, imagination and our sense of adventure may lead us.