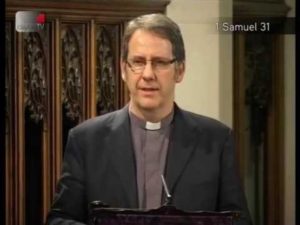 The recent irregular episcopal consecration of a senior minister at Jesmond Parish Church, Jonathan Pryke, represents a new threat to the Anglican Communion by conservative Christians. For some 40 or more years Jesmond Parish Church in Newcastle has been a byword for defiant independence, standing against Anglican authority both in the Newcastle area and nationally. I remember during my ordination training, 48 years ago, being allocated to a placement in a parish in the Jesmond area. The deanery in this part of Newcastle was host to some 15 of us who were at my college. It was explained to me at the time that Jesmond Parish Church took no part in any deanery or diocesan activities. Over the years, this parish, especially under its forceful Vicar, David Holloway, has made a name for itself by refusing to cooperate with local bishops, regarding them as apostate. Today the parish plays a prominent part of the so-called REFORM network of churches. This network believes that it alone among Anglicans is faithful to the Anglican Reformation legacy. Their theology is thus strongly fundamentalist in tone and fiercely intolerant of new ideas. Together with other Reform-type churches across the world, especially in GAFCON, it has a special loathing for any attempt to tolerate homosexuality. Also REFORM represents those conservative evangelical churches who have little interest in charismatic or pentecostal practice. Parishes attached to the REFORM network will, for example, have little to do with the style and ethos of Holy Trinity Brompton. Jesmond thus stands for an austere and doctrinally 'pure' way of practising theology.
The news of the irregular consecration of Jonathan Pryke came as a shock not only to ordinary Anglicans but also to the other conservative networks with whom Jesmond has had long historical links. Among these are GAFCON and the conservative Anglican Mission in England (AMiE). Only a matter of days ago I was writing about the plan of GAFCON primates themselves to plant a missionary bishop in Britain. Such a figure would serve the needs of those conservative parishes who had found themselves out of sympathy with their local bishops. We may imagine that the consecration in Jesmond has been planned over several months. Thus, it would have been prepared for in secret without any knowledge of this other debate that was to take place in Nairobi in April 2017. The effect of this consecration, however, is likely to be considerable. First it shows that Calvinist Anglicans across the world are not as united as they would like to appear. There is a suggestion of power games at work between these different factions of Reformed Anglicans. The consecration is also a direct challenge on the authority of the Archbishops in this country. As I said in my previous piece on GAFCON, Anglican discipline is weak in deciding where its boundaries of theology lie. It is however stronger when it comes to the issue of episcopal jurisdiction. A bishop in Anglican terms is given a physical area over which he has responsibility. In special circumstances church lawyers have come up with the notion of 'flying' bishops. These have the power to cross diocesan boundaries to serve minority groups. But even then they have been given titles which refer to a particular place. It helps to root them in the age-old tradition that every bishop looks after a particular area. The Bishop of Ebbsfleet would be hard pressed to exercise any ministry over an area of marsh land on the Isle of Thanet. But at least the place Ebbsfleet exists in the real world. We have not been told whether the new 'bishop' in Jesmond is even attempting to follow this tradition.
One of the intriguing details of the consecration of Jonathan, is that it was performed by bishops belonging to the group which call themselves the Reformed Anglican Church of South Africa (REACH-SA). This is a conservative fundamentalist group which in 2013 emerged out of the so-called Church of England in South Africa. In my past reading about the Anglican diocese of Sydney, I was struck by the close relationships between the Anglican Diocese of Sydney and this conservative group of Anglicans in South Africa. It could be claimed that without support, financial and theological, from Sydney, REACH-SA would have faded away long ago. Sydney Anglicans and their fundamentalist Calvinist ideas have now become the dominant expression of Anglicanism in their part of Australia., REACH-SA with its similar ethos is still a smallish minority group when set against the official Anglican Church in South Africa. South African Anglicans in general have always tended to support a more catholic and broader style of theology. Desmond Tutu, the former Archbishop of Cape Town, was the chairman of the Truth and Reconciliation committee which did so much to heal the wounds after the collapse of apartheid. In contrast the then Church of England in South Africa was very much identified with the cause of white supremacy. In this way, this conservative expression of Anglicanism identified with the reactionary position of a large section of the Dutch Reformed Church.
As I mentioned above it seems that the GAFCON network, to which Jesmond Parish Church owes some allegiance, was apparently not informed in advance of the plans to consecrate a new Bishop. I can imagine that these events in Jesmond have caused considerable problems for GAFCON. It is worth reminding my readers that through the consecrating REACH-SA bishops, there is an indirect link back to Sydney Anglicanism. The wider GAFCON network is also serviced from offices in Sydney under its secretary the ex-Archbishop of Sydney, Peter Jensen. Thus, two subversive and disruptive events against the whole Anglican Communion have taken place within a week. Both can be traced directly or indirectly back to Sydney. The Anglican Church in Britain is being challenged by these two attacks and both have to be taken very seriously. We can only hope that that those in authority in this country can stand up to a naked attempt to bully and manipulate the structures of our national Church. Sydney Anglicans cannot be allowed to define the nature of the whole Anglican Communion.
One of the curious anomalies of the Church of England has been its readiness to recognise the orders of other churches even when it is not in communion with them. Thus there are a number of breakaway Anglican groups across the world which are not in communion with the wider Communion but whose orders are recognised. It is one thing to recognise the orders of groups that are obviously different from our own, such as the Orthodox or Catholic communions, but recognising the orders of groups that use the word Anglican in their self-description is a cause of confusion. The church in Jesmond which has effectively separated itself from the Anglican Communion by various illegal acts should now be formally required to withdraw from the Church of England and cease to use the word Anglican to describe itself. Unfortunately, this will not happen. Many young and enthusiastic Christians in the Jesmond network will believe that they are fully members of the national church. In reality they have become members of congregations which are behaving much like cults. We await to see how this story pans out. It is however clear that, politically, this attack on the wider Anglican Church in this country from two directions within a single week, does not make good publicity for the conservative cause. It will demonstrate to most right-thinking people that the conservative grouping within Anglicanism worldwide is arrogant and power hungry. It is simultaneously much fragmented. Both actions, coming at the same time, may help to concentrate the minds of our leaders to resist vigorously against these direct attempts to control and manipulate the church in Britain. GAFCON threats and Jesmond illegalities need to be faced up to with energy and determination by our Anglican Christian leaders.