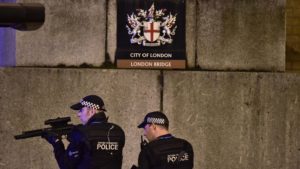 Shocked by the events around London Bridge on Saturday night, I have been reflecting on the nature of violence. More precisely I have been thinking about violence inspired by a religious creed. What is violence? The World Health Organisation speaks about the 'intentional use of physical force or power which has the result of injury, death, psychological harm, maldevelopment or deprivation'. Clearly violence involves malevolence towards an individual, a desire that they should be deprived of one of the marks of what we describe as human flourishing. There is no doubt that the jihadists were attempting to destroy through violence in the name of their religion. Do Christians ever use violence for their religious purposes?
Two issues have been concerning me in the past few weeks. One is the investigation of the Cathar sect in mediaeval France for the talk I am giving in Bordeaux at the end of the month. The other is a correspondence with two readers of this blog concerning their experience of shunning by church authorities. I have had therefore reason to look back to see what I had said about shunning and ostracism in a church context. I was in particular struck by something I said in my talk in Stockholm preserved by You-tube. I described shunning as a kind of soul murder. Thus, by implication, it involves non-physical violence. I also there expressed the opinion that in some ways it is better to be punched on the nose than to be shut out by an individual or a group. The person who is punched at least has established the fact that he exists in the mind of the person who is assaulting him. An individual who is shut out or shunned by another person, is not even accorded the right to exist.
Eric Bonetti, and I hope sometime in the near future, Helen from Australia, are giving us two perspectives on their personal experiences of church shunning. I would like here to indicate my belief that church shunning is in fact an example of religiously inspired violence. It does not of course involve taking someone's life. But along a notional spectrum of violent acts against the individual it should be rated worse than an assault involving the fists. When we speculate about the motivation for shunning we find something deeply evil at work. The person who initiates the shunning is always in a position of power. Officially a shunning is initiated to preserve order and discipline in the church. At another level there is fear, cruelty and vindictiveness which are the shadow opposites of Christian love.
The religious inspired violence shown in London on Saturday night was of course quite different from the violence that we have suggested is taking place in religious shunning. The three individuals shot dead by the police have yet to be identified. No doubt we will discover, in all probability, that they were seduced into the violence of ISIS to compensate for feelings of inadequacy or failure. For them violence perpetrated against total strangers was an outlet to vent a deep frustration and anger. Those who directed them knew how to manipulate them by the careful use of religious texts and slogans. Extremists of all kinds will always claim that violent conflict is endemic in society and we must play our part in overthrowing the status quo.
Although I have suggested that the violence portrayed in London last Saturday was quite different from the violence of church leaders who advocate shunning, I have hinted at a common factor. It seems that any act of violence is made possible by a perverse human enjoyment of cruelty. The normal healthy human response to another person who is weaker that we are, is to have feelings of empathy and pity. When such empathy is absent, it is most likely the result of an environment, particularly during childhood, where it was not taught or practised. The individual brought up in such a setting may grow to be incapable of this human feeling. They may instead enjoy only the shadow opposite of empathy and love, which is to gratify a lust for cruelty and a desire to inflict pain on others. The bully, the terrorist and the one who shuts out other people through shunning all share this tendency to enjoy cruelty. When empathy fails, the capacity to enjoy cruelty is likely swiftly to take its place.
Violence in this sense of acting cruelly towards others is sadly endemic in the human condition. Tragically it is also found everywhere in the great religions. From Catholic Inquisitors burning Cathar heretics in the 13th century to Muslims shooting total strangers in the 21st century, we have many examples of religiously inspired violence which involve actual murder. We also find religiously inspired violence in the casual cruelty of church leaders who seek to control their members by the threats of exclusion and shunning. We need to identify within our religious institutions every example of violence towards others, even when it is disguised as godly discipline. Once again, we come back to the fundamental nature of power as it operates in our churches. Even though the existence of power in all these institutions is a necessary component for their proper functioning, we need to become ever more sensitised to the way it is being exercised. Is this power wielded with sensitivity and care, or do we find in its exercise the signs of its shadow, gratification and cruelty? In registering our legitimate sense of horror at the activities of Muslim terrorists, let us also take the trouble to be alert to the violence and cruelty that lurks within our own religious institutions.