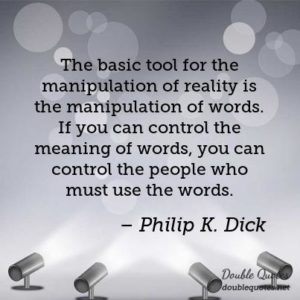 This post is not going to be about the recent general election in the UK. Although with my political interests I have been drawn into the recent saga of President Trump and James Comey, I find that I have little to say about the strange state of UK political life at present. No one can deny that UK politics have become intensely dramatic over the past two or three days. My blog theme today does however touch on politics. I want to talk about the way that words are sometimes manipulated by politicians and church leaders to trap people into distinct tramlines of thought. Words are here being used, not to describe something, but to draw people into a belief system through a technique we might describe as propaganda.
A week or two back I wrote about the way that English language does not always have a word to describe every idea or experience. Today I am speaking about words which have had their meanings subtly altered to suit a speaker's agenda. This is part of a process through which an individual can be taught to think in a defined way, one that will play into the hands of an authoritarian or coercive group. This might be political or religious in nature.
To start with an example of what I am talking about. Christian groups sometimes want to describe their experience of being criticised. These criticisms may well be valid ones. But rather than address the fact of the criticism and what it might be telling them about the way that they appear to outsiders (or insiders), some Christians are quick to speak of 'persecution'. Persecution is an emotive word and it can be used to push aside quite legitimate questioning directed at an authoritarian group or individual. The word in short may not describe what is in fact going on. The criticised group may then deploy another emotive word to describe the legitimate questioning; they may talk about the 'enemy'. From what starts as a probing to find the truth relating to an organisation we move to something that is portrayed as the onslaught of a godless, even satanic enemy. The choice of words being used by the criticised group has ramped up the tension and completely transformed the way the members perceive what is going on. This deliberate misuse of English words and their normal meanings has changed the perceptions of those involved. It is very hard, if not impossible, to have normal communication with a group which distorts words in this way.
Another word that might be used against the enemies of a political party or closed religious group is the word 'slander'. It is easy to use this word slander as a way of trying to fend off any sort of negative criticism. Slander is to tell information about an individual that is not true. What the defensive group is calling slander may simply be negative but true information about the group which the leaders do not want to face up to or examine.
Religious and political groups are very good at using words in a subtly different way from the rest of society. Once this in-house jargon has taken root, it is a short step from cutting members off from all communication with the wider society. A culture is developed where words have an in-house meaning which no one outside can share. Experiences that are local to the group also isolate group members. The way that words referring to Christian experience are given special local meanings also help this process of isolation from the rest of society.
Many churches and cults attract the young. The reason for this is not hard to find. Young people are entering the vulnerable and unknown experience of adulthood. This makes them open to the possibility of being sucked into family type relationships which help to heal the trauma of leaving home. At the same time the young person is probably also developing critical thinking which asks questions. These contrasting aspects of youth do not fit well together in cultic churches. Leaders have to do what it takes to dampen down any intellectual independence that is emerging. Questions and doubt are a recast as a form of resistance against God. The leader will quote Scripture where it speaks of insubordination and rebellion against God. The natural process of intellectual maturing will be presented in various ways as sinful or lacking in faith. This closed society of cultic churches has taken the process of growing up and made it through the manipulation of words something full of guilt and sin, requiring total obedience to a leader.
Another word which is often misused in closed Christian groups is the word 'commitment'. The idea of commitment to God becomes subtly changed when used by a leader. It comes to mean abject obedience to the minister. The word 'selfish' is also altered so that it means doing anything that is not approved of by the rest of the group. Words in short can be used to control members by ensuring that all behaviour is tightly controlled. Any independent thinking is quietly quashed by an appeal to unity with a quote about being of the same mind and spirit.
The use of words through which to control church members is something that takes a long time to recover from. Even after an individual leaves a group, they will continue to translate words in their minds according to their old cultic meanings. 'Humility' means degradation. A word like 'discipleship' also may provoke a trigger effect, reminding the former member of a memory of subjection to a power-hungry leader. Whenever 'submission' or 'submit' are brought up, there may be an instant recollection of a cruel coercive control by another Christian.
Words are powerful things. When they are used as tools of subjection and control to suit an authoritarian culture, they can cause enormous damage. I have frequently written about the meanings of words. For myself I believe that words should be used to point to a variety of possible meanings. They should never over-define or limit themselves to a single interpretation. It will never be a pointless task to question how words are being used by ourselves and the people we talk to.