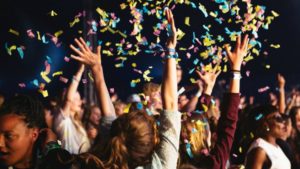 Sir, — The letter from Judith and David Paston (26 May) about St Thomas's, Norwich, (an HTB plant) raises numerous issues for those of us who are concerned about the weakening of traditional Anglicanism. Clearly, Holy Trinity, Brompton (HTB), and its offshoots are here to stay as part of the Anglican scene. But there are various grounds for unease, and I want to look at one aspect.
The HTB phenomenon is in urgent need of some detailed research to establish its true effectiveness. While we know that there are numerous "successful" churches in university cities applying the HTB formula, we lack proper information about what happens to the individual members when they move beyond their twenties into career and family responsibilities.
Only one study exists, as far as I know, on the topic of post-student Charismatic religion. The research to accompany the study is New Zealand-based and was written up in the book, A Churchless Faith.
Alan Jamieson, the author, tracks a group of young people who moved beyond their experience of what we might describe as high-octane religious observance similar to HTB. It makes sombre reading. Though a small survey, it suggests that Charismatic worship and faith does not often translate well into the decade of the thirties.
We are told that the Church Commissioners are investing in the HTB brand on the grounds of the success of these congregations. Caution should be in order. Are we investing in a style of church life that appeals to one age-group but is of less relevance to the same individuals as they enter their middle years?
My suspicion is that the average length of membership of a church by members of HTB style congregations is far less than a decade. If this is true, and only proper research can refute my hunch, then we may be expending resources on something ephemeral. Meanwhile, this current effort to promote these plants may help to undermine and weaken the wider Anglican tradition in this country for ever.
We seem to be losing sight of the importance of ministry and pastoral effectiveness in favour of "mission". People continue to need the help of the Church in the way in which they negotiate crisis, illness, and death. A preoccupation with financial and attendance statistics seems to shift attention away from the core Anglican business of pastoral care.
STEPHEN PARSONS
This letter appeared in the Church Times last Friday (16th June). I am reproducing the letter as it may interest my readers. They have hitherto been prepared to put up with my prejudices and rants on a variety of topics. One more will do no harm.
The issue that I raise is not whether Holy Trinity Brompton and its offshoots are a good thing. I feel that the jury are still assessing whether Alpha, the teaching course which is the tangible product of this significant church in London, is successfully helping people to find faith. My real grounds for questioning HTB are to do with the use of statistics to evaluate this church. Present methods of assessing church strength are to count how many people attend a church on a particular Sunday. A more important question that I feel should be asked is how many people stay the course as Christians over a significant length of time within an HTB environment. I am asking for a 'longitudinal' study. We should take a group of Christians and follow them through the years and see whether the enthusiasm of the twenties for HTB is carried into later adult life.
The book by Alan Jamieson, referred to in the letter, makes some interesting observations. Although he does not talk about the faithful who do remain in 'high-octane' churches into their thirties, the implication he makes is that these churches are in fact losing many of their more reflective and intelligent members. Among them are individuals who have served these church as leaders, group enablers and teachers. There is no question but that there was originally a high level of commitment in the first place among the people he studies. What seems to happen is that a highly gifted group of Christians mature beyond the charismatic/Pentecostal style in which they became Christian. Jamieson's description of the process of maturing is taken largely from the writing of James Fowler. Fowler has written about six stages of faith that may occur in individuals between birth and old age. His model seems to have stood the test of time. At the beginning there is an innocent style of faith which then moves into a stage marked by literalism. This is followed by faith which is uncritical but tribal in nature. One writer compares this stage to the perspective of a fish in a tank. There is only the one perspective to be drawn on as the fish cannot leap out of the tank to view it from the outside.
The final three Fowler stages of faith represent a withdrawal from uncritical acceptance of what one has been taught. Many, if not most Christians, never reach these later stages. The 'critic' in the fourth stage is able to handle new perspectives and debates as well scrutinise leadership in their church for example. The later stages involve such things as the ability to cope with mystery and paradox in matters of faith. These sorts of insights will often make them highly disturbing to those who are holding on to a more child-type approach to their faith.
There is of course a lot more which could be said about Fowler and his ideas, but they are beyond this short comment. What can be said is that Fowler gives us a model through which to understand the longitudinal changes that will normally occur in our lives and in particular the way we appropriate the Christian faith. If some of us are exploring and travelling, who among the rest of us have the right to challenge the process or declare it invalid? I ask the reader to ask him or herself to look to see how attitudes of faith have changed over a lifetime. My question for HTB is whether they have built in to their system the ability to handle these later Fowler stages which may be adopted by the Christian members. Perhaps they secretly would prefer these searchers to jump overboard when the ship is perceived to be an uncomfortable or restrictive environment. Our blog is aware of one particular reason to jump overboard for many – namely the experience of abusive power!