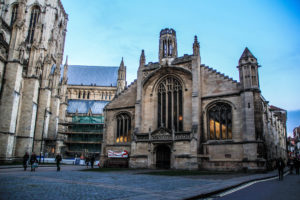 One of the most difficult things to know is what other Christians believe. They may belong to churches which have very definite statements of belief and moral teaching. In order to belong to that church, each member is expected to agree to the doctrinal standards set out. It would, we believe, be normally unwise to assume that all the members of such a church always believe exactly what is expected of them.
I have recently been reading a study of a church in York which attempts to tackle this important question. It is a detailed snapshot of the famous St Michael-le-Belfry Church in York and it is based on field studies carried out in 1999 and 2000. Two things interested me. The first was a frank account of the history of this church since its effective foundation in 1965 by the well-known clergyman, David Watson. He inherited a church building in York which was ripe for closure. Under his leadership St Cuthbert's, and later St Michael's, became showcases for the charismatic/ evangelical impulse which was sweeping through the church at the time. The second point of interest is the way that the author, Matthew Guest, now a lecturer in sociology at Durham University, has used extensive questionnaires to probe deeply into the beliefs of the congregation. This section is for me, by far the most revealing part of the book. What it seems to show, in summary, is that while the church possesses a clearly defined charismatic/evangelical identity, the beliefs of many of the congregation often veer towards a liberalism that is not officially appropriate to a church in this tradition.
Two classic Protestant doctrines exist which tower over all others in their importance for the conservative evangelical identity. Both are problematic for many Christians outside the conservative networks such as myself. The first of these is a belief, which we have met many times before, a commitment to the authority and inerrancy of Scripture. The other belief that is normative for classical evangelicalism is a belief in the efficacy of the death of Christ. This is a divinely given means to allow the followers of Christ to obtain salvation. The implication of this belief is that no one will be saved if they have not shared in the distinctive experience of evangelical conversion.
According to Guest's survey, only 24% of the St Michael's congregation followed a strictly literalist understanding of the Bible. The majority position, 51%, declared that the Bible was true but not always to be taken literally. It is interesting to note that in 1994, in another survey, 28% of churchgoers of all denominations believed the Bible to be literally true. We might have expected that St Michael's, a beacon of evangelical belief and practice, might have had a higher score. Guest's research suggests that many in the congregation were actively involved in an attempt to relate what they knew of secular learning to biblical insights. To put it another way, independent reading and reflection was a normative part of the individual forging of a spiritual identity. There was little sense that preaching provided a definitive statement of what had to be believed. Sermons were only one part of the journey towards faith.
The classic view of salvation which states that only those who have made a personal decision to follow Christ will enter heaven was also problematic for many St Michael's members. This evangelical soteriology was firmly held by David Watson and I heard this teaching from his lips in 1974. It is this teaching which lies behind the (to my mind) intrusive question: 'Are you saved?' The strict version of the evangelical message sees any watering down of this model of salvation as being 'patently false and the result of delusion or satanic machinations'. The idea that family members are destined for hell because they have not made a decision for Christ sat uncomfortably with many of the St Michael's folk that Guest spoke to. In many of the interviews that he conducted individuals wanted to soften the harsh version of the doctrine. 86% of those interviewed preferred to reject the idea of hell being a place of punishment. Like Christians elsewhere they found it difficult to conceive of a God of love who 'lets people trip off down into eternal misery'.
Hard-line views about other religions also failed to find favour with the majority of the St Michael's congregation. Many wanted to find positive aspects in these non-Christian religions. While maintaining that other religions were deficient in some way, most respondents were unwilling to condemn them. In short it could be said that at a personal individual level, the majority of St Michael's members opted for a tolerant and inclusive view in relation to other religious.
The one area where the St Michael's congregation revealed a classic conservative approach was in the area of sexual morality. Guest found that 81% of respondents believed that sexual relations between same sex adults are always wrong. This compares with 39% for the population at large. This latter figure will have decreased further since the survey was made. Attitudes about the role of women in church and family were far closer to the views held by the wider society. Some members did identify with traditionalist patriarchal view of women and their role within the home. Nevertheless 57% disagreed with the statement that the primary role of the Christian woman is to support her husband as provider by caring for the children and tending to the household duties. The same percentage was also found in a public opinion survey.
Guest concludes that wider cultural norms in our society have made considerable impact on the beliefs and practices of the members of St Michael's. The official position of the church is to be exclusive and set-apart from the secular world. This is the stance taken by preachers, whether visitors or resident. In practice, this sense of separateness has been eroded for many St Michael's individuals. We can even call it a significant liberalisation of parts of the congregation. Strict conservative views on issues connected with the Bible, the meaning of salvation and the role of women continue to be held. But, Guest would claim there is no consensus on these topics. Can we by any chance extrapolate these findings to other bastions of evangelical identity and suggest that any unanimity that is claimed is not real? The 'myth' of evangelical agreement is certainly one that has intimidated those of us who positively applaud diversity and untidiness of belief in church life.