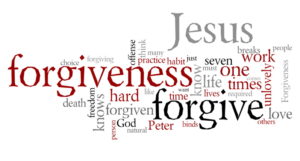 Today, following the Joint Lectionary followed by many of our churches, we heard the parable of the man who was forgiven a huge debt by a king. He then went on to harass a fellow servant for a relatively modest sum of money. The story ends badly with the indebted man being sent off to be tortured in prison till the vast debt was paid back. Clearly this was never going to happen. A recent document has been published by the Faith and Order Commission of the Church of England which discusses another story in the Bible which ends without resolution. The paper, entitled Forgiveness and Reconciliation in the Aftermath of Abuse, consists of some 80 pages and asks how whether forgiveness is ever possible in the context of child abuse. To make the point about how difficult forgiveness can be in such a situation, the reader is reminded of the story of Tamar in 2 Samuel 13. The episode of her rape is clearly the beginning of a period in King David's reign marked by violence, injustice and a general sense of moral disintegration. The story of Tamar has nothing in the way of a happy ending. Although the reflections on Tamar's story are only part of the Commission's report I want to look at this biblical passage because it raises issues which will be of concern to readers of this blog.
Tamar was one of the daughters of David who met the cruel fate of being raped by her half-brother Amnon. It is quite clear from the account of the story in 2 Samuel 13 that Tamar was tricked by her abuser. Amnon pretended to be ill and Tamar was forced to come to him in his bedchamber to bring food. This was the opportunity for the vicious sexual attack. The Faith and Order Commission Report helpfully discusses the episode beyond the actual rape event and shows how all the other characters in the story responded in a less than helpful way. David as the father of both victim and perpetrator might have been expected to demand justice for Tamar in this situation or at least offer some kind of emotional support. Even if the results of the sexual attack could never be undone, some reaction was called for. David would have known that the rape rendered Tamar unclean, unable to marry and without any future within his court. Her shame and disgrace were complete even though she played no part in creating this situation. After covering herself with ash to signify her state of dishonour, Tamar simply disappears from the biblical narrative. All that we hear of David's reaction is that he was angry but he takes no action.
The reaction of Tamar's other brother, Absalom, was somewhat different. He nursed a desire for revenge against Amnon for over two years. Eventually Amnon was invited to a feast and Absalom orders one of his slaves to kill him. This naturally set up a strained relationship with David his father. This was one of the causes of the eventual civil war between father and son.
The story of Tamar is still one that should be considered today. We need first of all to note that the story's outcome as recorded in Scripture is somewhat bleak. As we have seen, there is no happy ending or any kind of moral resolution. Severe abuse happens and everyone skirts around the real problems that need to be resolved. Similar events happen in churches today but often cowardice, denial and even niceness take over. From our perspective of today we recognise that certain things should happen in this kind of situation. Tamar was clearly a victim but she failed to receive either support or any kind of access to justice. Even the anger that David is reported to have expressed seems to be more about his own failure to manage his family than any feeling for Tamar's predicament. It reminds one of a bishop appearing to care more the reputation of his diocese than any compassion for a suffering victim. A daughter had been cruelly treated but the only concern of the father seems to have been that fact that he was being made to look bad. Absalom's reaction was equally unhelpful. No support to his sister was offered. He went off to nurse his murderous rage. Such anger was not going to help Tamar or further the cause of justice. Thus both Tamar's close relatives failed. She was condemned to a living hell of social and psychological shame.
The Commission Report explores how costly it is to resolve a situation of abuse. The Old Testament account of Tamar gives us no suggestion as to how we should move forward in this kind of situation. It is hard to know in the context of the time what should have happened to Amnon for his crime. Perhaps exile might have been appropriate. Anything would have been better than the disastrous fractricide that did take place at the command of Absalom. In a contemporary setting we also know that punishments and reparations really only make sense when the full impact of the original offence has been owned up to by the perpetrators. Our gospel reading this morning speaks about forgiveness as though it is always an option for us to choose. The sexual abuse of children or the act of rape are in fact difficult to forgive because the effects can be so long lasting. When are we right to suggest that a survivor or victim of such abuse should forgive the perpetrator when they are still suffering decades later? Clearly forgiveness is something to aimed at but any suggestion that the process should be in any way hurried is an insult to the needs of victims and survivors.
The Tamar story with its failure to reach any kind of 'happy' ending is a salutary lesson for us as we grapple with the horror of abuse wherever it occurs. When abuse happens in the context of a church, there should be a recognition that there are no magic short cuts provided by the fact of Christian discipleship. There is the same need for justice to be served; the need of support for the victims is paramount. Also, the Christian may need to recognise that real evil is being encountered in many of these situations. It needs to be named and confronted squarely. Forgiveness of sin can never be divorced from the hard struggle to tackle the reality of evil and power abuse that exists in the psyche of so many, even Christians. That will always be a tough challenge.