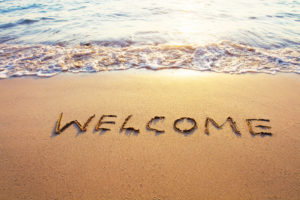 I was recently having the conversation with Chris about the churches in his home town. Chris has visited virtually all the congregations in his town at some time or other. He was commenting on the fact that none of them seemed to understand the importance of welcoming strangers to their services.
This observation set me off in a reflection about the meaning of this word 'welcome'. For me it is a powerful word. Its power comes partly from the way that it is a word with emotional resonance. We all know what it feels like to be welcomed and equally we know the opposite, the feeling of rejection. Being genuinely welcomed anywhere is always going to be a positive affirming experience. When a friend or stranger crosses the threshold of someone's home after an invitation, the word declares that the host is pleased to see them. Using the word also implies acceptance, friendship, even love.
In the context of a welcome to a church congregation, the word takes on a slightly different meaning. The person who does the welcoming does not welcome them as the owner of the building. A church welcome is a way of saying that the individual entering is unconditionally invited to be part of the gathered worshipping community. The visitor has the status of an honoured guest of the community. They are invited to feel that they belong for as long as they choose to stay.
Behind the idea of welcome in a church context there are further nuances of meaning. There is, we hope, pleasure at seeing the new person, combined with a genuine interest in their well-being. There is also the hope that they will return in the future with a promise that all that belongs to the congregation can also belong to them. A Christian who welcomes another will be saying that he or she has already discovered something in his or her membership which this visitor is invited to share. The full content of church belonging will not become apparent on a single visit. Belonging and patient learning will be what gradually unlocks the inner content of church membership. Different words and phrases will be used to describe what this inner substance and knowing will consist of. The church's varying traditions will express the meaning of the church's core message in various ways. Some will emphasise the relationship with Christ and being 'saved'. Others will point to a relationship of inner love and the experience of forgiveness in their lives. There are some words from one of the psalms, notably set to music by Vaughan Williams which express well what we are invited to discover of God. These indicate that the Christian journey is one of gradual discovery. The words 'O taste and see, how gracious the Lord is. Blest is the man that trusteth in him.' Welcoming someone into church is inviting them to come on a journey of 'taste and seeing', discovering what the congregation is about in journeying towards God. Perhaps they too will want what is there both for themselves and their family.
All of us know in how difficult it is to persuade new people to come and join our congregations. The words used and the messages heard by a first-time visitor may seem very strange and even alien to them. But the whole experience will be so much more accessible if there has been a warm smile and friendly welcome at the start. With such a welcome there is a reasonable chance that the individual may return. In its absence there is only the experience of sitting among people who are unknown and apparently uninterested in you. That must be appallingly off-putting. How many of our churches, as in Chris' town, seem to fail in providing such basic courtesies which might encourage new members?
The word 'welcome' is not, as far as I can remember, a scriptural one. But there is one expression very close to the idea of welcome in a parable in Matthew 25. There the king speaks to those who have fed the hungry, welcomed the stranger and visited those in prison. He says: 'come, enter and possess the kingdom that has been made ready for you since the world was made'. These words, come, enter and possess, convey all that is meant by welcome and more. We sense in this parable something of God's promise of joy, eternal joy, to all those who have lived out his purpose for their lives. Somehow the single word welcome in the context of an encounter with God in the life beyond the grave, would well sum up all that is promised to us. Here the word implies utter joy, bliss and radiant hope. If this promise is a reality for faithful Christians, should we not try to give at least some pale reflection of this experience of this hope in our demeanour? Should not some joy spill out of us in what we do on Sunday mornings as we mingle with other members of the congregation and welcome the occasional newcomers? 'Come, enter and possess the kingdom that has been ready for you since the world was made'. This is a promise of enormous moment. Should we not be able to welcome others and share something of the hope that we have been given, a promise of everlasting joy?