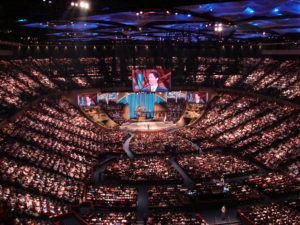 In recent weeks I have been reading accounts of large megachurches in Australia and east Asia. My special interest in Australia is because there has been a huge Pentecostal revival in that part of the world. The Sydney area is particularly interesting. It is the home of the non-Pentecostal Sydney Anglicans. It is also the headquarters of an international Pentecostal network of churches known as Hillsong. Sydney Anglicans represent a conservative Reformed group within the Anglican Communion. They have a strong emphasis on bible teaching and Calvinist orthodoxy. Their links include Oakhill Theological College in London and they organise the GAFCON network within the Anglican Communion. Hillsong on the other hand has a very different theological stance. It is the largest Pentecostal church in Australia and has numerous offshoots in the country. There are also branches of Hillsong in the States and in Britain. Some 30,000 people attend Hillsong centres in Australia every Sunday.
I have read through a great deal of internet comment on this particular network of churches. All are agreed that the music produced by Hillsong is of high quality and makes the church and its worship attractive to a large segment of young people. This attractiveness of Hillsong music does however create a problem for the church. If people flock to a church, attracted by the music on offer, what sort of demands, if any, should be made on the doctrinal and moral stance of these followers? In contrast to Sydney Anglicans who set fairly high demands for its membership, the Hillsong leaders seem more relaxed. The consensus is that Hillsong draws in crowds but has relatively few expectations of these followers. The main condition for membership is that all who come should dig deep into their pockets. Financial support, in the form of tithing and extra collections is a constant theme at their services. This is necessary to support a very expensive and wide-reaching ministry across the world.
There are other serious concerns about the integrity of the leadership of Hillsong. It has been suggested that Brian Houston, the leader, was reticent with the truth when speaking about his father Frank to the Royal Commission set up to investigate child abuse in Australia. This Commission has been sitting for several years and is due to be wound up in December 2017. No doubt we will be returning to examine its final conclusions. Brian's father Frank admitted in 1999 to his church that he was guilty of paedophilia in the 70s and 80s while acting as a minister in the church that preceded Hillsong. Rumours of his misbehaviour were the reason for his departure from New Zealand in the 70s. Brian insisted to the Commission that he knew nothing of his father's activities. He did however admit that his church had not dealt with the situation well when it became public in 1999. He claimed under oath that Frank was then suffering from dementia and had his licence to preach had been withdrawn immediately. Some claim that this was not true and that there is a recording of the father preaching three years later. He died in 2004.
Scandal has also hit other prominent Pentecostal churches in the region. The City Harvest Church in Singapore has recently (April 2017) had six of its senior leadership sent to prison for the misappropriation of church funds. The famous and much celebrated church in Seoul South Korea with 800,000 members, the Yoido Full Gospel Church has also been plagued by financial scandal. Huge sums of money found their way into the pockets of members of the family of the leader, Yong-gi Cho. His son has been sent to prison. The father, now retired, escaped with a suspended sentence.
One of the interesting things to note is that, in spite of scandal, these three churches continue their activities without interruption. When a large bill for legal fees was presented to the defendants in the City Harvest Church in Singapore, the money was quickly raised by a whip round of members of the congregation. Devotion to leaders, even when they fall, together with an enormous capacity to forgive their activities seems to be widespread. What is going on in these situations? The dynamic of the megachurch is that all the members are drawn together in a mutual admiration of the leader at the centre. But, because the leader is not personally known to any but the few at the centre, this relationship is a fantasy one. It is a bit like the relationship between a popstar and their fans. The individual fan feels that because they may possess a signed photograph that they are somehow linked to their idol. But this relationship does not really exist.
Chris has often spoken about churches becoming like theatres. I would go further and say that these prominent megachurches are now becoming like mini-entertainment industries. They promise and promote a mixture of fantasy, powerful music and the opportunity to be drawn into a pseudo-reality. Whether God is really to be found in this loud cacophony of music and light is an open question. I am rather concerned by the extent to which unreality and fantasy relationships are created in these churches. Pentecostal megachurches are, to put it mildly, extremely unhealthy places. It is hard to see how the fantasy relationships that are offered will have any relevance when the individual encounters difficulty or tragedy in their lives. The music that is churned out in these churches is also likely to be of little relevance or help in times of despair. How can praise music speak to loneliness, depression or poverty? What these churches are saying is that attendance demands an ability to be entertained and little more. Such titillation has little to say to the task of how we are to live our lives under God creatively and well.
Some people believe that the creation of huge megachurches is a way to promote the Christian faith to a younger generation. This would seem a completely backward step for the Church. My reason for saying this is twofold. Quite apart from the issue of scandals and narcissistic behaviour among leaders that seems to beset these institutions, the glue that holds them together is artificial. The glue I refer to is the heavy emphasis on musical entertainment. Music seems to be the dominant feature of these churches. What would happen if there was a power-cut? The appeal they have is that of a night-club. A second objection to a church with huge numbers of people is that the leaders are remote. They have become superstars who travel the world business class on megachurch business. Such leaders quickly become inaccessible remote fantasy figures. They seldom speak to individuals within the congregation. This inaccessibility is bad for the congregation and it is bad for the leaders themselves.
All around the world there are churches trying to imitate the model of the apparently successful megachurch. Even when the numbers are not so vast the leaders have a fantasy of success if they can but follow the right technique. Music and charismatic preaching are thought to be the key to success. Success here sadly is not the glory of God but a wealthy life-style for the minister and international applause to feed his narcissistic craving.