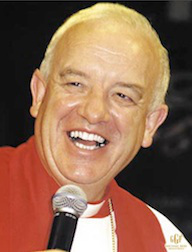 One of the new challenges for voters in America is to know what to think about a politician who has abused sexually in the past. The numbers of these appear to be increasing. Christian politicians also who have become heroes to their ultra-right constituency for solidly opposing gay marriage, abortion and other offences against family values seem to be as guilty as the rest. One reaction to this dilemma has become increasingly popular. This is to declare that the moral failings of a politician are of no importance as long as they support God's work. When the supporter is talking about God's work in this context, it nearly always has to do with issues of sexuality. If the politician says the right things about sex, then he can be voted for whatever seedy activities lie in his past. The political agenda of the Christian Right has little interest in such things as justice, racism and support for the poor. The God of the alt-right and Donald Trump has little in common with the God of the Bible; the alt-right God is one who looks after the successful and the rich.
This topic of leadership and past evil actions is also something to be negotiated in church circles. I have been recently reading a biography of Frank Houston. He is the father of Brian Houston of Hillsong fame in Australia. The Frank Houston story is written by his wife and like many Pentecostal/charismatic biographies it is full of stories of wonder, spontaneous insights and healings. I read this biography against the background of knowing that Frank would be eventually outed as a paedophile with acknowledged offences against young men and boys. Obviously, there was no mention of any such failing in his hagiography. We are given the impression that God was working through him and in him at every point in his ministry. When he approached somebody with a problem, God would often speak to him directly and give him the solution to whatever was the issue.
Alongside the story of the elder Houston, I have been re-reading the accounts of the many people who suffered at the hands of Michael Reid at Peniel. In contrast to these accounts of his staggering abuse of power, I have also been watching the videos on You Tube which talk about the divinely authorised ministry of this 'man of God'. Once again there are stories of healings, wonderful events and acts of great power. Reid himself often used to say to people that these same happenings were an indication that God himself had handed over authority for him to rule the church as he saw fit.
Two apparently divinely blessed ministries and two examples of criminal abuses of power. How does one make sense of such a contrast and remain a Christian? Are we to say that God used these two leaders in spite of their flawed personalities? Would that not lead us to be saying that we can ignore the evil on account to the blessings that flowed apparently from these ministries? This would seem to be the argument which is being used currently in the States by conservative pastors when offering their support to the notorious Ray Moore. It is an argument that does not convince me. I am still left looking for another way of dealing with this conundrum.
I do not claim to be able to answer this question to my own satisfaction. But I would start by saying that it may be necessary to look afresh at the phenomena of Charismatic and Pentecostal renewal. Should we not be far more analytical about what is going on in these Spirit-filled events? Should we not find some new ways of characterising what some people wish to call Acts of God? Might they not be simply examples of crowd hysteria? The church seems to be in danger of wanting to see these moments of crowd excitement as being crucial to its future. Crowd froth and superficial emotion do not seem to be good foundations for a solid expression of church life. Frank Houston and Michael Reid, as well as many others, discovered that they were able to manipulate crowds and pack church buildings. Simultaneously they were learning techniques which would in another context be described as paranormal or psychic. My own understanding of the strange phenomena which take place when there is endless loud rhythmic music is fairly mundane. It is not difficult for leaders and led to enter trance states where strange things can happen. I personally try to keep abreast of what might be happening in these scenarios but I detect little or no interest elsewhere to have a discussion able to critique these large congregations. The powers that be applaud full churches and the sound of joyful exuberance in a church building. Nobody wants to ask any further questions.
Frank Houston and Michael Reid, now both disgraced in the eyes of their respective churches, flourished because what they did and what they said came apparently from God and thus was beyond contradiction. Evil was permitted to flourish because nobody at the time dared to ask any questions. 'Success' trumped all other criteria including truth. Thus, many suffered because the church was so bad at scrutinising what was done in its name. In this way evil was allowed to coexist with apparently successful ministries. If this same mistake continues to be made in future, then it will progressively undermine the integrity of many of our churches in a serious way. American politics has been weakened for ever because an increasing number of people refuse to question the immoral antics of those who stand in the places of power. Let us pray that this will not happen in the churches of our nation.