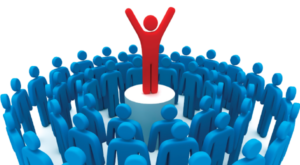 I have been reflecting on the way that people are caught up with the actions as well as the opinions of the people around them. It is so easy in our desire to fit in to find ourselves thinking and feeling in an identical or similar way to the group of which we are part. This desire to conform is at variance with the self-image that many people have of themselves. They would like to think that they are sufficiently educated to think for themselves and not have their opinions formed by people around them. The evidence suggests the opposite. There are various experiments performed by social psychologists which suggests that even when the evidence of the eyes says something different, we often prefer the comfort of siding with the dominant opinion.
Agreeing with our tribe or the people around us is probably a form of survival instinct. If one is part of the thinking and feeling of a large group, then there is safety in these numbers. To be a dissident is a dangerous path to follow. Even if it may not cause us to lose our life, it will often be a source of danger, discomfort and dissonance. How much easier to merge into the opinion of the mass?
This tendency for people to identify with the 'tribe' rather than their individual convictions has implications for our political as well as our church lives. A political leader may win a following by expressing a point of view which appeals to base instincts like hatred or scapegoating others. Hatred is a very good example of 'tribal' mass thinking. Blaming the world's woes on the Jewish people, as Hitler did, may do absolutely nothing to forward the interests of those who respond to such a message. It is crude populism which bypasses rational processes and wins the approval of the crowd. Rhetoric works because it activates this crowd thinking, or non-thinking, and gives the individual member a sense of his or her power. The political life of both the United States and Britain is at present unhealthy. Leaders in both countries are appealing to base motives in the electorate. These arguably are a long way from their self-interest. It is particularly striking how the poorest people in the States appear to have voted for a party that is working hard only for those who are the wealthiest in society.
It is not of course just voting habits that are subject to the influence of others. We also subconsciously are affected by the standards of behaviour we see in the society around us. If the general atmosphere of civility and courtesy is good, then that will help to raise the standards within the entire population. If, on the other hand, there is a deterioration of morality and honesty at the top, that too will percolate down to affect everyone within society. The problem that is affecting the United States at present is that from President Trump down there seems to be an increasing disrespect for truth, honesty and showing tolerance to other ethnic groups. A single insulting tweet by the president can set up a ripple within the whole of American society. Other people feel that they can behave in a similar way. Coarseness as demonstrated by presidents can contaminate and cheapen the life of an entire society.
This readiness of large groups of people to think and feel in an identical way may also seem to be something positive. Certainly, it is commended in Scripture and in many situations the team can achieve things far beyond the capability of individuals. But we have to be prepared to face the problem of how we deal with the dissident. The liberals among us believe that an individual who thinks differently should always be afforded an honourable place within the tribe. The conservative, because they see only untidiness and divisiveness in such a thinker, will want to expel this nonconformist. I would have much more sympathy for the conservative position and even quote the Bible to support their instinct but for one fact. This fact is that the professed unity they think they have in their conservative orthodox congregations does not exist. Large groups of people do not ever in fact think and feel exactly alike. The only reason for them to appear to do so is to allow a fantasy of 'biblical' unity to exist. This is what the leaders want. So, the members all play at the game of pretending to be uniformly orthodox to preserve the fantasy in the mind of the leader.
The dissident, the nonconformist, has an important role to play in any church congregation. He or she can be the one that challenges the falsity of pretend identical thinking which has been set up as an orthodox ideal. A Christian leader who presides over a congregation where identical beliefs are claimed is extremely powerful. He is certainly more outwardly 'successful' in some circles than the one who oversees a group of people with a healthy range of ideas and experiences. This less powerful leader has of course to work much harder to hold things together. He or she may well suffer from misunderstanding and attack for providing a home for untidy believing. While the powerful leader may seem to have greater control and prestige, all this is likely achieved only in the absence of genuine honesty. The 'weaker' leader presides in a culture of openness and discovery. The other oversees in an atmosphere of control and even fear. I know which church I would prefer to be part of. Untidiness reflects the muddle and chaos of everyday human life. 'Orthodoxy' in its protestant expression needs regimentation and firm control.