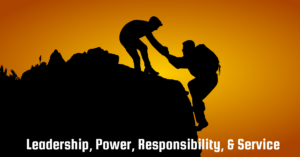 I have been reflecting on the way that power is exercised in society, but above all in the church. I want to share with my readers a classification of power loosely based on Max Weber's ideas. This may help us to think more clearly about what power is and how it manifests itself in institutions and relationships. The sociologist Max Weber spoke about the power given to an individual to exercise on behalf of an institution. That kind of power was authoritative power. There is also another kind of power which he described as charismatic. This is a power that an individual may exert because he has a vision he wants to share. In and through his words there is shared what we would describe as inspiration or a new sense of direction. This resonates with a longing that people have. A third form of power is what is known as social power. This is the power given to an individual because of wealth, expertise, education or the kind of self-confidence that goes with a solid upbringing.
Some people manage to combine all three forms of power in themselves. Usually only one of these types of power is dominant at one moment. These three manifestations of power have one thing in common. Each of them can be used well or badly. They can coerce, control and generally take advantage of another person. In some cases, they may involve actual violence. Such violent exercise of power is unlikely to happen in the church unless a slow process of grooming and seduction has been gone through. In the church, just as anywhere else, power given to individuals can sometimes be used to abuse and exploit another person. But equally and hopefully each of the forms of power we have identified can be used to strengthen and empower another person.
The problem for all of us is that it is not easy to be analytical in the situation where power is being (ab)used. Our attention is drawn to the results of that power, particularly when someone is hurt. We naturally focus on the abuse rather than looking at all the factors and dynamics at play in the situation. When, however, we can see what is going on as a whole, we can hopefully help both sides of a negative power encounter take a new perspective. With the help of this new perspective, some of the pain and humiliation of the abuse can be alleviated. To take one example which Chris would identify with. An illiterate person in a congregation is made to feel bad some way by someone who is trying to be well-meaning. There is harm caused but this is because the person exercising social power lacks insight as to how this power is experienced by another person. Even in the worst cases of sexual abuse and cruelty there may be things to be discovered about the perpetrator and their abusing power which need to be understood even if not excused. People who criminally abuse power in some way are nearly always themselves victims of an abuse crime in years gone by.
The dynamic of charismatic power in Weber's sense, is the most interesting. In its church manifestation we see that many people will feel very privileged to be close to a person who is thought to have a special charismatic gift or blessing. But relating to a charismatic guru is a bond which may in turn totally disempower an individual. They have entered a situation which can be only described as dangerous. The relationship may start reasonably well by providing hope and an initial experience of empowerment. The danger is that further down the line there is a likely outcome of dependence and an exploitation by the leader of the vulnerabilities of a follower. The reason for this sad outcome is, first of all, that the charismatic figure at the centre is a human being. He (normally a he) enjoys his status as the centre of attention and is not necessarily concerned for the vulnerable needy people who are attracted to him. They serve their purpose by feeding his narcissistic cravings. This kind of relationship is never going to be healthy. It will, as we say, probably end in tears.
Every time that power is exercised in a church setting, we have to recognise that there are two sides to the encounter. If we are pursuing our analytical quest, we will be asking what is happening to both sides of the encounter. Sometimes the encounter is good and healthy for both sides. On other occasions we may detect that the interaction is being exploited by the one with power to bolster up the self and in order to gratify other deep emotional needs. Everyone who uses power of any kind in a church needs to examine how it is undertaken. We may discover, not just occasional lapses, but a whole pattern of entrenched behaviour which is regularly causing harm. As I write this I am thinking about senior individuals within the church who because of their position never need to have their use of authority questioned or challenged. Little by little, the lack of such criticism, internal or external, has made them habitual bullies and creators of havoc and misery for the institution they serve.
I am reminded of the passage where Jesus speaks about power. 'Kings and governors make them feel the weight of their authority, but it shall not be so with you.' Jesus commended the way of service and perhaps this word 'serve' is the single most important idea to be inserted into our discussion of power. The first thing I am asking for is a greater sensitivity and awareness in the church about how power works. Having gained a greater understanding of what is going on, both inside the one who administers power and the one who receives it, then we need to try to insert this word 'service'. Because there is up till now so little clear thinking in the church about power and the way it operates, we continue to suffer from its abuse in so many situations and contexts. Child abuse, spiritual abuse and all kinds of bullying and exploitation are made worse through our lack of awareness about the way power operates in institutions of all kinds including our own. We need to understand power and how it can be turned on its head when we internalise Jesus' command to serve.