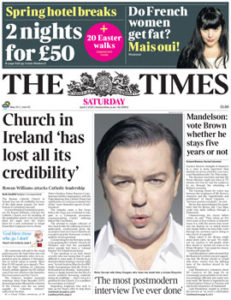 In recent weeks we have seen an increased tempo in the press coverage of church abuse stories. As I wrote last week there have been some revelatory scenes at the Independent Inquiry on child sexual abuse. It appears now that even after the Nolan report, which was a response to earlier Catholic sex scandals and came out in 2001, some Roman Catholic bishops and religious orders in Britain have done very little to improve safeguarding within their Communion. It is as though many Catholic clergy are completely unaware of all the scandals that have occurred in America and Ireland. These well publicised stories have done much to diminish the Catholic Church and especially its leadership in these countries. Apart from suffering enormous reputational damage, the Catholic Church in the States has had to pay out hundreds of millions of dollars to survivors. This has virtually bankrupted some Catholic dioceses in that country. Equally, similar scandals in Ireland have seriously lessened the influence of the Catholic Church on Irish society. One by-product of this social change is that it is now very hard to persuade young Irish Catholic men to join the priesthood.
Up till this moment, one would have liked to think that the problems of the Church of England are nowhere near equivalent to those experienced by the Catholic Church in Ireland and America. What is being presented to us now, in great part thanks to Gilo, is a glimpse of the lack of readiness on the part of the C of E to face up to its own scandals. In other words, there is no sense that the Church is putting in place the necessary procedures to deal with any fresh allegations of past misdemeanours by its clergy. There has been some decisive action to deal with the criminal perpetrators of child abuse in the church, but this has been more at the instigation of the police and the courts. The impression given to us by Gilo is that the church's part in the process of dealing with past felonies is to huddle together with lawyers and insurance company representatives and discuss the amount of money that should be paid to victims to avoid legal liability. There is no sense in the correspondence received (or not received!) by survivors that the church understands or grasps the enormous damage and devastation caused to these survivors. Financial settlements may be part of an answer. Far more needed is the offering of healing. This could involve acts of open penitence by leaders, a readiness to go the extra mile in admitting the failures of an institution that has allowed these things to happen. As I said in a published letter to the Church Times two weeks ago, there needs to be a fresh understanding how every example of sexual abuse is made possible by a church culture that for too long has tolerated bullying and power abuse. Also, a conservative theology that makes leaders or a book 'infallible' is also one that tolerates destructive power games. These can do so much damage.
The energy of Gilo over the past few weeks, as articulated in his open correspondence with Archbishop Welby, has brought up several important issues. Some of these he shared with our blog several months ago. Gilo has identified, over and over again, the way that safeguarding in the Church of England has been unhelpfully confused with the concerns of lawyers and insurance companies. In other words when a claim of abuse is made, the first response of the Church is to go into a defensive mode. They seem then to have no concern for the welfare of the survivor; they rather worry about a potential financial liability. When a survivor is met by this kind of legally defensive response, they may find themselves totally discouraged. Many of the survivors may be among the least powerful members of our society. They may also be carrying the burden of emotional damage from their abuse. They will simply not have the stamina to endure this kind of adversarial confrontation. Neither should they. Their memories, their account of events may be challenged and disbelieved. Gilo through his articulacy and stamina has rightly challenged the church to see how inappropriate this kind of adversarial approach is to a group of hurting vulnerable people. His vigorous challenge to the Church authorities to improve the process of helping and supporting survivors has been supported by a powerful group of 20 church people and theologians who are concerned with these issues. Each of them in different ways calls on the Archbishop and General Synod to put in place a new system for dealing with the victims of sexual abuse which is open and built on care and respect. All of them agree that the task of dealing with cases of past sexual abuse must be backed up with mandatory reporting to the police. The days of dealing with erring clergy can no longer be left to 'in-house' methods of discipline. Mandatory reporting will help create a new climate and culture of integrity and transparency.
http://www.thinkinganglicans.org.uk/uploads/Comments%20to%20Welby%27s%20reply.pdf
Last week I published an extract from a legal opinion about compensation and apologies. I am still hoping that this sentence will be relayed to the church leaders who appear to believe that defensive denial is preferable to pastoral care and support. I am hoping that once this piece of legislation is recognised as being of relevance to the whole practice of safeguarding in the church, that it may help to create a new spirit of openness, love and care.
Two survivors known to me personally have recently made formal complaints of sexual abuse against church leaders. It will be interesting to see whether their complaints receive a better hearing because of Gilo's efforts. I certainly hope so. I finish with some of Gilo's words. 'There doesn't seem any ownership of the crisis … these need the clear call of leadership required to shift the church into structural and cultural change and towards authentic justice.' Amen to that.