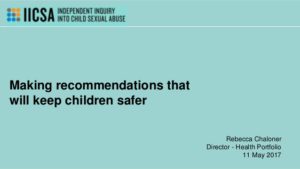 The Independent Inquiry into Child Sexual Abuse (IICSA) in beginning to hear evidence, is producing results. There is a definite sense that all the Churches who are going to be examined by this Inquiry are working to put their houses in order. No longer are letters on the topic of past abuses being ignored by those in authority. The Church of England at any rate is realising that all its actions relating to child abuse, past and present, are going to be examined in minute detail. Even if there are failings still to be uncovered from the past, the Church of England has to show that from now on it will always act responsibly and professionally. This applies both in the manner accusations from the past are responded to and in ensuring that proper care for survivors of abuse is offered. The letter sent to Gilo by the Archbishop of Canterbury (even if not totally satisfactory to Gilo!) is an example of this new attempt to put things right for the future.
The new reality that gives us hope that things are changing for the better is in the word 'independent' as applied to the Inquiry. A group of highly professional people who make up the Inquiry are looking dispassionately at institutions, religious and secular, that have hitherto proved incapable of managing to root out the evil of child sexual abuse. It is my understanding that public bodies, such as the police force or the Health Service will always go outside their body to seek help when a major issue arises that demands scrutiny. For too long the churches have persuaded themselves and society that they can police themselves. The advent of IICSA marks the end of this kind of arrogance, one that has tragically failed many people.
This past week an individual who had been a witness in one of the police investigations into child abuse within the church told me how pleased she was to receive a prompt answer from IICSA in answer to a letter. She felt she was dealing with a highly professional set-up which contrasted well with other dealings she had had with the church on other issues of abuse. No doubt she would agree with me when I say that the professionalism was bound up with the fact of IICSA's complete independence from the bodies that are being examined.
Many of the witnesses to the John Langlois 2015 Report into Peniel Church at Brentwood expressed their sense of relief on being heard for the first time by an independent person. Previous attempts by that church to police itself over allegations of abuse broke down due to a complete lack of trust in the process. The 200,000 words of the final Report form a unique document in the history of spiritual abuse within a congregation. The witnesses were able to speak articulately about their sufferings, knowing that the independent listener, John Langlois, was there to establish the truth. We must be grateful to John Langlois for persevering even though the church tried to shut his enquiry down. As he says in the forward to his report, the fact of the church withdrawing their support enabled him to be independent and clear-eyed about what he was hearing from his 70+ witnesses. Independence is an essential aspect of any enquiry into an institution accused of perpetrating or tolerating abuse. I have great hopes that whatever the findings of the IICSA, procedures and safeguards will be far stronger in all the churches and institutions examined. The old pattern of institutions doing internal investigations into their own behaviour is simply not good enough. Independent scrutiny is essential.
Another letter received by an acquaintance throws possible light on a tightening up at another institution, this time the Charity Commission. Without going into too many details the individual had written numerous letters to the CC about an independent church where there was circumstantial evidence of financial wrong-doing. These letters had been written over a number of years without any reply being received. It was as if the Commissioner felt unable to challenge a religious institution even if charity rules were possibly being broken. I can report that in the past month a proper reply has finally been received. This invited him to send documentation to the Commission. Do I detect that the Charity Commission has suddenly woken up to the fact that IICSA may ask questions of its oversight of religious organisations? Now that criminal behaviour by religious organisations is no longer a far-fetched idea, overseeing bodies have to be seen to be doing their work. Any denominational structure or an overseeing organisation like the Evangelical Alliance has to wake up to possible questions about their role in supervision. Unanswered letters of complaint to these organisations can no longer be tolerated. The murky world of independent conservative fellowships also has allowed too much unsupervised authority. Maybe IICSA will shed some fresh light on the way that some church congregations have allowed unethical and sometimes criminal behaviour to exist inside their ranks.
I have the strong sense that the Church of England and the Charity Commission are waking up and potentially tightening up their oversight of congregations. The process of scrutiny that is coming to many institutions from IICSA may have other effects. It may improve conditions for other vulnerable people in those institutions. My hope is that public scrutiny will go eventually beyond the issue of child sexual abuse and look at all examples of the abuse of the vulnerable. Historically women and the disabled have suffered at the hands of exploiting leaders. Also we have become aware of the persecution of sexual minorities and the way they have sometimes been treated appallingly. That is perhaps something for the future. But it is important that independent voices, such as those who follow this blog, continue to make their own protest on behalf of the powerless, the weak and the defenceless when they suffer at the hands of the church. This independent scrutiny of child abuse has begun something. Let us together work for an end to bullying, exploitation or any kind of cruelty towards the vulnerable. May exposure to the church never be a negative disempowering fearful experience. May it rather be a path into fullness and joy.